Broken Whispers
Shadowbox Live
The Worly Building,
Columbus, Ohio

by
Rick Brown
The rebellious boys and girls of Shadowbox Live are up to their usual mischief. This time they have tinkered with an American classic, F. Scott Fitzgerald's The Great Gatsby. In doing so the troupe has, once again, raised the theatrical bar considerably. And in their usual brash, confident Olympian high jumping form, Fosbury Flopped over that high bar, clearing it easily.

Writer Jimmy Mak has tastefully streamlined the storyline, leaving out some detail. But with the insertion of well chosen, relevant rock songs from the recent past, coupled with the incredible choreography of Katy Psenicka … this matters not.
Historically, the 1920s might not be much different than today's America: the rich being richer and the poor being poorer thanks to a diminishing middle class. I've heard this referred to as the second Gilded Age by more than one historian or economist. "Trickle Down Economics" might very well be the blame for both eras. So sprinkle in some delicious costuming and the usual awesome acting by Shadowbox members and Broken Whispers stands as a realistic, cautionary tale for today.

Oh yeah … did I mention that this time around Mr. Gatsby is a Ms.?

The story is narrated smoothly and concisely by Nick and Jordan (Robbie Nance and Nikki Fagin respectively), who are on again - off again as a couple. Jordan is the close friend of Daisy (Miriam King) who is married to Tom (Andy Ankrom). Tom is being unfaithful with Myrtle (Edelyn Parker), the wife of blue-collar service station proprietor George Wilson (David Whitehouse). Daisy eventually becomes the lover of Ms. Gatsby (Amy Lay). Consequently; Ms. Fagin's Jordan is somewhat cynical in her dialogue yet is countered nicely by a more naive Nick (Robbie Nuance?)

Oh the tangled webs we weave.

And did I mention the Great Gatsby is a woman?

The drama between the actors is deliriously dynamic. But the real stars of Broken Whispers are the songs, staging and choreography. The mix of music, movement and emotion is magical. The vocal prowess of singers such as Leah Haviland, Stephanie Shull, Julie Klein … amongst many, many others … create a rich, romantic backdrop for some of the most magnificent dance pieces I have ever witnessed. I will mention just a couple here despite the show being seamless from beginning to curtain call.

Tom (Andy Ankrom) rendezvous with his mistress Myrtle (Edelyn Parker) in his New York City apartment early on. With the strains of "Creep" emanating from the band stage, these two tangle and untangle in an amazing amalgamation of amorous abandonment.

When Daisy (Miriam King) finally gives herself up to Gatsby (Amy Lay), their interplay is smoldering with lust and longing. Together they display a driven desire for each other, yet exhibit the tender awkwardness of a new erotic encounter culminating in sensual surrender.

Add to that the steamy swagger of Ms. Lay's Gatsby. All eyes are on her any time she moves across the stage.

Broken Whispers works not because it's a lesbian version of The Great Gatsby. The production speaks because of a matter of fact-ness towards sexual orientation. Gatsby's lesbianism is never accentuated. Daisy is never referred to as a bisexual. This "shrug of the shoulders" acceptance keeps the production from sermonizing or didactic impulse. Instead, Broken Whispers is implicitly pansexual, a nuanced celebration of fluid sensuality. This show is not simply brilliant … it is brave.

I am certain Mr. Fitzgerald … and his wife Zelda … would robustly approve.
Broken Whispers runs through November 10th. For more information please go to:
---
Lumbering through Bethlehem
Lumbering through Bethlehem
on a Saturday night
where the chilly shadows
of abandoned mills
toll silent like a busted bell
and anything left
was boarded or gone
or turned to pay day scams
and quick title loans and
anything else that scraps
for nickles in pockets
dirty and worn
(for poverty is a business,
like death and disease).
Dennis Toth
http://leavesofcrass.blogspot.com/
---
Light Box

By
Rick Brown
I went to my light box therapy the other day. Afterwards I ran into my dermatologist. I light heartedly quipped "Bonjour!" (I do the light box with the automated female voice speaking French.) She chuckled and replied similarly.

Then … earnestly I said, "Thanks so much for buying a copy of my most recent book. I really appreciate your support."

"You're welcome. I haven't had time to read it but I am looking forward to it!" she responded flashing a big, warm smile that was 100% sincere.

"Maybe some time I'll write a story with YOU in it!" I offered.

She continued to smile ... but her smile shifted … to about 40% flattery ... and 60% nuanced anxiety.

Apparently the good doctor knows her patient pretty well.


---

---

---

---

---

---
by
Morris Jackson
---


FAT CAT BAT SQUID

by
C. Mehrl Bennett

Blog:
http://cmehrlbennett.wordpress.com
---

Rick's Books, Naked Sunfish Caviar
& Best Bites,
are available at:



Rick's book, Best Bites is available at:
Lulu.com & Amazon.com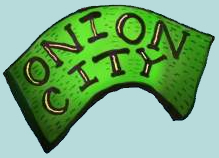 by
Sue Olcott

Click Here
---
Cityscape 5

by
aNna (Wellman) rybaT

Blog: www.annarybat.com
---
Building the Automaton

by
Gabriel Guyer
---
The Non Fiction Theater of the Truly Mundane
proudly presents:

Wholistic Grocery
By
Rick Brown
Scene: The produce section of a trendy, organic groceries store. Rick is slowly pushing a small grocery cart, gazing at the August yield of local, organic vegetables. He stops at a table piled high with zucchinis, tomatoes, and peppers of all colors and varieties. A man … who looks to be in his early 30s … is standing behind the cornucopia of produce, meticulously organizing the display. His arms are heavily tattooed. His long, dark hair is pulled back in a ponytail that hangs to his waist. A long, full, Amish style beard, moustache and sideburns adorn his rugged face.
Produce Guy – Can I help you find something man?

Rick – Yeah. I'm looking for some fresh corn.

Produce Guy (picking up an ear of corn and waving it enthusiastically) – right here my man!

Rick – How is the corn today? Fresh?

Produce Guy – Awesome man. Wanna taste some?

Rick – You have some cooked?

Produce Guy (chuckling slightly) – No! No Man! I eat it RAW! Right off the COB man! It's the BEST man!

He eagerly peels the husk down halfway, takes out a box cutter and cuts a groove in the roasting ear. He then breaks about 3 inches off the ear and takes a BIG voracious bite.
Produce Guy (chewing and smiling simultaneously) – DEE LISH USSSS! Wanna try some man?

Rick – Uh … that's okay. I'll take your word for it.

Rick picks out 4 ears of corn while the Produce Guy finishes chewing his raw corn.

Rick – So … uh … so … do you ever … just like … walk into a field … pick an ear … and eat it? RAW?

Produce Guy (seemingly beside himself by Rick's comment … speaking incredulously while shaking his head) – No man! I would never do nothin' like THAT!
Curtain
Cast:
Rick – Himself
Produce Guy – His Wooly, tattooed, raw corn eating self
Corn – their raw, roasting earselves