Chihuly at the Conservatory
by Rick Brown
So ... it's the dead of winter and the skies are gray and the wind is sending a chill up your spine ... what to do? My wife, Yvonne, and I drove in a sloppy ice storm out to the Franklin Park Conservatory a couple Saturdays ago to check out "Chihuly at the Conservatory". Neither of us are strangers to the blown glass creations of Seattle based Dale Chihuly. Several years ago the Columbus Museum of Art hosted a display of his famous "chandeliers". We have also witnessed some of those very same amazing pieces of art nesting in the vineyards of California's Napa Valley. Yet as impressive as those two experiences were the warmth and splendor of Chihuly's work set in the flora of Columbus' conservatory not only bedazzled our eyes, but also made us both forget about the gnawing wind chill outside.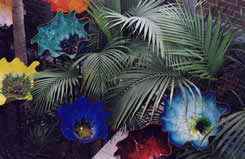 Macchia Forest
And on top of all this we were delightfully surprised that we had lucked out and were there opening day for the conservatory's orchid show! Mr. Chihuly's work seamlessly blended in with the several types of environments within Franklin Park's meandering greenhouse complex. The gorgeous orchids on display only add to the visitor's escape into this fantasyland of art imitating life imitating art imitating life...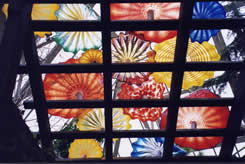 Persian Temple

Details I will not bore you with. The less I write the better. Take time to visit "Chihuly at the Conservatory". Not only will you be amazed with the art ... but you might just find yourself wondering why it's been so long since the last time you visited the Franklin Park Conservatory ... this gem of Columbus, Ohio. Better still ... wait for a severely cold, windy winter's day ... play hooky ... and take yourself on a little afternoon vacation of warm, wonderful escape to a land of vibrant glass and amazing nature. Wander carelessly through Chihuly's dynamic colors born from earth's palate. Odds are very good you'll want to return for a second visit. I know I do.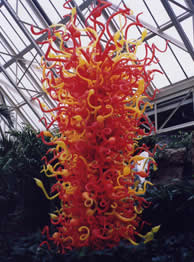 Sunset Tower
"Chihuly at the Conservatory" runs through March 21, 2004. Advanced tickets are not necessary but the longer you wait the better the idea of getting tickets ahead is. For more information go to the Franklin Park Conservatory's web site at:
---
Sex at the Box 04
Shadowbox Cabaret
by Rick Brown

This is my second exposure to Sex at the Box. Last year I was a virgin…and admittedly…a little intimidated by the whole experience…albeit enjoyably so. The '04 version is…on the surface…well…DIRTY!! And I suppose some of the skits might be judged by some as sophomoric. But hell…I've been a sophomore most of my life. I'm a guy with 100 Three Stooges film shorts in his living room. Consequently, when Miss X (played deftly by Julie Klein), a clandestine X rated poetess in Brenda Krantz's Enter …the Poet, creates haiku titled "The Fluffy Muff" followed by something called "Craving Cunt"…well…I find it hilarious. The skit is a perfect example of how pornography looks even more ridiculous when it tries to take itself seriously. (Read: has a plot or actual dialogue). I'm no porn expert. (I have so much more research to do.) But I do have an appreciation for honestly portrayed prurient interests.Also in the first section of "Sex at the Box 04" is a wonderful monologue by Grant Gottschall, I Was a Telephone Gigolo. Jimmy Mak convincingly tells us the story of how his wife eventually replaces real sex with him for phone sex (phony sex?).
continued...



---

Welcome to the 2nd Anniversary issue of Naked Sunfish. I won't say I'm surprised because it's something I really never think about. The web magazine that Dan Eley puts out there for all of us who write has evolved into something I am quite proud of. Spontaneous and Sporadic …it was just three words off the top of my head. But the diversity of this Fish I describe as Naked is just what I meant…even if I didn't realize it 24 months ago. Combining politics, music, poetry, sarcasm, questions, art, photography … theater … local… national … worldwide … it's something the advent of the Internet has given to all of us here in the Naked Aquarium.

The many people who help me present all this…for the most part…are ones I have met through my workplace … The Ohio State University Main Library … with only a couple exceptions. And after celebrating 25 years at the library I am in many ways grateful for the rich, intellectual yet often humorously resourceful environment. The "many ways" are much different ways than I could ever have imagined. I won't stay another 25 … but I'm not quitting my day job. (Unless … of course … if something good happens with the lottery.) I embrace the hodge podge…celebrate the serendipity … I think Naked Sunfish is kind of the "Ed Sullivan Show" of websites. I like that. I enjoy the occasional goofiness of it. Kind of like the Beatles running off stage to be replaced there by trained seals honking horns for a tiny fish reward…followed by Richard Harris singing a tune from "Camelot" … followed by a guy spinning plates atop long sticks. The carnival of life itself. A tapestry of whatever's there at the time. Spontaneous and sporadic.

And thanks to everyone who has supported all of us here at Naked Sunfish. If you want to know how we got started click on the Fish above. If you want to know where we're going … I have no idea.
And THAT'S… the idea.
---
Five by Fives
by
John M. Bennett
---
Pot Luck
by
Ted Kane
---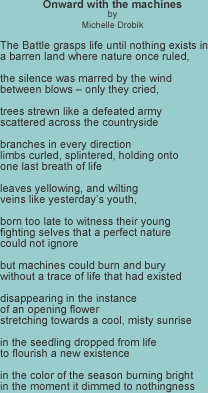 ---
Morbid Curiosity: A Diatribe
A.K.A. In the Event of My Death
by Patrick O'Malley

The following is a lark, not to be taken seriously, unless you so choose. It is little more than an attempt to obfuscate myself or others for amusement and perhaps inveigle some with my pithy opinions using myself as an example.

When I die, all I really want is this: my body must be donated to science. I don't want a casket and to be buried, and I don't want to be cremated (barring extenuating circumstances-read on). All my organs should be donated if they are worthwhile and if circumstances permit. Every part of my body that is useful to others in any way, science or donation, should be given away. (I suppose if I must put one limitation on my expired body's usage I would have to request no necrophilia – that is meant to be funny). Cremate or, if you must, bury any leftovers (read on for burial instructions). There is simply no excuse for doing anything less. The antiquated notion that our bodies are sacred or that to 'desecrate' them after death is disgraceful is absurd. What is disgraceful is this: to let perfectly good human biomass with tremendous life-saving value to others through science or donation go to waste to preserve some fabricated notion that our bodies mean anything spiritually after we are dead. But say there is some spiritual value? Who would challenge me to disagree that there is anything better a person can do in dying than to give life to another?
continued...
---
Vinyl
by Cory Tressler
Vinyl is a strange word to look at, but it is a beautiful thing to listen to. It smells like a warm Nintendo, it feels like a groovy seashell, and it sounds like a hot cop of tea for the inner ear. In our modern days of compact discs, mini-discs, mp3s, and I-pods vinyl records still stand out as the purest form of mass marketed music media. None of these other new age music distribution formats have the pure and recognizable stimulus of vinyl. Having said all of this, here are two vinyl treasures that I recently had the pleasure of purchasing.
continued...

"A little pity for Saddam"
by David G. Hochman
I feel sorry for Saddam. I really do. When he crawled out of his hole, disoriented, and then was examined up close and beamed around the world getting his ears poked and his beard shaved, my instant reaction - much to my surprise - was pity. I just felt sorry for the guy. Here he was, a former president of a country, and better yet, a dictator, who had lost everything, his country, his power, his status, his sons and who knows how many other members of his family. He was reduced to hiding in a hole, unwashed, unkempt, destitute like a runaway hobo.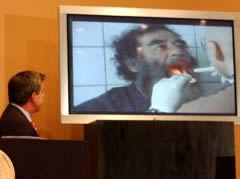 I know what many of you are thinking: this guy got what he deserved.

True. And yet—that may be really beside the point. For is he to blame for being Saddam? Or are we? Was he not just doing what his simple and barbaric mind was programmed to do? He was just the result of his environment after all. He was acting on instinct. He was doing the best he could, in his view, under the circumstances (same as every other Middle Eastern dictator).

Forget the brouhaha, forget the feigned bravado. Any objective observer with any insight knew the truth all along. It was staring us in the face. Saddam was Saddam because we put him there; because we supported everything he did, including torturing and killing his own people, as long as it suited our needs. In other words, Saddam had not changed one iota. It was we who had!

Donald Rumsfeld & Saddam Then
It was we who said one day, killing your own people and those of other lands - Iran - is okay; and then the next day saying, but killing your own people and those of other lands - Kuwait - isn't. Can you imagine the surprise on his face? Huh? What happened, he must have thought. What have I done wrong? I'm just the same guy I always was. How come one day I am being feted by the likes of Rumsfeld, and later reviled by the same guy? I can imagine the dumbfounded shock and dismay on Saddam's face. That clueless perplexity, the alarmed simple look in the eyes. Again: huh?

Poor Saddam. But then wasn't he just one of a long line of similar pawns in our game of foreign relations? He had missed the point, hadn't he?

He forgot to play according to our rules. He forgot to change with the times. But then, to what extent do people change? Especially ones like Saddam?

So I say this: Saddam is not to be blamed for acting like Saddam. That was inevitable. In fact, that's why we supported him in the first place. No - the problem lies with us. The problem is that we support goons like him whenever it suits us, no matter the consequences. And then, suddenly, we pretend to grow a conscience, and lo and behold, act enraged and morally outraged, and want to correct some wrongs (wrongs that we are Responsible for in the first place!). So why not be honest, at least. Why not say,
We need to correct OUR wrongs, not those of others. Why not say we won't support such regimes ever again, no matter what?
Are we ready to face the truth?
---
2Co's got the Blues
2Co's Cabaret
by Rick Brown
This year 2Co's Cabaret really does have the blues. No shit. Opening with the classic and disturbing "Strange Fruit", vocalist extraordinaire Stephanie Shull set the tone with this song lamenting the lynchings in the not so Old South. Shull … along with house band Downtown DFN … manages to make the song smoke with a slightly uncomfortable immediacy without losing its mood in the relevancy of the message.
Most of the first half of "Got the Blues" is filled with melancholy as in Gabe Smith's reading of the Charles Bukowski monologue "Nirvana". Ann L. Miller recites her own piece "Homeless" and does so with an earnestness that kept the audience's comfort level reflectively pensive. Ironically, Christine Connor's "Winter" thawed the atmosphere ever so slightly thanks to a charmingly warm … and borderline coy … performance by Megan Overholt. Ms. Shull returned to the stage to thaw things even further with a lovely reading of Dave Barry's "A Million Words" which speaks to all of us who have been given the opportunity…the privilege…to say goodbye to a dying parent. Finishing on a more upbeat note Michael J. Nelson's humorous, Password: Yawn reminds us all of the foibles of our relationship with computers…specifically when passwords we have forgotten are involved. Lynch gives a charmingly self-depreciating performance that makes Nelson's work personal to all watching.
continued...