Love, Laughter and Lies
2Co's Cabaret
Short North
Columbus, Ohio
* * * * 1/2
by Rick Brown

I had my doubts that 2Co's Cabaret could come up with a show to rival this year's delightful 2Co's Got the Blues but, once again, this troupe of talented actors and musicians have proven me wrong. Love, Lies and Laughter opens with a haunting rendition of Tori Amos' "Silent all these Years". With Jennifer Hahn singing and pounding the ivories while accompanied only by Stephanie Shull on flute the mood is set hauntingly by the duo's complex instrumentation…lyrical meandering…all confined in its stark, refreshingly simple presentation.

After the opening monologue by Tom Cardinal, the entire band…with Mr. Cardinal in the forefront…immediately shifts gears with a delightfully ornery, Caribbean influenced version of Paul Simon's "Late in the Evening". This is deliciously segued into the regional premier of GW Jr's My Therapist Bob. Jennifer Hahn (Elaine) and John Croke (Chuck) play intensely neurotic people meeting in a restaurant for a blind date. Much to Elaine's dismay the two are joined by Chuck's therapist Bob (Tom Cardinal) who immediately begins counseling them on how to relax and try to enjoy each other's company. The comedic talents of these three fine actors makes for an uproariously funny first sketch.

After an entertaining but somewhat flat performance of Steely Dan's "Haitian Divorce", is the first of two Charles Bukowski pieces for the evening. Joe Lorenzo is mesmerizing in his telling of "Love for the First Whore". This is a serious monologue enhanced by some stark black and white lighting. Lorenzo's performance is riveting as he moves from harsh bitterness to conciliation and back again while he walks from darkness to light…and back again. And when Mr. Lorenzo looks into the crowd and asks, "Are you bored" his character becomes both dangerous and terrifying. Unfortunately, I'm not sure the crowd got this monologue. Maybe it was a little too real for them.

Conversely, the audience embraced Dave Barry's "Baby Hormones Have Taken Over My Wife And All I Can Say is Waah!". Personally while I enjoy Dave Barry I find his subject matter a bit too glib at times…too mainstream shall we say. Still, Gabe Smith's off-handed delivery was quite effective in drawing guffaws from a crowd that had obvious experience with pregnancies and couples interaction during them.

Chris Lynch delivers a casual, subtly sarcastic reading of the second Bukowski piece "Hello Barbara", the tale of a man who gets rip roaring drunk and calls his ex-wife on the phone. Mr. Lynch's gift of relating a monologue is so good it almost seems second nature…as if he could deliver a Bukowski message while fast asleep. And this night was no exception.

The other two sketches in the second half are brilliant. Pam Callahan and John Croke play newlyweds on a Caribbean honeymoon in Marilyn and David. Ms. Callahan's Marilyn is a woman maybe 48 hours into her marriage who is already struck with second thoughts, doubts about their love, feelings off confinement. Yet she shifts back and forth on both positive as well as negative fixations. Meanwhile husband David observes her wide mood swings with mostly bemused and confused sleepiness. From their nuptial bed Croke's husband brilliantly plays off Ms. Callahan's wildly fluctuating bride in what can only be described as extraordinary silence.

Closing Love, Laughter and Lies is Rich Orloff's Off the Map; a short play where couple Scott (Tom Cardinal) and Jean (Stephanie Shull) are lost in what we learn later is a metaphorical Antarctica. Jean wanders off looking for a guidepost as Scott meet a Local (Joe Lorenzo). A Local being…in Antarctica of course…a penguin. I'm not sure there are many actors who can scare the life out of people reading a Charles Bukowski monologue and return to the stage moments later to play an effectively poignant penguin. But I know Joe Lorenzo is more than capable. The skit is both childlike in its presentation and wise in its message…all without coming close to the dangers of absurdity or triteness. Orloff's play works here because of the amazing capabilities of the actors involved under the direction of director James Makofsky.

Musically, bandleader Chris Champa maneuvers Downtown DFN through some difficult cover songs. The Beatles' "I Want You (She's So Heavy)" is sung by a determined Joe Lorenzo (who else?), pacing the stage giving a caged animal intensity to the tune. And there is John Croke's wonderful take on Bill Wither's "Ain't No Sunshine" (complete with solid bass solo by the "Rev" himself), Aretha Franklin's "Chain of Fools" by soul mistress in residence Sheaneen Shelby, Michael "Hacksaw" Duggan's delightful "The Party" (Harry Connick Jr.) and a wonderfully upbeat ensemble effort on Fishbone's "Everyday Sunshine". Ending an awesome night of entertainment is Pam Callahan backed by Lydia Tew being campy and sexy…singing and shaking their respective moneymakers to Me Shell Ndege 'Ocello's "If That's Your Boyfriend". Whew…I'm worn out just writing about the entire experience!!!!

Love, Laughter and Lies will be performed at 2Co's Cabaret in Columbus' Short North until May 21. For more information go to www.shadowboxcabaret.com


---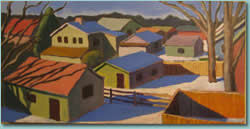 Click Here
---
Blank Sight
by John Bennett
---
Poetry Corner:
by Ted Kane


ONE FOR THE ROAD

Hunter S. Thompson,
Rest In Peace?
That doesn't seem right;
I'd like to think
he'll shake things up
In the next world
as well

Every day above ground
he cheated death;
who knows, even here
he may have left
the bony bastard feeling
shortchanged.
---
Encyclopedia Selfdestructica
by Cory Tressler
A review of Let It Blurt:
The Life & Times of Lester Bangs, America's Greatest Rock Critic
By Jim DeRogatis
Ok, so Lester Bangs was a great writer who wrote about rock and roll from the late 1960's until his death in 1982, but that was about the nicest thing you could say about the guy. He was an ugly drug addict that drowned pills and speed with cough syrup and booze like it was nothing. Bangs wrote all of his best work while high on speed. He rarely slept and hardly ever showered. He lived in his own filth and he somehow couldn't understand why women wouldn't stay with him for an extended period of time. In short he was a rock and roll obsessed train wreck.
---
Satan's Turtle vs. Virgin Mary's Grilled Cheese
by Patrick O'Malley

For those whose confidence and trust in American media has been wavering or had already totally withered, listen up. We can at last put our faith (pun intended - hee!) back into the liberal Jew-run media. Those filthy heathens may not always get it right, or touch on the stories we need most, but when they do it's a reminder to all of us that our one lord works in wonderfully magnificentous mysterious ways. Why just today I was reading the "news" online, in between my multiple daily visits to www.godsaidmansaid.com for my science refresher course (it's my homepage, and should be yours, unless you don't mind going to hell), when I read the most fascinating article that serves as a reminder to us all of the frighteningly real evil incarnate that is the dark lord Satan.
---
33
by Rick Brown
Thursday, March 3, 2005
8:33 pm
We arrived at the cabin at 7:30 or so. The drive wasn't bad…different part of rural Ohio for me. After a somber afternoon the ridge is all too quiet and dag gone!!!! We forgot the "fat wood"…whatever that is. So it's back to Boy Scout/church camp counselor experience. There's a "white man's fire" roaring now. Calm…even the dog.
10:50 pm
Man…it's too friggin' cold for the hot tub. The fire seems more appropriate this evening. For March 3rd this is a dark and frigid night. 2005 has been severely serious in it's karmic nature. Sickness…death…cancer…car accidents…hospitals…All these things happening to the people around me. 33 years since our first date. Wow. Coincidentally, we drove through Granville, Ohio yesterday. The site of that very beginning.
---
---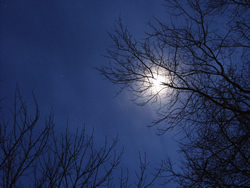 I am
I am a cloud
without a sky
I am a rainbow
without a storm
I am a star
without a galaxy
I am a void
filled to capacity
I am an empty shell
filled with sand
I am a blank page
filled with thoughts
I am war
at peace
I am hatred
in love
I am depression
in ecstasy
I am born
therefore existent
I am dead
therefore endless
I am energy
therefore kinetic
I am nothing ~ I am the universe
Tracy L. Nicholson
---
'no secrets'
it'll be good to leave
people that would have me
stay.
why is that?
because they keep
me from my selfing self.
i want to cultivate
i want to
explore. i want to
be anonymous for awhile.
less people mirrorsdistortions
less ego conflict,
less people.
new walls so i don't have
to punch so much
for awhile.
Jessy Kendell
---
This morning I got up
and angels fell out of my bed
birthing a crease of happiness inside
A. Jive Turske

The Co-Op
by Rick Brown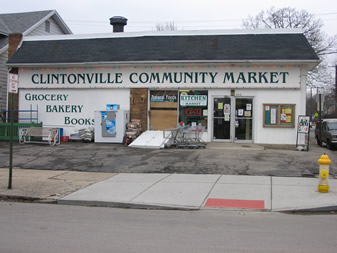 Right down the street from where I live…just a block…there's a food co-op I belong to. I just shop there and try to be friendly when I go in. I'm glad it's there. Still…my avoidance of all things organized keeps me from getting more familiar. I'm kinda funny like that.

So I sauntered down there for a few items for the week. Trail mix…dog chews…dark chocolate…apples…a six-pack of beer. You know…some of the finer things in this good life. Since the place just began selling beer and wine a short while ago, you must have an ID no matter how old you look. It's smart really. There are still plenty of folks who don't care for old hippies…neo-hippies…people who want to live "simply"…vegetarians. What used to be called counter culture. And what might be known as "suspicious" today. (Wait…wasn't this "suspicious" 35 years ago?)

I waltzed around the place carefully choosing my staples. Everything was a no brainer…'cept for the beer. There is no corporate brew on these premises. Uh uh…only those beers we all put on a list….that's what co-ops do Way cool. A place that sells beer with no Bud Light to be seen anywhere...not even warm. Perhaps there is a God. (a god?) I chose Pilsner Urquell…a Czechoslovakian brew that was the very first pilsner made…ever. Yum.

I made my way to the check out area and immediately noticed two new guys running the registers. They looked young. And as soon as the first guy held up a bunch of asparagus and asked…loudly enough to be heard throughout the small store…of his customer, "What's THIS?"…well…my hunch was confirmed.

The other register was suddenly clear so I carried my Curious George re-usable bag (chicks dig it!) over to the other new guy. He rang up everything just fine…then asked me for an ID before he turned his attention to the beer. I gave him the driver's license that identifies me as a 51 year old man…he examined it…handed it back to me…and said, "You're still ROCKIN"!" I was flattered…and impressed he omitted the "DUDE!" Most impressed indeed. Immediately he rung up the beer and asked, "Is this stuff really good?"…once again effectively refraining from the "DUDE". I told him personally I thought it was great. But I cautioned him the beer was "bitey". "Bitey?" he asked. "Yeah" I said. "You know. What some people call 'skunky' beer".

Simultaneously his youthful face screwed up into a wrinkled wad while his voice proclaimed through tight lips "Skunky beer!"…again skillfully avoiding the "DUDE" I smiled and said, "If skunky beer is something you know about, this might not be for you." I too magnificently stifled the "DUDE!" We shared a laugh. I walked home…emptied the Curious George bag…and had myself a "bitey" brew.