Bob Dylan
Bozeman, Montana
July 27, 2005
by Rod Cline
Living in small-town Montana it is very, very rare that a show comes along. Somehow someway I've seen Bob four times in the past seven years. Each show has been distinct; looking back over my dozenish Dylan concerts, each show has been quite unique indeed and I like that about Bob!
continued...
---
Devo
August 18, 2005
The Scene Pavilion
Cleveland, Ohio
* * * * *
by Rick Brown
As soon as Devo marched out on the Scene Pavilion stage ... standing at attention while saluting the crowd ... it became obvious to any real Devo-tee, that this was to be a homecoming ... a "best of" Devo performance. Looking dapper in their yellow jumpsuits they also had donned the "power domes" (which are really inverted red plastic flowerpots) atop their respective pinheads. These spud boy fashions are from two distinctly different Devo eras, the first "Are We Not Men" look, topped with the headgear from the later "Freedom of Choice". And like Devo's fashion puree ... the concert was delightfully all over the place.

Opening with the upbeat "That's Good" the band had a mellower, more integrated sound than in the past. Ordinarily this might offend loyal fans. But as the spuds ground through tune after tune with assembly line precision, they displayed their prowess as innovative rock musicians. In the past, the weirdness of the visuals and abruptness of the lyrics, along with Mark Mothersbaugh's yelping singing style, overshadowed the instrumentation. The balance also made the songs sound fresh and reminded everyone of the lyrical relevance that drew fans to Devo in the dismal days of disco to begin with.

Brothers Mark (lead vocals) and Bob 1 Mothersbaugh (synthesizer) with brothers Jerry (vocals, synth, and bass guitar) and Bob 2 Casale (synth, guitar), all originally from Akron, Ohio, were joined by hired gun Josh Freese on drums. "Going Under", "Whip It", "Girl U Want", "Uncontrollable Urge", "Gates of Steel", "Blockhead" ... these are forgotten gems. I was reminded of the band's clever ability to turn a phrase lyrically ... many times combining sexual innuendo with double entendre as in "Smart Patrol/Mr. DNA":

"Smart Patrol ... nowhere to go.
Suburban robots monitor reality.
Common stock ... we work 'round the clock.
We shove the poles in the holes!!"
Or the tongue in cheek philosophy of "Wiggly World":
"It's never straight up and down!!"
And the theology of de-evolution in "Jocko Homo":
"God made man ... but he used a monkey to do it.
... I can walk like an ape, talk like an ape
Do what monkeys do.
God made man ... but a monkey supplied the glue."
Heady lyrics from Devo's past thrown unmercifully in the face of today's "Intelligent Design". The spud boys even ripped off their jumpsuits, revealing black shorts, shirts and elbow and knee pads. It felt very much like 1978. And after Jerry was greeted with cheers when he inquired about how many of us believed in De-Evolution he sardonically apologized. "I'm sorry we were right. You don't have to look far for proof. It starts at the White House and trickles down".

Devo remains very much a northeast Ohio band in attitude. By that I mean ... in an affectionate way ... that they are simultaneously sarcastic without losing a touch of blind optimism. This is the mark of a Clevelander ... and Akron is most certainly a sibling. This was evident in their rendering of "Freedom of Choice" where the audience was both chastised for desiring freedom "from" choice when in fact, we have freedom of choice. Use it or lose it. Apparently, not much has changed in 30 years ... except that we have chosen less freedom.

The music flowed so well the show seemed over quickly. Devo did only put in 75 minutes. And although they played a good number of tunes, including the disjointed cover of the Stones' "Satisfaction" the crowd was left hungry for more. Omissions like "Beautiful World" and "Working in a Coal Mine" seemed painfully obvious. And Booji Boy was nowhere to be seen. Yet the music was so unabashedly political, relevant and earnest the karma by show's end was refreshingly inspiring. A lot of rock concerts can leave an audience feeling drained. Devo's dynamic performance left this home town crowd obviously rejuvenated ... almost giddy. And as we all filed out of the Scene Pavilion ... walking the banks of the Cuyahoga River ... it struck me how connected the crowd had been on this fine August evening. Once again the wisdom of the spud boys from Akron proved true.
We're all Devo!!!!!!!!!!!!!!!!!!!!!!!!!


---

Help Hurricane Relief Efforts
---
Guru in a Suit
by Matt Carmean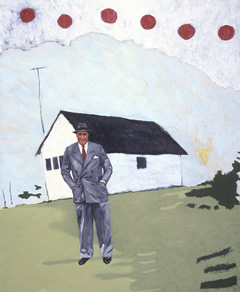 Click Here
---
Freak Show

Shadowbox Cabaret

Easton Towne Center
Columbus, Ohio
* * *
Twisted Tales
2Co's Cabaret
The Short North
Columbus, Ohio
* * * * 1/2


by Rick Brown
I picked a lousy night to go see Shadowbox's Freak Show this year. Oh, it wasn't raining or anything like that. No. Jimmy Mak was on vacation. Now I don't begrudge the man a rest. It's just that two of the more popular sketches included in Freak Show are crowd favorites Campfire Boys and Jason's Scary Stories. And Mr. Mak OWNS these skits. Without him ... try as they might ... even Gabriel Guyer couldn't carry it off. Without Jimmy's childlike enthusiasm both were humorous yet missed the uproariously anarchistic innocence with which Mak performs them. Fortunately Mr. Guyer DID manage to make Zoltar – Life of the Party ... a children's birthday party story ... a delightfully dorky success.
continued...
---
The White Stripes, The Greenhornes

The Greek Theatre
August 16, 2005
Los Angeles, CA
*** (of five)
by Ted Kane
---
"Interview with Thomas Rumpleberry"
by David Hochman
---
Blank Sight
by John Bennett
---
Tri and Wine in California Wine Country
by
Karl Gruber
To My Ball

by Maxi Branin
(translated by Anita Branin)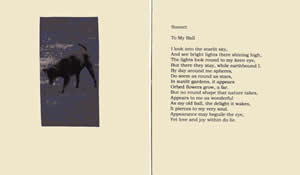 Click Here
---
Poetry
by
Jessy Kendall
---
Qube
by
Rick Brown

It was the mid 1970's ... 1977 to be exact ... when what was then simply Warner Cable initiated an interactive cable system in Columbus, Ohio. It was called ... for some unknown reason ... Qube. Being the first cable network in this city ... and this was back when cable monopolies were legal ... if you had cable you had Qube.

Maybe it was called Qube after the box that sat on your living room's coffee table. I'm not referring to the cable box underneath the television. This was a very large remote control. Back then ... in the dark ages ... you actually had to GET UP and turn the DIAL to change channels. No kidding kids. So this was the very first remote control most of us ever had. Just set your television's dial to 03 and you never had to get up to change channels again. Qube had buttons all over it, was about 8 inches by 12 inches and maybe 2 inches thick. You couldn't misplace this "remote" if you wanted to. Besides being huge it had what looked like the Trans-Atlantic Cable running from it, across your living room floor, and into the box under your T.V. Most Qube subscribers tripped over this garden hose sized cable on a daily basis ... including me.

But ... AAAAHHH ... the simple joys of those heady days of virgin cable television! For the first time in a man's life he had porn right there in his house ... without having to go somewhere and purchase it!! I mean ... sure ... it was mostly a lot of "head bobbing" shots. But there were bare, bouncing breasts galore!!! And ... there were devious schemes to get this head bobbin' bare breasted fare for free. Men ... skulking in dark corners could be overheard whispering, "Did you hear that if you put a stack of magnets over number 20 you can get porn for free?" Or, "It's true!! All you have to do is jam a large safety pin in the Qube box right by the 'send' button and you won't get billed for porn!!"

Sometimes I really miss the 70's ... even though I did get busted for the safety pin idea. I was watching something akin to "Head Bobbin' Beach Babes Bare Their Bouncing Breasts in Bozeman" when the picture scrambled. Every frikkin' channel was scrambled. I panicked and began pushing the big safety pin into the Qube like a possessed Voodoo Doctor!! When the repair guy confronted me about it I stammered, "Uh ... I think somebody messed with it at a party I had." He shook his head in disgust and muttered, "Sure ... sure." He'd heard about the giant safety pin theory ... no doubt.

What made Qube different from other city's cable systems was that it was interactive. That is, you could send responses back to the television studio by casting "votes" on the Qube remote box. A range of numbers from 1 to 4 ... I think ... and there were "yes" and "no" buttons ... at the bottom of the thing let you communicate with the broadcaster. There were shows where you could "vote" for you favorite video ... how the chef on the cooking show should make "your" eggs ... weird concepts like that. The one show that caught my eye was their daily talent show. This was when I was just starting to play in Columbus as a musician.

I can't remember the name of the talent show. It was on Monday through Friday in the late afternoon. The first four days would showcase 3 or 4 acts that would perform and at the end viewers at home would vote for the winner. The four daily winners would then return Friday for the weekly championship. And, of course there were monthly winners and finally a grand prizewinner for the year. Prizes were donated by local businesses and could be anything from a haircut to a massage to a dinner for two at a local eatery. I decided to give it a shot.

I took my guitar and harmonica down to Warner Qube studios and auditioned. I played a mean version of Bob Dylan's "All Along the Watchtower" with a wicked harmonica solo. I passed the audition. Of course no one ever failed an audition. I guess it was just a formality to give the director the choice of a variety of acts on specific shows. I was told to come back next Tuesday for the competition.
continued...
Journey to Intonation
Chicago, Illinois: July 15th-17th, 2005
By Leonid Maymind
5 college kids packed in an old Buick Roadmaster station wagon. Ipods, snacks, sleeping bags, and an unsteady chess set. A journey across the Midwest to the first ever Intonation Music Festival, curated by Pitchfork Media, held in Union Park, Chicago, Illinois.

Roadmaster

It all began in Columbus, Ohio, where I, and four friends began our trek to attend what would turn out to be a weekend of dust, heat, sun, ice cream, toy squirt guns, and music. Lots of music.

The destination was the Intonation Music Festival, the first festival put on by the indie giant www.pitchforkmedia.com. For those unfamiliar with Pitchfork, the site includes album reviews, interviews, track reviews, and anything else relating to the independent music scene and subculture that so many 'hipsters' today in the United States are attracted to. Pitchfork has become infamous for harsh reviews, esoteric writing, and enough sway to make or break a band. Their rise has been steady in the past few years, as their site now attracts thousands of visitors daily. The approval of a writer on the Pitchfork staff can raise the popularity of a band so drastically that many criticize the website for it's long reach.
This phenomenon can be seen in the now well-known Canadian band The Arcade Fire, as well as such indie newcomers as M.I.A. and Bloc Party. When the Arcade Fire came to Little Brothers in Columbus, OH back in the fall of 2004, there were no more than 100 people in the small venue. A little over a year later, in October of 2005, the rock group will open for U2, one of the biggest bands in the world. They have also played every summer festival imaginable (Intonation withstanding) and instantly risen to the top of respectable Merge Records' bestselling list. Such quick fame was highly unlikely without a 9.7/10 rating from Pitchfork, as well as being rated the number 1 album of 2004 by the website.

So when it was announced in early spring that Pitchfork would be selecting bands to play at a two-day music festival held in the center of the country, it was the next logical step for the media giant in its reign of music-reporting supremacy. Not only would the site choose the bands, it would report on the festival with its entire staff of writers, normally spread throughout the country. Other festivals held in the US in the summer have been known to draw huge crowds, offering attendees a wide variety of music and outdoor fun. The draw of Intonation came with the price: 22 dollars for two days of music and 21 bands. Along with the array of bands, there was a DJ tent and a record sale to keep festivalgoers busy. Hipsters never said they didn't like value, as long as it's not mainstream.

With all of this in mind, we drove west to Chicago with fervor in our hearts. The only thing keeping us in reality was the ever-rising gas prices as we sped toward the Windy City. After a few hours spent driving, we arrived at my friend Jamie's apartment in Champaigne, Illinois, where we were greeted with more college students who we would be going with to the festival tomorrow. The night was spent eating pizza, watching a few Curb Your Enthusiasm episodes, followed by a rush to buy swimsuits and alcohol and enjoy the swimming pool and hot tub in the apartment complex. It was a worthy night to precede the fervent activity that made up the next two days.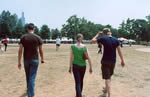 Festival Ground

The 10 of us awoke early in the morning to take two cars the hour and half north to Chicago. We arrived at Union Park a few hours before the gates opened at 1 PM, and the locale of the festival was a little disappointing upon our first grand entrance. The park was little more than two dusty baseball fields with two stages set up in the infields. There were also food and drink vendors lining the park's only cement walkway, which led to the massive tent where the record sale and DJ tent were setup. The only thing that lent itself of Pitchfork's savvy internet design scheme were large banners hanging on either sides of the stages that announced the lineup of bands for both days.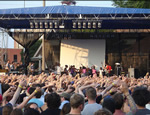 Audience
The dust right in front of the stages was persistent, but not the only problem that nature bestowed upon the weekend. The dry, thick heat hit us hard at about 1:30 PM on Saturday, and only got worse throughout the weekend. Thankfully, bottled water was only a buck a pop, but there was only one water fountain from which to drink and refill extra containers. Lines for hydration soon wrapped halfway around the park. Shade was also at a premium at Union Park, at least anywhere close to the stages. Shade breaks usually meant resigning yourself from seeing anything happening on stage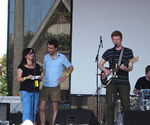 AC Newman with Andrew Bird

The way the schedule worked was a band on the 'Decimal' stage would play their set, and then five or ten minutes later, the 'Holiday' stage would start up. (Note: My good buddy Andrew Gallagher and I inquired politely to several festival volunteers as to why the stages were named 'Decimal' and 'Holiday,' but we were mostly left with blank stares and shrugs. One lovely young lady did however supplement her own befuddlement with free donuts for us. We never did find out why the stages were named this way. The donuts, however, were delicious). This meant you could either mosey along over to the next stage with the crowds and get a view from somewhere in the middle, or you could park yourself in front of one stage for as long as you wanted and maintain your position and sacrifice seeing the band playing on the opposite stage. For the most part, our group decided to try to snag choice spots for our favorite bands and be content with hearing the others from the cool of the shade.
Each band was introduced by the local Chicago poet Thax Baxter, who seemed to be a legend among the locals in attendance. His poems used the themes of the band's name and music to create a short, detailed visual image before he shuffled off stage with a wave of his hand. I managed to get a word in with him later in the festival and I can attest first-hand that he truly is an interesting character.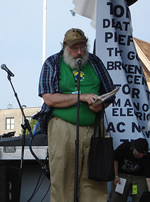 Thax Baxter
As for the music itself, the overall quality of sound and performance was far above average. There was a wide variety of musical styles that relieved the festival of the potential monotony that seeing five or six indie rock bands in a row could have. The southern rock of Magnolia Electric Company contrasted well with the post-rock of Saturday's headliner Tortoise; the quirky folk-rock of Sunday's headliner the Decemberists was a nice change of pace from the blistering rock of the Wrens and Les Savy Fav that had come before. The crowd drank up the catchy dance-punk that the Thunderbirds are Now! spewed out just as much as the highly original style of arresting post-punk of Xiu Xiu. Seeing Canada's Broken Social Scene play an incredibly strong set was only outdone by Andrew Bird, the virtuoso violinist/guitarist/singer/songwriter/whistler who stretched his own compositions on stage with his jazz-informed drummer Kevin O'Donnell scooting right along. Other favorites included pop wonder AC Newman, off to a shaky start with an out of tune guitar, but then recovering magnificently. His set included a duet with Andrew Bird somewhere, which I somehow missed. Was I talking to you, random 18-year-old hipster chick, at the time? You said something about your gay friend and then dragged on a cigarette while reading the Economist in one of the best conversations I've had about heat/high school in my life. I may never know.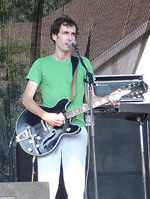 Andrew Bird
The fact that the performers were so numerous sort of made the whole two days blur together. At one point, I forgot if I was watching the Wrens or Magnolia Electric Company. Another instance on Sunday afternoon, after a few intense hours in the heat, I heard the first few bars of an Out Hud song and was convinced the Faint had somehow made a surprise appearance at the festival. I must admit some bands completely slipped through the cracks. I do not remembering hearing a single note of the 'instru-metal' rock outfit Pelican, nor did I pay much attention to the beats showcased by laptop whiz Four Tet. I don't see how watching anyone fiddle around on a computer is cool. By Sunday night, I was packed in the front row of the crowd watching Tim Harrington of Les Savy Fav strip down to tiny red shorts, pour beer over his head, belly, and down his pants, and recline on an air lounger on-stage, while his band calmly broke down into tightest set of rock the festival had yet seen. Their set was only enhanced when Harrington went out into the audience with mic in hand and made everyone settle down before the security gate was pushed over and the cops would be forced to pull the plug.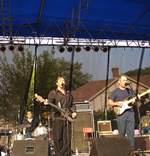 Wrens
With such a diverse, talented lineup, the Intonation Music Festival did not disappoint. The weekend went over with no major technical difficulties and no security snags. The 90-degree weather perhaps put some of the 15,000 audience away from the stages, but there were enough brave souls ready to weather the sun in order to get a look at Dungen, who had come all the way from Sweden, or to try to catch some of the Go! Team's energy, hailing from the UK. As Andy and I sat in the backseat of the Roadmaster recounting the weekend Monday morning headed back east, he noted to me that as tired as we were, the memories of that weekend of the summer would still be the ones we were telling all our friends about once the first week of classes came around.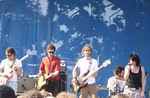 Broken Social Scene
Full Lineup:
Saturday: Head of Femur, Pelican, the M's, AC Newman, Magnolia Electric Company, Four Tet, Broken Social Scene, the Go! Team, Prefuse 73, Death from Above 1979, Tortoise.

Sunday: Thunderbirds are Now!, Dungen, Xiu Xiu, Out Hud, The Hold Steady, Andrew Bird, Deerhoof, The Wrens, Les Savy Fav, the Decemberists.