Shadowbox Cabaret Celebrity Series
Featuring Garrett Morris
June 28, 2006
Columbus, Ohio
* * * * 1/2
By Rick Brown
Upon introducing Garrett Morris this evening, head honcho Steve Guyer was interrupted by Jimmy Mak. Mr. Mak needed to inform the master of ceremonies that there were some members of the audience with hearing impairment. And on strode the fit looking, 69 year old Garrett Morris, charter member of the original Saturday Night Live's "Not Ready For Prime Time Players", reprising the "news for the hearing impaired" he and Chevy Chase deadpanned more than three decades ago. Without skipping a beat Mr. Morris then segued into a monologue about his reputation preceding him…how he was known for his use of four letter words. And he reassured us he would refrain from doing so. Garret then waltzed through a charmingly "blue" dialogue about how "motherfucker" has 12 letters…"cocksucker" ten…and bitch - 5. Of course he elaborated on turning 69 and that would be his theme for the upcoming year.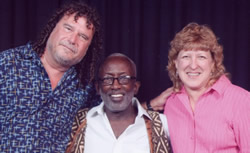 "Working blue" is an old euphemism referring to dirty jokes, sexual innuendo, and swearing that probably dates back at least a century and a half. Some comics can pull this off…most cannot. Mr. Morris's impish charm, salt and pepper beard, and stage charisma fit perfectly into the cabaret setting. In fact, he made the Shadowbox troupe even better…and they're already quite good. It was obvious these singers, dancers, and actors were thrilled working with a pro like Morris.

The Shadowbox format doesn't change for their Celebrity Series…sketch comedy sandwiched between rock and roll. Since Saturday Night Live arguably spawned the genre Garrett Morris was a natural inspiration. In "Placement Service" he played a wily, conniving job applicant opposite local veteran Tom Cardinal. The sketch was hilarious and Mr. Morris's effortless performance was reminiscent of the late Flip Wilson. His playing opposite Katy Psenicka in the home improvement call in radio show sketch "Home Time with Garrett and Galinda" made the double entendre delight a little edgier, climaxing at Garrett's response to the question "Have you ever experienced a hole that was too small?"…the sketch's usual reply being, "No". But in Mr. Morris's case his answer became a coy "Yes". I immediately harkened back to the heady days of the original SNL.

A rather obvious but still fall down funny "Hippie Ed" had Morris as a burnt out professor (Dr. Flower) teaching children about the 60's. While predictable, his stage savvy and comic timing made even the most clichéd, anachronistic counterculture references seem refreshingly charming and fresh. Ditto for the rewrite of the Casey Kasem sketch changed to "Soul Train" in which Garrett portrayed Don Cornelius. Mr. Morris was the undisputed king of sarcasm here especially while addressing the "relevance" of white rappers. The ending of the skit…two "groupies" rushing the stage and hanging all over Don Cornelius…was a little clumsy. But, hey…Mr. Morris sure as hell didn't seem to care.

Being the talented singer he is Shadowbox also included Garrett Morris in a couple songs. First was "Walking Down Bourbon Street"…a tune he wrote for SNL back in the day. He never got the chance to perform it on Saturday Night Live…a story he doesn't shy away from retelling. The song worked well with an expanded BillWho soulfully backing Morris's vocals. Closing the show was a big production rendition of the Temptations "Pappa Was a Rolling Stone" with Garrett Morris on lead vocals. What a delightful finale to a wonderfully entertaining evening. Of course sprinkled throughout the show were strong musical performances. Mary Randle's torrid take on Rush's "Limelight", Julie Klein's beautifully genuine reading of Paul McCartney's "Maybe I'm Amazed" and Stacie Board's roadhouse rattling rendition of the Allman Brother's "Whipping Post" most notably.

I have been to Celebrity Series shows in the past…Mitch Ryder (Detroit Wheels) and Michael J. Nelson (of Mystery Science Theater 3000)…and they have been fun. But the Garrett Morris version was by far the best. Mr. Morris's experience and talent obviously inspired the Shadowbox troupe. And his curmudgeonly yet charmingly demure charisma made this show…his show… magical.



---
Editor's Note:
Cory Tressler has left the building…er ocean. That is to say he has bid adieu to Naked Sunfish…but hopefully not forever. Cory is now in graduate school, which as many of you know requires one's undivided attention. I'm sure I speak for everyone in the N.S. family…uh…school…in wishing him the best of luck with his endeavors. I am saddened because Cory has been writing here since issue # 2 in February of 2002. He was one of our very first charter columnists. His wit, enthusiasm, and observations on music, politics and humor will sorely be missed. Most noteworthy is Cory's covering of the very first Bonnaroo Music Festival that same year. I am hoping with the advent of our new guest column…a la carte…that he will be back sooner than later. Many thanks for all his time, hard work, and loyalty. Losing his Feral Muse column is tough to take. Don't be a stranger Cory. And thanks again!!!
Rick Brown
---
Blank Sight
by John Bennett
---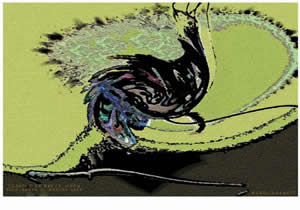 Blue Heron
by C. Mehrl Bennett
---
What I did on my Summer Vacation
By
Ted Kane
(photos by Christy Luna)
There's no better way to kick of the summer than with a nice vacation. This year, for the first time in close to two decades, I went and did what all those right-wingers have been telling us to do for so long--I went to Europe, Italy to be specific, albeit only for two weeks. It was a family vacation, and Christy and I joined my parents as well as my sister Laura and her family (husband Bill and their 12-year old daughter Rachel). We spent the first week at house in a coastal town called Recco in Liguria, then went to Chianti for the second week. But we went all over, really; took a hike in the Cinque Terre, visited the museums of Florence, tasted wine at a couple of vineyards, took in the Coliseum in Rome and even went to Monte Carlo one day to offer an obligatory ten euro to the gaming gods. We also got to spend a very hot couple of hours each way on the Tube during our all too brief layover in London on the way back.
continued...
---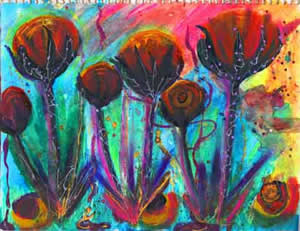 Poppies
by Llori Stein
---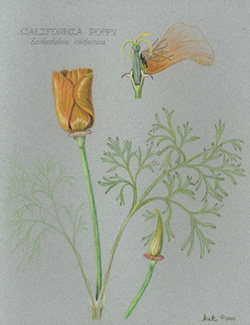 California Poppy
by Kyra Kopestonsky
Rome In May
By Laura Kissel

I have the good fortune to have a job that requires me to attend an international conference every other year. The Polar Libraries Colloquy meets in Europe and then alternately in a North American location. This past May, we met in Rome (I know, it's a tough gig, but somebody has to do it). My husband Mike has gone with me on a few of these cool trips, but the timing for this one wasn't good for us. Somebody had to stay home and push the kids through those last few weeks of school, so my Mom came with me on this trip. She had never been to Europe before and since my Dad passed away in January, she was ready to get away for a while.
continued...
---
look
trust in your eyes only.
let them make their looks.
do it anyway.
if you don't it's compromise.
let your eyes
show their sheepish
embarrassed
skun-naked looks.
i think people react better
to these than our
looks-of- avoidance.

Jessy Kendall
---
Savoy Brown featuring Kim Simmonds
June 22, 2006
The Thirsty Ear Tavern
Columbus, Ohio
* * * * 1/2
By Rick Brown
I've seen Savoy Brown three times now beginning in 2004 in Santa Cruz, California and twice at the Thirsty Ear here in Columbus. The biggest differences this time were that the tavern has changed hands. It is not quite the "club" it used to be. By that I mean the place has more of a bar feel…no "seating" people as they come in like before. But much of the staff is the same and the holdover is a real plus because the bar staff, etc. are very, very good. And how many bars can you say that about? The Thirsty Ear Tavern is still arguably the best small venue in the city.

Savoy Brown themselves performed as a trio at this gig. Initially…way back in '65…the group was five. The times I had heard them previously the lineup included another guitarist besides Mr. Simmonds. This sparseness might be a drawback for most musical outfits. But Simmonds is such a diversely tasteful player that he can fill the spaces without the music diminishing into cluttered rock power trio noise. Far from it. Drawing from the respective wells of blues, rock, and jazz Simmonds can literally play solos for hours without sounding the least bit redundant. Of course all three genres from which he draws inspiration have had their super trios. Most notably was rock's Cream which surfaced in Britain much the same time as Savoy Brown, Fleetwood Mac ,et al. While Mac went on to monster popularity as a pop group when Lindsey Buckingham and Stevie Nicks joined, Mr. Simmonds weathered the storms of shuffling lineups and soldiered on carrying the blues torch. And it's always a pleasure to listen to him play. His purity…his focus…becomes atmospheric.

Scorching through sturdy material like "Louisiana Blues," "Tell Mama", "Poor Girl" and the traditional "Wang Dang Doodle" Simmonds became one with his Flying V, leading the rhythm section to blues nirvana without breaking a sweat. And his slide work oozed out of what he affectionately referred to as his Lez Paul. For two hour long sets this intimate club buzzed with the joy only a great blues band with a dynamic guitarist can cook up. When one revels in the blues one forgets one's blues. And Savoy Brown is an elixir I will gladly drink whenever available.
After closing with signature tune "Hellbound Train" the crowd rose in unison and demanded more…and being the cherubic gnome as guy next door that he is, Kim Simmonds led the band back out to play again for his friends. It was obvious Savoy Brown was charging into their fifth decade. And they were inviting us all along for the ride.
---
How I Spent My (Very First) Summer Vacation
by Rick Brown

It was late August 1972 and my third summer at a Lutheran camp named Frederick about 25 miles south of Youngstown, Ohio. Hardly the garden spot of the U.S. but pleasant enough. And for about the last month or so I had pressed my buddy Steve to take a trip with me. Considering I was pulling in about 400 bucks for the summer…he even less…this was not an easy sell. But I finally convinced him…and his father…that my 1963 Chrysler Newport…affectionately named Smiley…was up to the task. I also conned my brother Don into coming along for the adventure. The fact that at the ripe old age of 20, I was taking two minors across state lines never occurred to me…until I sat down to spin this yarn.
continued...