The Jayne Sachs Interview
by Rick Brown
Editor's note: Janie Sachs (now known by Jayne) was a young woman who auditioned to be in a band I fronted way back in 1980 called Small Shoes. She played and sang with us for about 9 months when we parted ways most amicably. She was a pleasure to play music with and I hold some of the memories most dearly. We lost touch a long, long time ago until the drummer from that band…Tom Grice…called and informed me that Jayne had won the semifinals of this year's John Lennon Songwriting Awards. It has been a joy to reconnect with her and I am astounded by her development as a singer/songwriter with a strong regional following in the Dayton, Ohio area.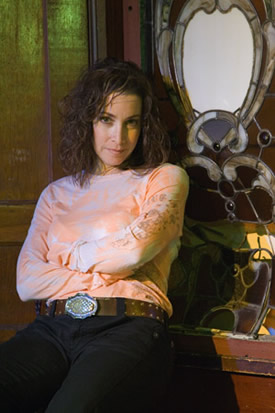 Naked Sunfish – How did you get started playing music?
Jayne – When I was a freshman at OSU, I started writing original music and learning covers. I had never performed, but decided to try a slot at an open mic night on campus. I did the open mic and really sucked... badly. But I kept writing and playing for anyone who would listen. Then my sophomore year I auditioned for a band already established called "Small Shoes"... ever hear of em? You let me join YOUR group "Small Shoes" and this is where I learned more about playing live and how to play with other musicians. I learned about harmonies and such. I still have the piece of paper you wrote out for me to teach me the notes of a guitar... I never learned those notes and am still playing by ear by the way. But I remember learning how to tune a guitar from you, and realizing that one can change the sound of a guitar by sending it through an effects box... and other things that have been helpful in my career. From the gigs I did with Small shoes, I was able to buy a beautiful blond Guild acoustic and that became THE guitar I would write with for some 20 years to come. Still have it and still marvel at how beautiful it is.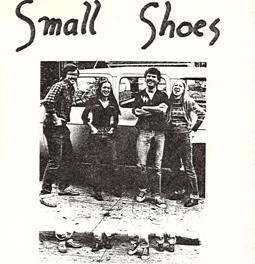 Tom Grice (drums), Jayne Sachs (guitar and vocals),
Rick Brown (lead guitar, harmonica, vocals) and Yvonne Brown (bass)
N.S. – Of course I remember! Tell us about your early influences.

Jayne – Neil Young, Carol King, James Taylor... all the melodic singer/songwriters of the time. The Carpenters.

N.S. – You had a career in television for a while as well right?

Jayne – I started out as a reporter and then went into producing prime time specials with a news/documentary feel. From there I ended up as a writer/producer for a station's creative services department. I still love the idea of researching, writing, producing and reporting, but don't have any plans on going back to the daily deadlines of TV. Instead, I hope to take these skills and produce documentaries in the near future.

N.S. – You do gigs both as a solo artist and fronting a band. Do you have a preference?

Jayne – I very much enjoy both types of performances. The great thing about playing with the band is "feeling" the muscle that gets added to the bare bones of my songs. Having that power surrounding the songs allows me to perform more "physically" because of the added intensity and textures provided by my mates. On the other hand, playing solo (the way I write the songs) allows me a total connection and intimacy with the audience... given that they are hooking into it. Sometimes the best way to reach into a crowd is to strip down to the bare skeleton of the art because there's not much between you and them and that rawness doesn't allow the artist to hide.

N.S. – Recently you were a finalist in the annual John Lennon Songwriting Contest. Can you tell us about your experiences?

Jayne – My song "Twisted Ballerina" won their Pop Category. At first I was shocked they choose this song because it is very intense with a strong message via a story. I think it was brave of the Lennon judges to gives this song the opportunity to be heard. Because of the contest, "Twisted Ballerina" made it's way around the globe uniting survivors of child sexual abuse and advocates of all types. I heard from people as far away as Singapore, Ireland, Australia, The UK just to name a few. It was a very special connection that happened and I'm still amazed and grateful... and a big validation to win an international songwriting contest in that category.

N.S. – Many of your songs are about childhood. But they are dark. And "Twisted Ballerina" is a beautiful yet disturbing song concerning child sexual abuse. What inspires you to write about children in a serious manner? Did you have an unhappy childhood?

Jayne – I would say that I have a handful of songs about childhood... three in particular that deal with the issue of abuse or neglect and a few more which deal with my own childhood situation. I never "set out" or assign myself to write about any particular issue or emotion. I just write. Did I have an unhappy childhood? Yes, in many ways. My mother was dying from the time I was five until her death when I was 12. All of our surrounding neighbors' parents died as well and I saw all the children become orphans. My Dad was the only adult survivor. Possibly a weird environmental thing that happened or just a horrible state of circumstances. But this deeply affected and traumatized me. And then I was motherless and further affected and changed for the rest of my life. As my Mom was in her final year, I sat by her bed and soaked it all in... every breath of it... No one could convince me to go outside and play or to even leave this white couch I was sitting on. I believe I froze my brain to that time of my life and burned into it what I was witnessing... and I think it was in these moments that I became an artist... and would forever see the world differently out of those same 12 year old eyes. The music came later.

N.S. – What other subjects pique your writing creativity?

Jayne – I write a lot about relationships... certainly not all about "love" relationships. But we move through this life being a part of relationships of all types... we're even in a relationship with ourselves. There's always interesting points of view to write about... but again I don't ever intend on writing about any one particular subject... it just happens.N.S. – You are balancing a career and motherhood now with small children at home. That must be extremely difficult. How do you keep abalance?

Jayne – One day I'm rubbing my tummy and patting my head... the next day I'm doing this while hopping across the floor on my right foot. It's very difficult juggling a music career and family. I had to make an initial decision to sacrifice big parts of my career to start and maintain a family. I would love to tour. I don't tour. I would love to spend days on end in a studio. I'm not able to. I would love to fly to New York and take advantage of a special showcase, but if it happens to be at a time when something important is happening with my children, I won't fly to New York or anywhere else. I'm with my children. And I don't regret it one bit. But it has been a big adjustment. I'm an unsigned, independent artist trying to get to "some" next level... but I have self-imposed limitations that my career must fit into.

N.S. – I've read that the only time you've experienced writer's block was when your kids were quite young. And contrary to most writers it was because you were actually very happy. What brought the ideas surfacing again?

Jayne – Yeah, my writing comes from the depths... not from the surface at all. And having kids made me one happy Mom sliding around on the surface. And this wasn't good for my writing. I was still writing, but everything I was writing I thought was horrible. This is the definition of writer's block. Even though I was happy at being a Mom, I started to grieve. I was grieving at the loss of my art. I was so incredibly sad and started writing a song called "When It's Dark"... a song about the demise of my music career. This particular song ironically cut through the writer's block and opened up the floodgates again. I wrote an entire CD called "Sutures" and am still writing.

N.S. – I hear you work on new tunes…practice your guitar…essentially do all your creative work in a closet. Can you tell us about this special closet? It must be large and comfortable!

Jayne – My closet is my own little haven. It is a walk in closet, but it's jammed full with clothes and guitars and a few boom boxes, etc.. This is where I go to practice, to write, etc.. It is out of necessity actually because after everyone goes to sleep I need a place where I can go and not wake anyone up. So I go into my closet and close the door.

N.S. – What are your plans for the future…your music…and your family?

Jayne - I'm 45 years old now and it's highly doubtful a record company will sign someone my age (silly fucks)... but I would love to get a publishing deal and see some of my songs licensed out for TV or film... and I would certainly consider a writer's deal with a publisher because I could do this while still engaging and maintaining my family.

As for family, I plan on being the best Mom I've always wanted to be. My husband George and I are very devoted parents and will do all we can to raise stable, well-adjusted, happy kids. I'll just try to do this with a guitar strapped on to my body, that's all.

To learn more about the Jayne Sachs Band…purchase CDs…and listen to her music go to: http://www.jaynesachs.com.