Editor's note: This year marks the 5th anniversary of the death of George Harrison. The following article originally appeared In Crapshoot! in December of 2002.

All Things DO Pass
by Rick Brown

We were all instructed to make...out of whatever materials we could scrounge up...any musical instrument we so desired. It was an assignment for sixth grade science class. And as you probably can guess...the vast majority of us...boys in particular...decided we would build ourselves a guitar. The project was due early Monday morning shortly after homeroom. Like most kids I procrastinated until the weekend before because even though it was a far more appealing assignment than most for school, the IDEA of making a guitar certainly seemed more appealing than the chore itself. But with the help of my father I assembled my "guitar" out of an empty cigar box, an old broom handle, and some rubber bands. I thought it looked pretty cool myself...even if it really didn't sound like much of anything.
continued...

---
---
Holiday Hoopla XV

Shadowbox Cabaret
Easton Towne Center
Columbus, Ohio
* * * *
by Rick Brown

The annual Shadowbox Holiday Show is the troupe's most popular…so much so that the performance is presented almost everyday during the month of December. I can't help but think it's because of the music mostly. At least that's my favorite part. House band BillWho? is one of the best rock/pop outfits in this city…perhaps the state. And they always seem to play tunes that you don't hear 500 times before December 10th. This year is no exception.

From Jennifer Hahn's "Hounds of Winter" to Steve Guyer's "I Believe in Father Christmas" to the ensemble piece "Children Go Where I Send Thee" you will not hear more inspiring holiday music anywhere. BillWho's torrid rendition of "Christmas in Sarajevo" can give the listener chills. Standing out is Christina Connor's "Backdoor Santa". Not only does the blues infused tune fit Christina's vocal range perfectly, but her throaty, growling interpretation is the best singing I've seen her perform.

The show begins with the first of several monologues that run through the course for the entire performance. Alternating between brother Michael (Jimmy Mak) and sister Jenny (Christina Connor) each respectfully reading their Christmas lists to Santa. And of course, brother and sister competitiveness soon creeps into each monologue. This sketch weaves itself well into the fabric of the show as a whole. Mr. Mak's Michael has all the sweetness (with underlying orneriness) to be believable. But Ms. Connor…who usually portrays an almost bitter, combative older sister type in most sketches…here is quieter…more demure…which makes the running bit…well…charming. The softness Ms. Connor brings to the character is both endearing and real.

"Figgy Pudding: A Choral Disasterpiece" follows the first Santa letter. Conductor Julie Klein tries…without success…to maintain control over this anarchistic choir that keeps insisting on "figgy pudding" and do not keep silent until they get some. The playful interaction between Ms. Klein and her rambunctious singers makes for one the most creative, refreshing sketches I've seen in a long while.

The annual hilarity of Jimmy Mak's Dasher is here again. And this year's "Dasher – Flying High" might be the best version yet. Segueing into Amy Lay's always amusing "Shannon's Movie Reviews – A Christmas Story" the first half of Holiday Hoopla XV charms the pants off of the audience. I felt all warm and fuzzy…Christmassy even.

Then comes the video Crouching Santa, Hidden Reindeer. While I do not have a problem with dark humor…even at Christmas time…seeing a ninja Santa rip out a guy's heart while it's still beating…when it's immediately followed by "Dr. Mystery Saves Christmas" where a Santa character seems to get killed every five minutes…well…let's just say:
So much for charming.
Usually I can see merit in the disjointed, surreal approach of "Dr. Mystery" with it's sound effects, puppetry and general mayhem. But this version meanders too much…existing only on the surface. Without double entendre a boob joke is just a boob joke.

Fortunately, the second half is strong enough to make one forget the inadequacies of the ending of the first. Spoofing Charles Dickens with "A Kid-mas Carol" the joyous, unbridled antics of the class Christmas play is always a riotous romp. But it's the annual "Santa Babies" routine that makes this years Hoopla memorable. Dixie (Julie Klein), Dorothy (Stephanie Shull), Darlin (Katy Psenicka) and Daphne (Jennifer Hahn on keyboards) strut the stage and dish out…some at the expense of an audience "volunteer"…the bawdiest, brashest, and brilliantly carnal Christmas tide anyone can imagine. Lampooning Queen's "Bohemian Rhapsody" is funny enough to bring down the house…close the show. But seeing these talented ladies cavorting lustfully around the stage singing "Santa's Got Back" turns Sir Mix A Lot's over the top rap inside out, upside down and makes it their own. The Santa Babies could eat Mr. Mix A Lot (or is it merely Mr. A Lot?) for Christmas dinner and put what little remains on their plates in a Snoop Doggie Bag.

Now I'm hungry. Figgy pudding anyone?

Holiday Hoopla XV will be presented at Shadowbox Cabaret in Easton Towne Center until December 30th. For more information go to www.shadowboxcabaret.com


---
Bob Dylan,
Long Beach Arena
10/21/2006
by Ted Kane
Bob Dylan is an unpredictable performer; having seen him in concert several times over the years, I try to come into one of his shows ready for whatever it is he has to offer on that evening; I never saw him during his fundamentalist Christian phase, but...you never know. So, Bob-wise, I think I entered the Long Beach Arena in the right frame of mind--new songs, old songs, cover songs, blues songs, I was prepared to hear anything Dylan wanted to play.
Security, on the other hand, now that caught me by surprise. I mean, I saw a heavy metal triple bill here three years ago (Iron Maiden was the headliner, but I was there for Motorhead) and it was nothing like this. Christy and I were patted down four separate times before entering the building, and despite the fact that we came to the event with tickets already in hand, we had to wait in two different lines to obtain wristbands that would allow us, respectively, to stand on the floor and pay $10 for a draught beer (we attempted to do the latter, but the venue made it so hard that we just saved our pennies for the bar after). And just in case this wasn't already overkill, there were the signs posted at the entrances warning that there was to be "NO STAGE DIVING" and "NO MOSHING." Damn. And we were really looking forward to some good-old slam-dancing during "Like A Rolling Stone."
continued...
---
Blank Sight
by John Bennett
---
The Non-Fiction Theater of the Truly Mundane proudly presents:
by Rick Brown
---
Greater Good

Starring
Joseph Lorenzo
---
---
Frankie Valli and the Four Seasons
November 10, 2006
The Palace Theater
Columbus, Ohio
* * * * 1/2
by Rick Brown
The very first riff I ever learned on the guitar was the bass line from the Four Seasons "Walk Like a Man". Before there was the Beatles…before there was the Beach Boys…in that fog that was the pre-British Invasion 1960's there was the Four Seasons. And these guys…fronted by falsetto-lead singer Frankie Valli…sold almost as many records as both those bands. Something like 25 Top 40 hits in a handful of years.

I certainly would not call the Four Season a rock and roll band. Yet they dramatically bridged the gap between the 50's doo-wop era and the Beatles 60's domination. Mr. Valli grew up a poor boy from New Jersey in the shadow of Frank Sinatra. And while Valli is no Sinatra…nor does he pretend to be…being Frankie Valli makes him an icon in American popular music nonetheless. His voice is immediately recognized for its uniqueness and familiarity not unlike a Roy Orbison…or a Frank Sinatra.

Sure his show is Vegas like. He plays Vegas a lot. But then again…so now do Prince…and the ghost of the Beatles. Fronting a 10-piece band and 4 young, hired guns as the Seasons, Mr. Valli charmed his way through 90 minutes of blissful four and five part harmonies. His band was a crack outfit augmented by a horn section made up of some of Columbus's best homegrown jazz musicians.
Opening with the title track from the movie "Grease" Valli moved through the early part of his performance singing mostly his solo hits. "My Eyes Adored You", "I've Got You Under My Skin" and "Can't Take My Eyes Off of You". These are strong torch songs anyone would love to hear in a small nightclub. And the fact that Frankie Valli's falsetto is some 70 or so years old I was simply amazed at the strength and texture of his range. While on occasion the upper register may have been helped along with backing vocals and/or band arrangement, in the era of live lip syncing (disguised as singing) and sampling, the purity and emotional tension of his vocals was at times nothing short of breathtaking.

But is was the big hits from the Four Seasons that made the show this evening…and I assume all evenings. Despite the fact Mr. Valli's falsetto is upfront, songs like "Sherry", "Stay", "Rag Doll"…these are ensemble pieces with harmonies as tight as any group I can think of. And hearing them live was incredible. The ballad "Silence is Golden" was angelic. "Big Girls Don't Cry", "Bye, Bye Baby (Baby Goodbye)", "Save It For Me", "Workin' My Way Back to you Babe" these songs of growing up poor…poor boy/rich girl…married guy/single girl…these are the tunes that struck a chord with me as a working class kid living outside of Cleveland in the 50's and 60's. The pain and frustration sung with the tight harmonies of the Four Season…this is what makes these hits hold up even today. Especially "Dawn"…star struck lovers who will never be together…it's Shakespeare when you think about it. But when they closed with "Walk Like a Man"…when I heard that bass line going down…and 70 something Frankie Valli still doing it like he did some 40 years ago…I realized that no one else could possibly sing these songs and do them justice. No one.
Click here for more information on Frankie Valli.
A Naked Sunfish Holiday Tradition
Holiday Cheer from Aunt Edith
by Rick Brown
My late Uncle Wes lived with my Aunt Edith for most of his adult life...although I'm sure it seemed like an eternity to him. He worked for the Bethlehem Steel Company in Baltimore for thirty years until he retired. He worked the night shift getting off around 7 a.m. when he would come home for dinner. In the summer when it was warm...and Baltimore can get very, very humid...he would go to a movie matinee in an air conditioned theater and sleep. If you knew my Aunt Edith you would assume what I did...even as a child...and that was that Uncle Wes worked nights and went to matinees to get away from his wife. He never said much. He was a slight, wiry man of few words. And the few words he almost always uttered were, "For Chrissakes Edith! SHUDD UPP!!"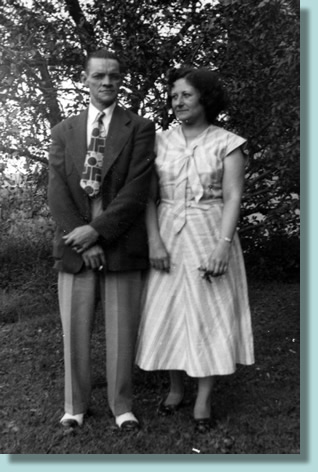 The man was almost incidental by nature. One time...after he retired and he and Aunt Edith moved back to the Cleveland area...my brothers and I were helping him put a refrigerator in a backyard shed because there was no room for it in the trailer they were moving into. After much jostling my brothers and I closed the shed door and thought we were finished. From her perch (as supervisor of course) Aunt Edith looked at the three of us with bewilderment and asked, "Where the HELL is Wes?" And after exchanging confused glances we heard muffled sounds coming from behind the fridge in the shed. "MMMPPPHH!!! Hey!! HHMMPPHHFFF!!!" We quickly opened the shed door, moved aside the refrigerator and liberated Uncle Wes. My brothers and I were all embarrassed and each, in turn, apologized profusely for our insensitive behavior. Aunt Edith broke into the humility with a shriek of, "What the HELL were you doing in there?" Which prompted Uncle Wes to...once again...chant his mantra. "For Chrissakes Edith!! SHUDD UPP!!" They were quite the loving couple. Their last name was Crabtree. I am not making this up.
Wes soon was diagnosed with lung cancer. Thirty years in the steel mills and 2 packs a day of Chesterfield non-filters caught up with him. The last time I saw him he was lying on the couch in their trailer smoking the aforementioned brand of cigarettes, quite literally coughing his lungs out...or what was left of them. "I TOLD him to quit those goddamned things years ago. " Aunt Edith offered for my contemplation. To which Uncle Wes replied sarcastically (yep, you guessed it) "Cough cough...For Chrissakes HACK! HACK! Edith!!! SHUDD UPPP!!!" These were the final words I heard my uncle ever say and we all joked at the funeral that these very words were more than likely chiseled into his headstone.
A few years after Wes passed, my brother and his new wife were having their very first Christmas and invited everyone over...including Aunt Edith. My parents were there along with my siblings and their families. This included my brother Jim's 9 year old adopted son Matt. Matt the Brat was what my father called him. I thought this surprisingly subtle for my Dad. If I knew where Matt is today...and thank God I do not...I would have to guess some one killed him or he's in jail convicted of several murders. I honestly don't care so long as he's nowhere near me. So Matt the Brat is playing with one of the toys some one so graciously gave him and he broke it. This kid could break anything he got his hands on. But in a moment of diplomacy my father (affectionately known as Snook) said, "They don't make anything any good any more!!" To which...in the spirit of the season Aunt Edith quipped, "You're right Snook!! Everything IS SHIT!!!" Well...happy holidays to you too Aunt Edith. Inside my head I distinctly heard a voice from my past reply, "For Chrissakes Edith!! SHUDD UPPP!"
You know...there are lots of reasons to go through life believing that "everything is shit." There are days when it certainly seems true to me. I have my days when Sartre's "Hell is other people" could easily be the thought of the day. But...unlike Aunt Edith...I don't want to spend a big chunk of my life living alone in a trailer. And when I think of this particular Christmas it strikes me how most of them blur into each other...with the exception of a few. And this is one of them I distinctly remember. As much as family...and sometimes even friends...can annoy a person...especially at this time of year...I have come to realize that even some one like Aunt Edith helped make me who I have become. I mean that in a positive way. Imagine...Aunt Edith's negativity was so over the top it MADE me consider the positive. I have no idea how she became so bitter. My father did shortly before he died also. Yet they both, particularly Snook, had a positive influence. They were there. Unlike today when some people are not.
This holiday season...regardless of which one you celebrate...take the time to savor those around you...even if they drive you nuts. They may not...for whatever reason...be there next year. And in some strange way, which will surprise you, their absence will make you miss them. I guarantee it. (a possible exception to this uplifting message might be Matt the Brat) And you might consider that next year YOU might not be here. So I suppose my holiday message may seem bittersweet to most...but that's how I see it. And if anyone feels the need to take issue with my views then I encourage you to speak up LOUDLY...'cause I've got one thing and one thing only to say to you.
FOR CHRISSAKES!!!!
SHUDD UPPP!!!
Editor's note: Aunt Edith died a few tears ago. She was 90 years old. Her neighbor called my Uncle Bruce and told him she had passed out in her trailer. He went and got her up…asked if she was alright and she said she was. He suggested she go to the hospital to make sure everything was okay. She told him to go to hell and get out of her house. He did just that…returning an hour later and she was gone. Sad…surely. But she lived her last day the way she lived every previous one. And despite her surliness I will miss my Aunt Edith this Christmas. And I will remember the one long ago when she informed us "Everything is shit!" Rest in peace Aunt Edith. I can picture Jesus turning to her and proclaiming, "Truly, truly I say unto you…For Wes's sake Edith…SHUDD UPPP!!!!!!!!!!!!!!"