The Joseph Lorenzo Interview

by Rick Brown

Naked Sunfish - Let¹s start at the beginning Joe. Where are you from? What was your childhood like?
j.l. - i was born in brooklyn, but raised mostly in long island - my childhood is better left untouched, it was fairly normal on it's shell, but bizarre underneath - it made me who i am, rick - and i think you've seen a bit of the many sided coin that is
N.S. - How did you get interested in acting? Did you study?
j.l. - i was always a clown type character growing up - i always loved saturday night live and would mimic many of the characters with friends and such - i always had a 'performer's' personality - growing up, we always did a christmas show for the family (we once did a KISS concert, with my cousin vinny (no joke) spitting ketchup on my grandmother's floor - he got a smack from aunt theresa for that. when i really crossed the line, was in tucson, az. - my friend suede and i used to do spoken word stuff and the like and i went to go see him perform in "dillinger days" at Club Congress - they re-enact the capture of dillinger (who knew he was captured in tucson) - suede was incredible, i came to find out that he had studied in new york, etc. so i talked him up about his performance and a couple of weeks later, on one of our many intoxicated adventures, he talked me into going on an audition with him. well, the parts were for a native american and his white buddy, in their twenties, who were a bit outside the law and were taken into a small town jail - suede was as white as they come, from indiana, and you know what i looked like before the haircut, well that's how i looked then - when we walked in the door, their jaws dropped - i got the lead, suede was my support system and that began a 5 year run with the theater group "Theater degree zero" - i never did study, i just did it.
N.S. - I¹ve seen you do drama, sketch comedy, monologues such as Charles Bukowski and you are a pretty mean singer as well. What do you enjoy the most?
j.l. - music is my true passion - it is the song that always touched my soul the most. it's what inspired me to become a poet - the line "I want to be bob dylan" from "Mr. Jones" by the Counting Crows hit home for me - i wanted to be dylan, morrison, axl rose - rock n roll poet warriors have always been my preachers. just turns out that i was better at acting and found a way of expressing myself in that way - i have been able to touch people most profoundly in that way. i would have to say, though, that there is nothing better than making people laugh - in my best moments with shadowbox and 2co's, there was no greater joy than the belly laughs coming at me.
N.S. - How did you end up in Columbus, Ohio?
j.l. - i had gone to a regional theater audition in charlotte, north carolina - the southeastern theater conference - it's a huge audition for upwards of 100 theaters - shadowbox was one of five callbacks that i received - and it just seemed like the place for me - turned out incredibly

N.S. - One of your acting colleagues once told me you were a strict "method actor". She said you were so "method" that when you played a scene set in winter you would stick your head in the freezer before going onstage. Is that true?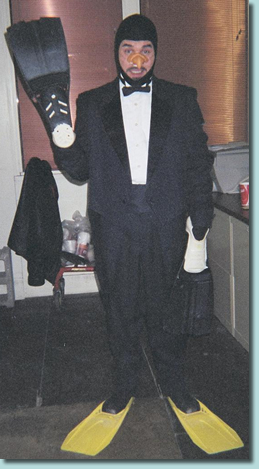 j.l. - the freezer story is completely true! it wasn't the penguin either - i guess if i had my choice, i would go as method as is possible. something interesting about the shadowbox experience - i would say that i was fairly pretentious and high minded about 'being method' before going there, but the way that place works, it's impossible to go there - to 'prepare' or 'get into the right space' or obsess or become self indulgent, because i would run from stocking the fridge with beer, or making a pitcher of freak and have to be on in seconds - it really taught me a lot about being able to just 'turn it on' and not get too deep into needing all that method type prep - but on the other hand, when that level of exploration is possible or that level of depth in research of character is possible - or the ability to get as far into a character's world and head is available, i will take it every time. it's one of the things i enjoy most about acting - becoming someone else - presenting someone else - taking an audience on a trip with someone other than me.