---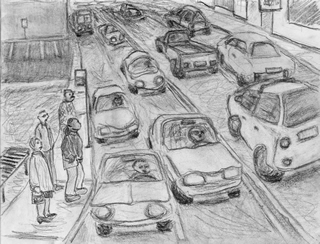 Morning. Columbus, Ohio

by Amy McCrory
---

Spring Fever

Shadowbox
Easton Towne Center
Columbus, Ohio
* * * *
by RIck Brown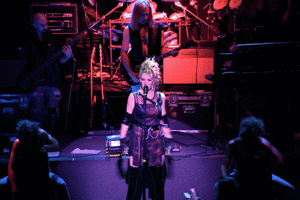 Things seem to be changing right and left at "the Box", delving successfully into serious theater (Cabaret), their Celebrity Series (next up is Judy Tenuta June 20th) and tinkering with the themes of their shows. They even dropped the "cabaret" from their name...although it took most of us so called "critics" a year and a half to notice. (Must be like our significant other's new hairdos! And not to worry. We're not going to just "Naked" any time soon!) And change is good. This year's spring show is dubbed "Spring Fever"...ironically the title of Rick Derringer's 1975 release of the same name. (he appeared May 2nd. See review below) The familiar rock and roll/sketch comedy format is still here though. And it still serves Shadowbox well.

Beginning things is "Pee Wee Poetry", while comely grammar school teacher Miss Hossenfeffer (Katy Psencka) tries in vain to ward off her obvious lust for constant intruder Mr. Vuchinich (Jimmy Mak), her students take turns at the front of the class reciting original poems. And like many children's first foray into the arts, most of their creations are far from poetry. The people at Shadowbox have a real knack for making kids even funnier than kids really are. The skit closes with Denise (Julie Klein) speaking earnestly about her late puppy dog and his demise. The story of course is entirely out of context...just like Mr. Vuchinich's inappropriate advances on their teacher on front of her class.

Trailer park trash favorites Cindy and Lavern drag their kids along to the beach so they can enjoy spring break in "Cindy and Lavern at the Beach". While this sketch can be at times a little predictable, it's easy to see why it always gets a good response. The characters...portrayed by Mary Randle and Julie Klein respectively, are outrageous for sure. Yet at the same time...when one of them kicks her knee out and yells "Hey! RuPaul McCartney! Stay away form that jellyfish!!" that mother is at once concerned and dismissing. These two hill-jacks are both endearing and nurturing in their self absorbed, beer drinking slob-ness. And let's face it...who doesn't feel the need to yell at their kids once in a while?

Pre-teen romp "Spazoids All Wet" again showcases this troupe's talents portraying children. This time a trip to the pool brings out pre-adolescent hormonal stirrings. A celebration of misunderstood feelings towards the opposite sex, the sketch pits the tension between three girls (Christina Connor, Lydia Tew and Amy Lay) just a bit too young to be "hot" against the faux denial of 3 geeky boys' (Jimmy Mak, Steve Guyer and David Whitehouse) aversion to girls and loyalty to each other's gender. The complication of two characters being brother and sister reminds us all of our own squirmy awkwardness at that age, all the while tickling our funny bone.

While there are a few slow spots in Act One those sketches are shorter and decent enough segues. Yet there are a couple skits in Act Two so good that it more than makes up for it. Brian Hurst's campy performance in "Keith Richard's Rock 'n' Roll Resort" is fall down funny. Mr. Hurst keeps his parody from too much exaggeration...a common flaw in most Keith Richards imitations. His dialog is slurred but articulate...his body language is dead on but economic enough to score some real comedic eruptions in this well written, smoothly paced piece.

Finishing the sketches is "American Top 40 - Spring Fever". This alone is worth the price of admission. Jimmy Mak's Casey Kasem is priceless. And this time he is reluctantly co-hosting with American Idol's Ryan Seacrest, skillfully and off handedly portrayed by David Whitehouse. This litany of celebrities worthy of scorn is all too familiar: Whitney Houston (Noelle Grandison), Brittney Spears (Amy Lay), Cher (Christina Connor) and Kevin Federline (Jamie Borrow). But the sarcastic humor is great and certainly quantifies the crimes of these insufferable "stars". Seeing Ms. Lay as Brittney accidentally drop her baby only to again "accidentally" kick it off stage is physical humor in it's most joyously lowbrow liberation. Same with Ms. Grandison's self righteous Whitney Houston belting out an ode to her ex-partner in crime Bobby Brown "I Will always Blame You". But it's Jimmy Mak's superb Kasem that ALWAYS makes this piece memorable. And in this version he so skillfully plays off Mr. Whitehouse's Seacrest that it is his character alone that brings down the house.

What really makes Spring Fever special is the music. There is not a less than superlative song in the entire set list. Storm Woods opens the show with a torrid version of Stevie Wonder's "I Wish". Jennifer Hahn's heavy metal handling of the Scorpions' "Rock You Like a Hurricane" had me banging my head. Julie Klein's take on "School's Out" is so good Alice Cooper's python might think about changing owners if he/she heard it. Stephanie Shull's smoky vocals fit the Muse version of "Feelin' Good" perfectly. As good as the dancing of Katy Psenicka and Amy Lay is to accompany...it really is not necessary given Ms. Shull's ability to make a song...and the stage...her own.

Where the choreography works perfectly is Ms. Psenicka's adaptation of Janet Jackson's "Velvet Rope Tour" on said artist's "Rhythm Nation". With Noelle Grandison's strong vocals and command of the stage this is a super ending to an evening of wonderful entertainment. The staging is a wonderful culmination of Spring Fever. The unexpected standout however is the B-52's "Roam" which opens Act Two. The playful swagger of Amy Lay on lead vocals backed by Ms. Grandison and Jennifer Hahn conjures up the spirit of the B-52's so accurately I'm sure it would put a big smile on the faces of Kate Pierson and Cindy Wilson. The choreography of diversity...dancers representing the Caribbean, Russia, Africa, Scandinavia, Spain...this is a stroke of genius that brings a smorgasbord of joy to an already delightful number.

Probably the most challenging of musical numbers in Spring Fever is Bruce Springsteen's "Born to Run". House band BillWho? is an amazing outfit. And the addition of Lynsey Strouse on saxophone makes their lineup even more potent and versatile (Think Rolling Stones, Morphine, Traffic or Junior Walker to name a few.). Steve Guyer handles vocals admirably on this classic rock anthem...and the band rocks out. Ms. Strouse's saxophone solo hits home as well. The rendition is excellent and stirring. And if the sound was mixed "hotter" across the sound board...especially bringing Ms. Strouse's sax more up front during the entire number (a la Phil Spector's wall of sound emulated by Bruce)...with a touch more reckless abandon on her part...I think the audience's hair would be standing on end. AND the crowd might very well be screaming, "BRUCE!...uh...I mean...STEVE!! STEVE!!! and/or STROUSE!! STROUSE!!! STROUSE!!!!"

Spring Fever is full of great rock and roll. Great parody of rock and roll as well. It is an evening of feverish fun. Check it out.

Spring Fever will run until Saturday, June 9th at the Easton Towne Center. For more information go to www.shadowboxcabaret.com.



---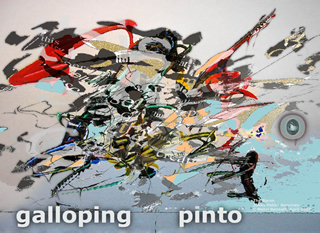 Click Here

by
C. Mehrl Bennett,
The Baron and
Jukka Pekka Kervinen


---
---
---
Heath hill rd.
Cold joints up here - 30
- tickle in my throte
I think I wrote.
It's not the first time
I've thot of slippers to
make it feel like home.
A soft glow. puppies.
Levi huge pit bull dog.
We both laugh and
wrestle each other to the
ground.
Noelle and I skid out on
heath hill road, back
back down.
I write to my parents. I
think hard about it. I go
through a foto album. I
rekindle my passion.
Squirts over glance,
over-lording the streets I
walk down, cool and
collective.
Jessy Kendall 2/5/07
---
Kill Paris Hilton

by Patrick O'Malley
Wow. Free Paris Hilton. That's all I'm saying. Fucking Free Paris Hilton man. Don't Support Our Troops, don't Pray For Our Troops, don't God Bless America, don't Find A Cure, don't Support the Local Pipefitters 109, no, that's all bullshit. Free Paris Hilton! She's not actually IN jail, but fucking Free Paris Hilton!!! Where's my fucking fuzzy pink, white, and diamond studded goddamn car magnet-ribbon? Let's get on that shit China! What's the problem here? Re-fit the molds, re-use the Find A Cure magnet pink dye and let's start pumping them out fast, I don't care how sweaty your shop is. We've got to hurry before she actually gets put in jail so we can be primed and ready to free her, should the unthinkable happen. As we know, she doesn't deserve to spend a day in jail; I can't believe how much time she's already had to spend in court! Can you imagine the humiliation of it? If, for several whole uninterrupted hours, she was treated like a regular citizen? One shudders at the thought. The petition says it all, with facts to back it up.
continued...
---
The Kentucky Derby
by Ted Kane
Horse racing is a niche activity in America for most of the year. There are those of us who invest a great deal of their time...as well as a share of their hard-earned money...studying and watching the races, but for everybody else the races exist on the last page of the sports section. That all changes, of course, on the first Saturday in May when the Kentucky Derby is run at Churchill Downs in Louisville and the sport of kings takes center stage nationwide. I've watched the Kentucky Derby on TV as far back as I can remember, either at home or at my local track (first Beulah, now Hollywood Park) with some live races thrown in. This year, though, Christy and I finally got to see the race (as well as its sister event the Kentucky Oaks) in person.
continued...
---
Rick Derringer at the 'Box
Shadowbox Easton Town Center
Columbus, Ohio
May 2, 2007
* * 1/2
by Rick Brown
Having scraped my money together at the age of 13 to purchase the Bang Records 45 rpm single "Hang on Sloopy" and again at 21 purchasing the album "All American Boy", I was intrigued by Shadowbox's Celebrity Series doing a show featuring guitarist Rick Derringer. I had especially enjoyed the rousing version of "Sloopy" covered by his first band, The McCoys ... at least until the Ohio State University Marching Band laid claim to it. I figured Mr. Derringer's solid reputation as musician, sideman, session guitarist and producer teamed with the talents of Shadowbox's actors and musicians should make for an entertaining show.
continued...
---
The Triggering Town
by Alexi Vontsolos
The tone of anything: a piano, the voice or face of someone you let go from your life, or especially of a seemingly abandoned town you step into off a Greyhound bus, will set the stage for the entire experience. Tone is the opening and lasting remark in a town, just as it is in your mind as you slowly exit the vehicle that brought you here today.

To set the tone of this small chapter in your life, I would like to say something about something we may all know of and for what Richard Hugo, the now dead poet, refers to as "The Triggering Town." Such a town is a town that compels you to think about your life, your father's life, your mother's life, why you might run into your ex-wife, your plans to educate your son, whatever you think about when you are deep in thought so much so that you realize the essential, universal scope of your thinking while you are thinking.
continued...
---
The Non – Fiction Theater
of the Truly Mundane
proudly presents:
inter…net…jet
Written by Rick Brown and Kristina Samuels
Scene: a dimly lit stage blanketed in soft blue light. Onstage are three large amplifiers with tiny red lights indicating they are turned on "standby". Beside two amps is an electric guitar, each upright in a stage stand. Next to the final amp is a bass guitar also in a stand. Behind the equipment, on a low riser is a drum kit with the word "Jet" on the bass drum. Above the band setup is a giant iMac screen displaying Apple email.

The Ohio State University Libraries
Read Aloud Program
---

Jayne Sachs Band
Mamapalooza
Delaware, Ohio
May 12, 2007
* * * *
by RIck Brown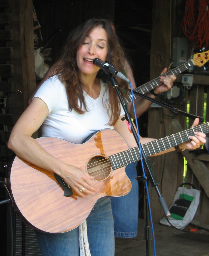 It was a glorious spring afternoon when my wife Yvonne and I climbed into our topless Miata to attend something called Mamapalooza. I had never heard of such a thing. But it is an organization…a movement if you will…celebrating mothers involved in the arts, music, et al. (www.mamapalooza.com). Yet what excited the two of us most was the chance to see our old band mate Janie Sachs from long ago. Now Jayne, she played guitar and sang in our early 80's outfit Small Shoes. Jayne is a mother herself and has fronted this band for 11 years. That's amazing in itself. And while we had reestablished contact about a year ago we hadn't seen each other for almost 3 decades.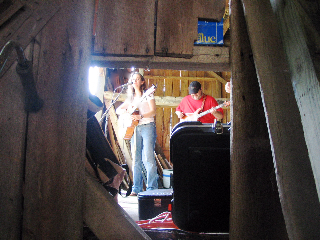 Mamapalooza was held on a private farm just south of Delaware. And the drive up Olentangy River Road was delicious, curvy fun. Once there I realized the event was setup like most small outdoor festivals…except more primitive in the sense that there were outhouses and the band played facing the crowd from inside the barn. Once we finished greeting and hugging each other, Jayne shared some mild trepidation with me concerning the barn setup. And while it was strange, I sensed she and her band would handle the situation with aplomb. After all, Yvonne and I had traveled the Columbus-Cleveland "Ground Round" circuit with Jayne where we slept on the floor, played two…sometimes three nights in a weekend…and ate cheese sandwiches in the van while flying up and down Interstate 71. Great…great fun. I wouldn't trade those memories for anything. I also wouldn't do it NOW either.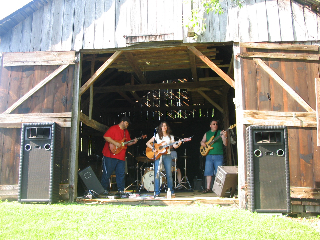 Steve Van Etten (guitar), Scott Shiverdecker (bass), Kelly Morelock (drums)…along with Jayne (acoustic guitar) morphed from road crew to rock band a little past 5 pm. And while Jayne had been introduced as "The Queen of Indie Pop"…or some such label…the first thing I noticed was this. These guys can rock. I know from their CDs that Jayne writes what might be considered tunes in the popular genre, many with upbeat rhythms and infectious hooks. But lyrically Ms. Sachs is at once edgy yet approachable…seemingly dangerous without losing warmth. Beginning with the soaring "40 Days", Jayne and her rock 'n' roll friends romped through maybe 12 original numbers. It was obvious this band has played together 11 years…a genuine miracle in the music world…hell…any world. The synergy of their interpersonal relationships resonated throughout their performance. People who like each other, having fun playing original music. How refreshing.

"Run, Run Lidia Run", "Occupy Your Mind", "Rain"…these are all gems. But it was "Down the Stairs" that grabbed me this afternoon. Ms. Sachs' metaphorical tune about a child purposely being cheated out of her/his childhood is one of the most moving pop songs I have ever heard. Quite an appropriate allegory for this Mamapalooza audience.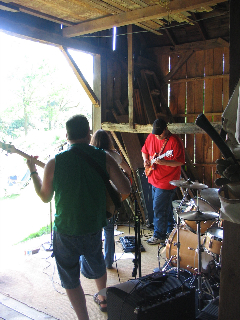 But Jayne's polished stage patter kept things from ever getting too heavy handed. While wearing her distrust of authority on her sleeve, she chatted about getting pulled over by a cop, their conflict, and then with a wry smile assured the children the police are our friends. It was a poignant, motherly nurturing moment really….a wonderful double entendre for Mamapalooza.

At one point…just for some reckless abandon thrown in for the hell of it I suppose…the Jayne Sachs Band tore into Led Zeppelin's "Whole Lotta Love". In a delightfully frenzied, footloose version of this heavy metal hymn, Ms. Sachs proved how strong her vocal prowess…and swagger…can be when she lets it rip. Of course the musical mooring of her skilled band mates allows her to fly pretty high. And closing their part of Mamapalooza off with the charmingly ornery "Cigar Song" ("I'm coughin'…and scratchin'…and feelin' like…a…boy") was just icing on the cake.

It was wonderful meeting the guys in Jayne's band afterwards. And I can't tell you how happy it makes me that Jayne has developed her talents…and continues to grow as a musician and songwriter….fronting a great band. But mostly I'm grateful we are all back in each other's lives.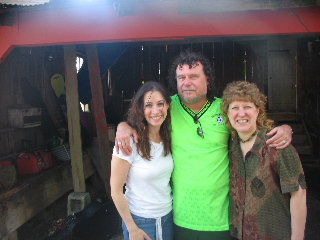 For more information about The Jayne Sachs Band go to www.jaynesachs.com