It Was Forty Years Ago Today…
by Rick Brown

Ah yes. The Summer of Love. 1967. Sergeant Pepper's, Light My Fire, White Rabbit, et al. I loved the music. Yet somehow I was totally ignorant of it being "The Summer of Love". At least until August of that fine summer. My parents helped me finance a spot on a Cleveland area charter bus headed to the American Lutheran Church National Luther League Convention in Dallas, Texas. Being a tender 15 years old at the time, it's an understatement to say I was excited.

Away from home for the first time…with my mom and dad's blessing! Wow. Now I really didn't know many of the other kids going. I attended school in a different town than most of the Luther Leaguers. So along with being ecstatic, I boarded the Greyhound with some anxiousness…trepidation. But soon enough we were joking, screaming, singing songs like "Salvation Army" at the top of our lungs. We were all on a terrific adventure together. This…is when I learned it was the "Summer of Love" from kids identifying themselves as "hippies". This was way cool…even for Luther League.

The bus stopped in Akron and picked up more Luther Leaguers. That's when I met Kenny. He was the first black guy I ever called my friend. Hell…he was like the 3rd black person I'd ever MET! Kenny was a couple years older than me. And he became my mentor of sorts. We wandered the streets of a city deep in the South where less than four years earlier John F. Kennedy was assassinated…where segregation still existed. Our youthful ignorance was incredibly blissful. I learned a lot from Kenny. He had…after all…lost his virginity. And he was proud of it.

I remember stopping by the old Ryman Auditorium (home of the Grand Ole Opry then) in Nashville for lunch. I was in awe. Outside of Lake Erie and a short jaunt into Canada I had never been anywhere in my short life. It seemed something new and exciting was happening every minute!

All the kids from my church stayed in a hotel called The Adolphus ...an elegant old building that was overwhelming to me. I grew up in an old farmhouse. This Adolphus…it was a castle. And of course we all went crazy doing incredibly stupid things. Things like throwing a hamburger out a 15th story window to see if it would fly like a Frisbee. My favorite though was folding someone up in a rollaway bed…sticking them in the elevator…and sending them down to the lobby!!! We all wanted our turn. But the hotel manager eventually put the kibosh on that fun activity. And of course then came the obligatory lecture from our "sponsors" about behaving like young Christian Luther Leaguers. Bummer. Bummer in the Summer. Bummer in the Summer of Love.

I went to a dance one night early on in this long weekend of out of town exuberance…at a different hotel no less. And I did something extremely difficult for me at the time. I asked a girl to dance. In true "Ricky" form I chose to ask her during a song ridiculously impossible to dance to, The Young Rascal's cover of "Mustang Sally". But I managed to get through the tune doing my best "white kid having a mild seizure" dance style. Afterwards she told me her name was Beverly. Beverly Janssen. Two S's. I told her my name. Bev asked me how old I was. I didn't lie.

"I'm 15" I said. "How old are you?"

"17 but I'll be 18 soon."

I felt like I'd been sideswiped by a Mustang…talk about 19 – sixty six! Beverly wasn't a girl. She was a WOMAN!! And before I could put my flat feet back on the ground Beverly smiled at me. She didn't flinch. I fell in love. It was the summer for it. I walked her back to her hotel after the dance. I kissed her. I kissed a woman…well almost a woman. Close enough to make me feel like there was nirvana running through my veins.

Bev and I spent most of the rest of the convention together…not always AT the convention mind you. We danced…we walked in the Texas heat holding hands…sweaty hands. We watched Luther League sanctioned movies together. Then…on the final afternoon we decided to skip the convention altogether…some presentation on "healthy sexuality" and "responsibility" something along those lines. Emboldened by my new girlfriend (who was almost a woman)…with a confidence I had never felt before…I asked her if she would like to go to my room and…uh…"talk".

She said "yes".

Getting off the elevator I grew more and more anxious. What if my roommates decided to skip as well? Or worse…what if a sponsor caught us? Then…to add to my paranoia…down the hall from my hotel room…was a maid vacuuming!!! Oh my GOD!!! She could walk right in on us!! Call the hotel manager!!! Or the police! Beverly smiled. I put the "Do Not Disturb" sign on the doorknob hoping it would salve my worry. It did not.
continued...



---

Run For Isis
---

Let's Go to the (Island) Hop
---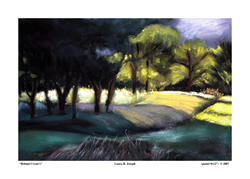 Behind Cryan's
by Laura Joseph
---
Rights of Passage:
Observations by Jeremy Smith
---

---

---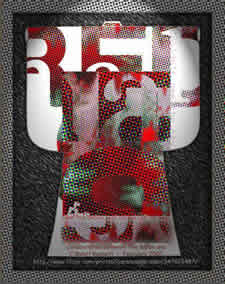 The Baron's RED Kimono
by
C. Mehrl Bennett & The Baron
---
...in each untapped community
Joe's poetry night
reminded me of what i've read
of the first kerouac/ginsberg beat
poetry jam where jack drummed
on his wine jug to peoples' words, and when
allen broke down howl emphatically first time.
not as many people, certainly,
Lewiston, ME., but Graham just stands there
and dances sometimes, he and Justin are
so enthusiastic, they hug and freak out.
the People, younger mostly, are eager
to be finding this outlet.
drumming to my words happened,
folks gathered at the mic,
cross-legged on the floor, nodding,
witnessing, blurting,
s u p p o r t i n g.
i sang! i watched Trisha read and speak out!
that vibe was there (sorry to use the V word)
and it was exciting to me.
i thought that kind of enthusiasm had
died out but i guess it's waiting...

5/14/06
Jessy Kendall
---
Best of Shadowbox 2007
Shadowbox
Easton Town Center
Columbus, Ohio
* * * *
by Rick Brown

Writing a review for a "best of " show is like writing a review for a "greatest hits" CD package. The artists choose what they believe to be their best work. But with music a band might not have any "greatest hits" in the sense of having a hit at all. And that is true with sketch comedy as well. Still ... I can't argue that this Shadowbox show contains most of the finest skits and musical performances I've seen them perform. And with the "Best of" presentation some elements are actually better the second time around.

For example ... I've waited over a year to hear BillWho? tear through their torrid take on Led Zeppelin's "Dazed and Confused". Fronting the band this time is Jennifer Hahn and the song is brilliantly executed. The unashamed, over the top version of Ratt's "Lay It Down" (sung by Julie Klein) is a head banger's heaven complete with not one ... but two stages of dancers including a leashed "Dog Man". (Played by a deliciously submissive Jim Andes) Ms. Klein also shines on AC/DC's "Night Prowler". And lead singers Amy Lay and Storm Woods (also surrounded by well choreographed dancers) seek justice and find it on Pink's "Respect".

The devilishly deviant running skits "O-Surance" take insurance into the bedroom of guaranteed satisfaction ... and from a feminist point of view no less. These skewed sketches of confessional sommercials are hilarious. And I'm still amazed there have been no lawsuits. (Hey ... there's still time!!)

David Whitehouse seems to have polished to perfection his irreverent impression of Dr. Fill (Is this a reference to "full of"?) both in a series of funny videos and the uproarious sketch dealing with Count Dracula's addiction. "Dr. Fill v. Dracula" pokes fun at this most insufferable of doctors with a delightfully confused bloodsucker played by Jimmy Mak.

Reprising the original "Dr. Mystery – Episode 1" (Freak Show 1999) is more interesting than amusing. Yet one can't help but be intrigued by Mr. Whitehouse's ability to take a dive ... time and time again ... show after show ... since 1999 no less. Knowing the uh ... historical context of Dr. Mystery's beginnings can only bring depth to future foibles in folly.

Arguably the best Shadowbox sketch from the 2006-07 season is "Helen and Ethel". Helen (Amy Lay) and her people watching partner Ethel (Katy Psenicka) are a couple a feisty old birds sitting on a bench at the mall. Their observations to behaviors, like way too public displays of affection, music appreciation, and alluring fashion, is both wildly funny and terrifically relevant given that shadowbox is located in just such a place of diverse human nature. The performances of Ms's Lay and Psenicka are skillfully divine, making one recall the gossipy yet loveable old aunt most of us have know in our own lives.

And lastly, the inclusion of perennial crowd favorites like "Jason's Scary Stories" and "Shannon's Movie Reviews" ensures a warm familiarity to "Best of Shadowbox" This time pitting Jason against his babysitter (Never has a prop so small as a flashlight shone so brightly.) Jimmy Mak's childlike narration is interpreted with aplomb by pantomime (and yes ... again the pratfaller) David Whitehouse. I have seen Amy Lay's "Shannon" many times (this particular sketch maybe 4 already) yet her coquettishly coy and unassumingly sly little character always makes me smile. The paradoxical depth of Shannon is at once both ticklishly silly and childishly honest.

Usually ... at least the past few years ... the "Best of" shows have finished with an elaborate musical production. But this year Boston's "Long Time" closes the performance. Instrumentally BillWho? and their backup singers do a great job getting the crowd involved, clapping and singing along. And the long free form intro ("Foreplay") is superb. But Boston tunes are incredibly difficult to sing because Brad Delp (Boston's lead singer) had one of the most expansive vocal ranges in rock and roll ... right alongside Robert Plant. And ... at least on this evening ... Noelle Grandison seemed to struggle (even Mr. Delp needed a "hired gun" to hit the high notes on Boston's final tours) ... at times, opting for a lower register on certain notes. Most didn't notice I'm sure. But this did diminish some of the song's impact and made the big finale not as big as year's past. A small gripe for such a good show ... but a show that certainly deserves to end with a bigger bang.
"Best of Shadowbox 2007" runs through September 1st. For more information go to http://www.shadowboxcabaret.com/.