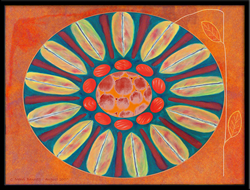 Orange Flower
Click Above

by
C. Mehrl Bennett
---
The John M. Bennett Interview

by Rick Brown
Naked Sunfish - Can you give us a little background Dr. Bennett (unless you'd prefer it more casual)? Where are you from? What was your childhood like?
John Bennett - Oh please call me John! I'm from Chicago, Columbus, Tokyo, St. Louis, Mexico, Los Angeles, etc., roughly in that order as far as I can recall. I had an interesting childhood observing the life-long debate between my anthropologist father and psychiatric social worker mother. It was an intellectually stimulating atmosphere, to say the least. There are many more details in my autobiography, in Gale's Contemporary Authors Autobiography Series.
Naked Sunfish - When and how did you get interested in poetry? I assume, early on, you began with traditional verse?
John Bennett - Somehow I've always had a capacity to perceive the resonant and "magical" quality of language and words. This was the case even before I could write. I used to chant words and phrases over and over. I still do that; it's one of my performance schticks. When I was a small child on the ship going to and from Japan, I wrote special words on pieces of paper, carefully wrapped them up in boxes or bottles or whatever was available, and threw them overboard into the Pacific. I created special incantations or "prayers" for things that were important to me and recited them to myself. Somewhere in late grade school or thereabouts, I learned that what I was doing was called "poetry".
N.S. – Wow. That's a calling I believe. Most of us are forced to memorize a poem or two along the way in school. Your experience is more personal. I won't make a case for public education many times turning kids off to poetry. That's too easy. But all I have to show for 12 years of public school is Ogden Nash's "The Duck". And while that's more than some, how did your education as a boy interplay with this inspirational self motivated creativity? Did the two mesh? Or was it a conflict?
J.B. - When I was in public grade school it neither meshed nor conflicted, because those interests/proclivities had no place there. When I went to OSU's lab school starting in 7th grade, the environment and teachers greatly encouraged my activities in poetry. It was a good place. Then when I finished high school in a large public school in St. Louis, I almost got thrown out of the place because neither my writing nor anything else about me fit in. I was pleased to learn that Tennessee Williams DID get thrown out of that same school - actually, I've always felt somewhat disappointed that I didn't do as well as he did there.
N.S. - Well enough to get thrown out? Who influenced you back then? Did you read avant-garde poetry? Mainstream stuff? The Beat Poets maybe?
J.B. - Back then in High School (or rather, OUTSIDE of High School!) I was reading cummings, James Joyce, Robert Bly's The Fifties magazine, the Beats of course, Burroughs (or at least the fragments that were available then), Rimbaud, Baudelaire, Verlaine, Lorca, Machado, Neruda, Heine, Japanese haiku, Eliot, Pound; these are who come to mind today. The mainstream stuff I read out of curiosity, and sometimes so I could mock it, but it didn't leave much of an impression.
The question of "influence" has always puzzled me a bit: was I influenced by the writers I read, or did something in my psyche influence what writers I read? A bit of both, no doubt.
N.S. - What about college? What was your approach there? What did you study? Did you fit in better in that environment?
J.B. - In college I had a number of things I was interested in, ended up with undergrad double majors in English and Spanish. Stayed away from the "creative writing" industry which was starting up at that time, because I could see very clearly I didn't want my livelihood dependent on what I wrote as a poet. That was part of the reason I went into Latin American literature for graduate work and for academic career - it was also a field which had lots of VERY interesting writing going on; much more congenial to me than what was happening in Anglo-American poetry.
I also studied Latin American history, social science, etc. quite extensively, and found that very satisfying.
N.S. – Where did you attend university?
J.B. - Washington University (St. Louis) - BA Cum Laude, MA, CCLAS
UCLA – PhD
N.S. – Some artists maintain that one must learn the rules in order to effectively break them. As an avant-garde poet what is your take on this? Does one need to live in the box before getting outside it? And would you view this as a sort of anti-authoritarianism?
J.B. - Of course there's a lot of truth to that. The question is, how does one learn the rules? The people who tout this idea usually mean that the rules must be learned in a specific way, but in fact people learn the rules (that is, the tradition they want to transform) in all kinds of idiosyncratic processes. To follow up on your metaphor, one can learn what's inside the box by looking at it from the outside, in some ways better than by looking at it from within.
N.S. - When did your work begin to get published? Do you still have pieces from way back when? An anthology of your poetry?
J.B. - Some of my poems were published when I was in high school in the late 1950's, in student magazines. Also in the 1960's, some of my poems were published here and there. You can see a lot of it right here at OSU: http://library.osu.edu/sites/rarebooks/finding/JMBcomplete107.php
Things really got going publishing-wise in the 1970's. I saved everything, as the guide above will indicate.