---
Bruce Springsteen
March 24, 2008
Value City Arena
Columbus, Ohio
* * * * *

Richie Havens
March 28, 2008
Stuart Opera House
Nelsonville, Ohio
* * * * *
by Rick Brown
It isn't often I can see two great concerts in the span of 5 days, let alone two American icons. Bruce Springsteen brought his E Street Band to town and they did what they do best…rock an arena. There is arguably no better rock and roll outfit than these guys although this night's lineup lacked Bruce's better half Patti for reasons unknown. But with both Stevie Van Zandt and Nils Lofgren augmenting Springsteen's guitar playing who's gonna complain? And while The Boss's shows are not the 4-hour marathons they once were (Could we still survive the evening if they were?) there was a lot of music packed into 2 plus hours. Gone are the storied intros for the most part. Instead, Bruce allows his body of work to stand on its' own.

Mixing newer numbers from his latest Magic release ("Gypsy Rider" and "Radio Nowhere") with classics ("She's the One", "Reason to Believe" and "Because the Night") cemented Bruce's place in American folk/rock/pop music. The show flowed smoothly thanks to a tight band and knowledgeable fans in attendance. And of course, there is no better drummer in the world than Max Weinberg. Closing the set was "Badlands" and singing the line "It ain't no sin to be glad you're alive" with 20,000 other dancing fools takes on a deeper meaning for me as the years go by.

The encore section of any Springsteen concert is worth the price of admission and this night was no different. Stalwart gems like "Glory Days" , "Rosalita" , and the anthem "Born to Run" send joyous chills up the spine…regardless of how much water has gone over the dam.

A few nights later I found myself with friends in small town Ohio. I had never been to the Stuart Opera House in Nelsonville before and this was to be a glorious baptism. The place is cozy, holding a mere 200 people, although chairs were added for the Richie Havens concert. Architecturally I found the building an interesting blend of 19th Century Church and Western saloon.

When I was a mere 20 years old and trying to decide what kind of "good guitar" I wanted, I saw Richie Havens playing a Guild in the movie version of "Woodstock". Mr. Havens plays with a dynamic Calypso style strum, an open tuning, and an intensity that took its' toll on his instrument. I could relate, despite the fact I rarely play in an open tuning. So for my 21st birthday I bought a Guild D-50, the guitar I play to this day.

Seeing Mr. Havens from the 4th row of such an intimate venue was a dream come true. He stills plays in the open tuning and with much the same fervor of decades ago. He does however, seem to have learned to be a little gentler with his Guild. Richie Havens is probably best known for his interpretations of other's music and these proved to be the standouts this evening. Beginning with a torrid version of Dylan's "All Along the Watchtower", the intensity level was high from the start. A jazz guitarist augmented Mr. Havens onstage to his right. For the most part this approach worked, yet there were times when it made a tune sound a bit cluttered.

In the second half of the performance a cellist was added. The mix of the three instruments proved more satisfying. The brooding sounds of the cello enhanced rather than filled in, even on upbeat songs like George Harrison's, "Here Comes the Sun". Richie Havens gave it his all. So much so that every so often he stopped to regain his composer after giving himself over to his performance. Witnessing a musician lose himself like this is a rare moment. Of course he ended with "Freedom", the very song included in "Woodstock". A surprising encore of the Who's "Won't Get Fooled Again" brought the crowd to its' feet with as thunderous a response as 200 people could possibly muster.

My friends (Thanks for getting tickets Jim!), my wife Yvonne, and I stayed afterwards for the "meet and greet". And being introduced to Richie Havens was quite a thrill. I told him my guitar story and we all chatted about guitars for a while. I have met a few famous people in my day, but none warmer than Mr. Havens. He embodies all that was genuine in the Woodstock Nation. He signed my CD "Friends Forever" and I have no reason to doubt his sincerity.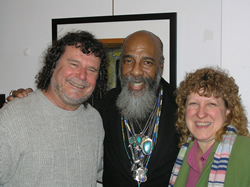 ---
News Clips

by Dennis Toth

A boy age 8
was struck
by a trolley
while waiting
for a train.
A witness
remembered,
in her senile years
a red bandanna
around the boy's neck.
The driver,
heartbroken,
was detained
past supper
and retired within
a year.
---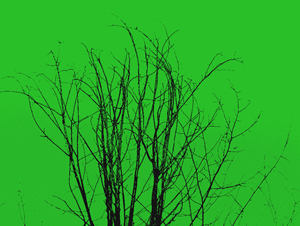 Jessy Kendall
---


---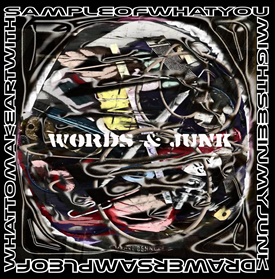 Words & Junk
by
C. Mehrl Bennett
www.lulu.com/lunabisonteprods
---

---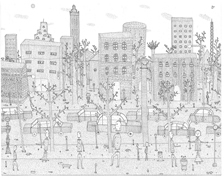 Big City
by
Morris Jackson
---

---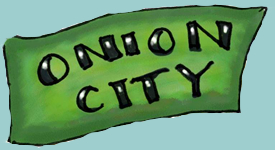 by Sue Lense
Click Here
---
---

---

---

---
The Non-Fiction Theater of the Truly Mundane
Proudly Presents:
Overdue Notice
by Rick Brown
Scene: A street corner in the poor, disheveled section of a medium sized American city. As the curtain rises a 21 year old Rick is seen stage right in the driver's seat of a large, older American car facing the audience. The year is 1973 as reflected in Rick's attire…bell-bottom pants, tie-dyed t-shirt, Black Converse Hi Tops. His hair is very long and parted in the middle. He is wearing wire-rimmed glasses. On the car's seat next to him is a small pile of books.

Stage left, standing on the corner is a small group of provocatively dressed women…mini skirts with all the trappings of 1970's fashion decadence. It is a beautiful spring afternoon. The women laugh and carry on.
Rick (pretending to bring the car to a stop at the intersection) – "Shit! I think I'm lost." (To no one in particular.)

One of the women (#1) sees him and strolls suggestively across the street to the car. She is wearing a very short black leather mini skirt, matching leather jacket and thigh high, spike-heeled boots. It takes some time for Rick to notice her (she approaches on the side of his bad eye) but when he does he struggles to contain his composure.

The woman smiles confidently, leans onto the car door and sticks her head in the window close to Rick's face.
Woman (#1) (seductively in a whispered tone) – "Hi there baaayyy beeeeeeeee! Wanna go out with meeeee?" She winks at him.

Rick (who is visibly shaken) – "Uh, well…ordinarily I'd really like that. But…uh…uh…I gotta go to the…uh…library."

Upon hearing this she steps back from the car and puts her hands on her hips with an air of disgust.

Woman – "Say WHAT?!!"

Her companions on the street corner laugh and snicker and point at Rick's car.

Rick – "I'm really sorry…but you see (pointing at the pile of books next to him)..they're…they're…OVERDUE!!"
Curtain

Cast:
Rick – himself (age 21)
Woman #1 – herself
Woman #2 – herself
Woman #3 – herself
Woman #4 – herself


Good Vibrations
Shadowbox
Easton Town Center
Columbus, Ohio
* * * *

by Rick Brown
Shadowbox's new spring show follows the precedent the troupe has set in 2008…a great performance of almost exclusively fresh, new material. Good Vibrations begins with a tight, inspiring version of the Beach Boys' classic 60's title tune. With dead on harmonies by Laura Douce, Jennifer Hahn, Carrie Lynn McDonald and Tom Cardinal, lead singers Stephanie Shull and Jerrod Wigton are able to shine and engage the crowd immediately.

"Love Stings" is a perfect spring sketch starring bees Bill (David Whitehouse) and Scott (Andrew Cioffi). These two buzz around Delores, a flower portrayed by Amy Lay. It seems Bill and Delores have a history from the previous spring pollination season which Delores is more than willing to bring up. All three actors, and especially Ms. Lay, take these absurd characters to a delicious metaphoric realness that is arguably the finest opening sketch I've seen Shadowbox perform. Sadly, when Bill (Whitehouse) injects Shakespeare while listing flowers by their misleading monikers, yet states "Rose is a rose" the clever line went over the heads of most of the audience. (an English Professor's night out promo perhaps?)

Jimmy Mak crawls, hops and voice overs his Australian emcee role in "Mammal Planet" lampooning wildlife programs with his interpretation of students on spring break. This skit is clever on many levels and exposes the annual college ritual for the farce it mostly is.

It's always charming when Shadowbox cast members portray children and Julie Klein might be their template. In "Jackie and the Beanstalk" she delightfully distorts the direction of her teacher (Mary Randle) making the fairy tale a ribald allegory of accidental childish wisdom.

"Maureen and Buffy" is the only sketch familiar to me here. But as with most of the sketches in Good Vibrations the writing is so good it seems brand new. Maureen (Julie Klein) and Buffy (Katy Psenicka) are insufferable, gin soaked elitists constantly demanding their drinks be freshened by the waiter (adeptly played between slapstick and reservation by Josh Davidson) while they insult the other attendees at a bridal shower. The inclusion of Flower Girl Amy Lay here give the sketch yet another foil, elevating the humor well past the acidic one liners. The tour de force of "Maureen and Buffy" is the strong physical comedy of Ms. Psenicka, Ms. Klein and Mr. Davidson played off the innocence of Ms. Lay's not so wet behind the ears Flower Girl. The tension between elegance and baseness is both funny and real.

There are a couple sketches that fall a little short. "Wake 'n' Bake" is a one dimensional drug joke. And try as he might, for me, Tony Stremanos could not be George Patton enough to lift "Patton's Spring Break Speech" out of the cliché that is spring break. Still, the strong sketches way outnumber these two "quickies".

And…of course…BillWho? brings down the house tune after tune beginning with Good Vibrations. Jennifer Hahn's campy, vampy "Play That Funky Music White Boy" made all of us white folks in attendance (and there were a lot of us) feel pretty damned funky thank you very much! Steve Guyer's handsome, debonair, delivery of Santana's "Smooth" is brilliant. Andrew Cioffi's take on "Aeroplane" (Red Hot Chili Peppers) is fabulously funky. (see above white people reference) Christina Connor's "You Can Go Your Own Way" (Fleetwood Mac), Carrie Lynn McDonald's "Baby I'm a Star" (Prince) and Julie Klein's closing number "Piece of Mind" (Boston) soar as well. It's all good. But I have to write this…it's frustrating listening to a solid musical outfit like BillWho? sometimes. I'd love to see them break out and lay it down like I know…and I'm sure they know…and I'm sure they know I know … really can. Nowhere has my anxiety concerning this been more paramount than hearing BillWho? tear into Van Morrison's "Wild Nights" with Tom Cardinal and Christina Connor at the vocal helm. Then…when it came time for a torrid solo to mesh it all together…saxophonist Lynsey Strouse and guitarist Matthew Hahn traded what seemed to be 7 second solos between the two of them…well…it all sounded a little too packaged. I mean…I realize why it has to be this way most times. But c'mon…give the gyrl and the dude 30 seconds each huh?

The extra minute in the show here would have been nirvana.
Perhaps this is why in the press kit "Wild Nights" was listed as a John Cougar Mellancamp tune.

But don't let my short solo gripe fool you. Good Vibrations is most definitely…Good Vibrations.
Good Vibrations runs from now until June 7th at the Easton Town Center. For more information go to http://www.shadowboxcabaret.com/
---
Behold the Goat
by Elisa Philips

In France, Greece and Spain
raising cows is such a pain
goats are much easier to contain
The cheese produced is creamy, smooth and tart
some scientists say its better for your heart
It goes great with so many other foods-- or a la carte
Flavored, rolled or shaped goat cheese is especially good with crackers and grapes
A favorite for wine drinkers - during evening escapes
Available at the corner store
or locations offering gourmet goodies and more
It is certain to suit any mood for sure
---
The Hopper Collection
April 10-13 & 16-19, 2008
MadLab
Columbus, Ohio
* * 1/2
by Rick Brown
This was my first foray into the land of MadLab. It wasn't easy to find. My wife and I wandered what felt aimlessly and for what seemed endlessly. I was sure I had the address right. Didn't I? So the marital form of communication called bickering ensued until…we realized…we were standing directly in front of the place. The experience was reminiscent of looking for a gay bar in 1970.

But once inside, the funky little place charmed us both. A long narrow room with the stage off to the left in front of three or four rows of what appeared to be old movie theater seats. We sat down in a couple squeaky chairs and proceeded to witness the Evolution Theater Company's performance of the 90 minute one act by Mat Smart called The Hopper Collection.

It seems Daniel (Dan Welsh) and Marjorie (Ellen Knolls) have had a cold, distant marriage for some time now. And in their middle age it all seems to be coming to a head. So they invite young couple Edward (Billy Earnhart) and Sarah (Megan Lynch) over to take a look at a prized portrait. The exuberance of the younger art student is tempered by the fact Edward has a brain tumor…and Sarah turns out not to be Sarah at all but Natalie. Sarah left Edward. He is still obsessed with her and gets Natalie to pretend to be Sarah so they can see the older couple's famous artwork.

Marjorie is obsessed with the painter Hopper (who she had met all too briefly in her youth), does not love her husband, and tries to poison him right before Edward and Sarah/Natalie show up. Still, Daniel's love for Marjorie is obsessive and his desire is to convince her he can replace Mr. Hopper and they can live out their years in marital bliss.

Confused yet? Actually, the plot's essence is dynamic really, with paralleled themes and metaphors and all the delicious stuff that made "Who's Afraid of Virginia Woolf?" both an iconic play and movie. While both Mr. Welsh and Ms. Knolls are at times entertaining with biting dark humor, the characters never become remotely sympathetic to the audience. And when the ending promises hope for their marriage it is for the most part unbelievable. I'm putting my money on either murder or divorce.

Better is Billy Earnhart as Edward. The young actor struggles at times but his character is arguably the most complex: a young man facing almost certain death, dragging around a broken heart and initiating a new relationship in the hopes of smoothly replacing his obsession. Still not realistically believable, but the interplay between him and the delightful performance of Megan Lynch as finally Natalie, at least makes the audience root for them. Ms. Lynch's character is the most genuine, not specifically because of the script, but due to her seemingly effortless acting abilities here. Her graceful Natalie enhances Edward enough to make his replacement-obsession and desire for Natalie worthy a leap of faith.

Don't get me wrong. I thoroughly enjoyed my first MadLab experience. But the play really never allowed me to let go of the feeling that I was still wandering around frustrated, looking for the theater's front door.

For more information about MadLab go to http://www.madlab.net.