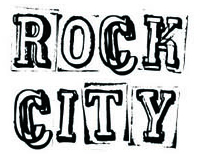 by Harvey Pekar & Tara Seibel
Click Here
---
Interview with Harvey Pekar
Ohioana Book Festival

by Sue Lense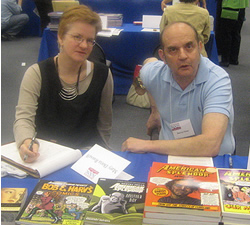 Back on May 10th, the Ohioana Library held its annual Book Festival at the State Library. It was my great fortune to interview Harvey Pekar of "American Splendor."

Harvey hates to travel outside Cleveland, but "loves the spotlight." Unassuming in his light blue polo shirt and jeans, Pekar remains Pekar, unique yet as ordinary as the rest of us. I was struck by his approachability, his modesty regarding his obvious influence on many, and most of all by his genuine love of humanity. He was always sure to give credit where it was due and spelled the last names of anyone he mentioned. He is one mensch of a homo sapiens.

Q: In a quote from an interview with Steve Leiber & Jim Ottaviani you said, "Every life is the subject of a potentially great novel."

Everyday people make up 99% of the population–that is until they are dead are still-born or something. I'm not interested in reading about the life of Princess Diana, and I like realistic art. I worked as a file clerk in a Veteran's hospital and though I changed a few names, what I wrote about is true, and it was mostly affectionate. That is what I know. Authors who don't think they want to write about that are snobs.

Q: In different interview Kurt Vonnegut was mentioned with the quote, "Don't be a writer, be something, then write."

I don't want to take issue with Kurt Vonnegut—it's true. He might have been pretty old by the time he said it.
Q: How do you decide what to work on?

You can do anything with comics and I wish people would do more with the medium. For me, it has been autobiographical based on what was going on in my life. I used to memorize conversations. There were some great lines and I used to grab a piece of paper and write on the spot. Sometimes it would make me feel embarrassed, but a lot of material came from folks at the VA. I knew from the beginning that what I was doing was revolutionary for the time, so I had to self-publish. Now things are much easier–I am approached directly by other authors, publishers and artists.

Q: Could you address some of the more current autobiographical graphic novelists?

I like Allison Bechdel of "Fun House." I tried to promote her. She knocked me out. I got to meet her. She is a nice person and is getting the attention she deserves.

Q: What about your collaboration with artists?

Back in the 1960's I was doing a lot of reviews. Jazz brought Robert Crumb and I together. He is into the old stuff and I liked the newer work so there wasn't a lot of overlap. Anyway, I gave some of my work to him and then he shared some stories with other illustrators. Joe Sacco and Leonard Rifas did more realism, political and historical stuff. Rifas was looked over, which is too bad. I think he is teaching somewhere now. As for a strip, "Gasoline Alley" was on track.

I hate fantasy. Mythology can be ok. Artists like Alan Moore are so much smarter. I hate gratuitous violence. I hate the super heroes style. What I do enjoy are artists like Chris Ware, Dan Clowes, Joe Sacco and R. Crumb. Crumb by the way, is doing a serious illustrated version of the Biblical Genesis. He bought his home in France with a couple of boxes of his sketch books. I've been asked to do a serious history of the Middle East, but I'm not sure how to end it.

Frank Stack is another artist I like. He was an underground comic pioneer. He did "Our Cancer Year." His father was a big Christian so he had to use a pen name. Stack did a take off on Jesus and his return. You can imagine what his father would have thought about that.

Q: On to your film, do you want to talk about that?

Yeah, it saved me financially. I gave half of the earnings to my wife. Most of it was filmed in Lakewood, West of Cleveland. I used to go to the set for free food. Dean Haspeil had a working history with me. He approached a movie producer friend. There was a phone call, and I got an option right away. HBO was talked into making the film. I got lots of money for that. The movie sparked new interest in my work. A husband and wife team who did documentaries wrote the screenplay. They came up with good ideas, as in casting multiple actors for the same character and some animation. Giomatti, who played the lead, was relatively unknown at the time. The film hit the new wave of graphic novel interest at the right time.

Q: What about some of your new projects?

I'm writing about the SDS and the Wobblies. No one knows about the Wobblies. I've also done a history of the Beats, but the title is yet unknown. Another book is coming out with intertwined short stories from "American Splendor". I'm also working on a biography of Lenny Bruce.

Q: What do you do for fun?

I read good reviews of my work. I get a lot of fan mail. My name is in the phone book and I love calls. Right now I am working with an illustrator named Tara Seibel.

Q: If you were a kitchen utensil, what would you be?

Something that turns fat. Doughnuts and french fries are my favorite foods.


---

---

---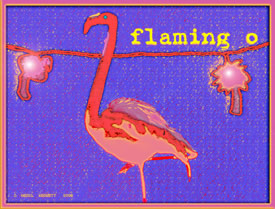 Flaming O
by
C. Mehrl Bennett
---
---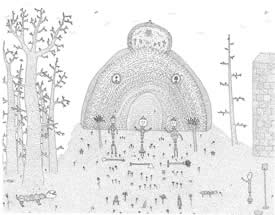 The Gardeners
by
Morris Jackson
---

---
---

---

---
The Non-Fiction Theater of the Truly Mundane
Proudly Presents:

Base on Balls
by
Rick Brown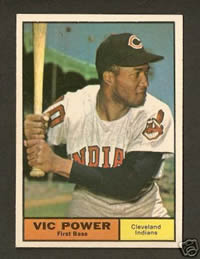 Scene: A modest living room in an old farmhouse circa 1961. A family of six consisting of a mother, father, three boys (Aged 10, 9 and 8) and the youngest girl (6) sits stage right on a hodge-podge of worn overstuffed furniture. A large steam radiator is located directly below the front window. They are watching the Cleveland Indians play baseball on a 21-inch Early American console television.

The image is black and white. Sportscaster Ken Coleman's voice emanates from the T.V.

Ken Coleman – Vic Power takes ball four and trots to first base!

Ricky (the oldest boy) – Gee, I wonder what the first baseman is saying to Vic Power?

After a moment of contemplation the mother chirps pleasantly – You're a Goddamned asshole!

Ricky, Jimmy, Donny and Kathy – GASP!

Father – AAAAAAANNE!!!

Curtain
Cast

Father – Dick "Snook" Brown
Mother – Anne "Gus" Brown
Ricky – himself
Jimmy – himself
Donny – himself
Kathy – herself
Ken Coleman – himself
---
A Brief Soliloquy

by Dennis Toth
On restless nights crowded
with intermittent meditations
of early selves forgotten
and futures lost
in endless rounds of
jabber and digressions,
only then do I remember
my recent, post-dated sense
of resignation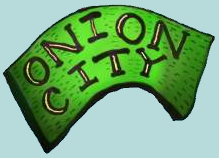 by Sue Lense

Click Here
---
The Best of Shadowbox 2008
Easton Town Center
Columbus, Ohio
* * * * *
by Rick Brown
Over the years I have found writing reviews for Shadowbox gets more and more difficult. But it's for a good reason. Their shows are too enjoyable. Over the past couple years I have seen the Shadowbox troupe incorporate new angles…like video images on television screens, more dance routines, circus stunts, etc. into their performances. At first this didn't always work out well...especially the video.

But with experience comes wisdom. And every year I tell people in my "Best of…" review that this is the show to see if you have never seen Shadowbox. But this year I must say the current ensemble of 2007-2008's best sketches, music et al is "The BEST of all the BEST OF's" I have seen in the six years I have been reviewing these talented wonderful people. And boy am I glad I invited two friends…one of whom had seen Shadowbox years ago and was not impressed and one a certified "virgin"…to join my wife Yvonne and I for the show!
continued...
---
Return to the Forbidden Planet
Shadowbox
Easton Town Center
Columbus, Ohio
* * * * *
by Rick Brown

Okay…here's the deal. I am not going to even TRY to explain with any detail the plot of this musical. You probably wouldn't believe me anyway. Suffice it to say this is a science fiction play loosely (and I mean loosely) based on Shakespeare's "The Tempest". Written in the style of the Bard's Old English by a guy named Bob Carlton, it is also loosely based on the 1956 film Forbidden Planet. So here goes my loosely written review.
Tom Cardinal stars as the singing, dancing Captain Tempest who commands what begins as a routine passenger jaunt into space aboard his spacecraft. Along with an able crew including Cookie (the teenage cook played by Brian Westbrook) Navigational Officer (Lori Hunt) and Bosun (Jerrod Wigton), Tempest is befuddled and intimidated by new Science Officer Gloria (Julie Klein). Gloria is a strong, vocal feminist and Captain Tempest is an old fashioned misogynist…at least initially. Their conflicted arguing soon breaks into the most intriguing version of James Brown's "This Is A Man's World" I have ever heard.
continued...
---
Cinema of the Damned
by Dennis Toth
There are movies and there are films, each separated by rifts in elitist attitudes and adolescent obsessions. Then there is the cinema of the damned, a vast skid-row of Jungian shadows and Freudian dreams. Like a flea market held at an abandoned drive-in, this is a place stocked with life's most tawdry and potent fragments from the collective sub-conscious. Here, and here alone, we find the poetry of the lost and doomed.

If there is a barker stationed at this particular gate of Hell, he will look like Vincent Price. In a career that see-sawed from second string respectability to senior citizen camp parody, Price rose and fell and rose again. He went from being a simple servant within the back lots of RKO and Universal Studios to his late career as master of the Edgar Allan Poe genre in the dingy back alleys of American International Pictures. Though his career turned into a lemon, Price successfully took over the entire lemonade stand. He became the unchallenged King of Horror.
continued...
---
After The Afterglow
Raconteur Theater Company
Kafe Kerouac
Columbus, Ohio
May 29 – June 14
by Rick Brown
A couple Saturday evenings ago my wife Yvonne and I were out celebrating our anniversary. We had a wonderful dinner and took in After The Afterglow at the delightfully funky Kafe Karouac in the Ohio State University campus area. This being the premier production by this new troupe I had no idea what to expect. After The Afterglow is a part of what Raconteur calls it's "Flex Series". That being an evening of two short plays with the option to take in both or to see one or the other. This is a great idea! And coupled with the friendly funkiness of Kafe Kerouac and the charming "thrown together" feel of the performance space made for a fun date…even after 34 years together! With the rows of at least three different types of chairs and temporary black curtains hanging from the walls, the implied spontaneity was celebratory!! (Hey everyone….let's put on a PLAY!!) The bittersweet irony however, was that these two productions centered on couples arguing for what seemed the duration of each presentation. I simply sighed and smiled.
continued...
---
all the time that comes with laughing

she just goes on and on.
no special earlobe'd villain,
no righteous brain pan,
no mellow reasoning.
my cheeks are tired. the day ahead of me is full.
i hate full days. i really do.
i want something to kick around in. water mostly, a little blood.
the lost hammock of our forever fuck, our forever fucking.
the mouth passion i once felt and now have lost. it's lost itself on me.
bottleneck bottlepain. i stop and sit and feel the paranoid skin
sift and wrap 'round my shoulders.
i'm dead for trees again.
we're snapping at the wrong turtles,
not thinking past a bullet that can't hurt a cartoon thought,
can't break up a spaghetti plate,
can't make a joker stand up yet.
i stop just long enough to confront
every demon, every bastard, every equal bitch
and pour cold water on all those heads..
straining and shitting and crying.

- jessy kendall