An Offer We Could Not Refuse
Part Two

South of France
by Rick Brown

( Read An Offer We Could Not Refuse - Part One)

Traveling by train is a delight. And boarding the TGV (Which I believe stands for Train Goes VAAAA - ROOM! But don't quote me on it.) with the anticipation of traveling well over 100 miles per hour is always exciting. The countryside flew by, slowing only to accommodate passengers at Lyon, Nimes, and Montpellier where we boarded a local for Beziers to meet our friends Mike and Phoebe. I cannot fully describe the odd yet exhilarating feeling of seeing these two approach us on the platform so far from home.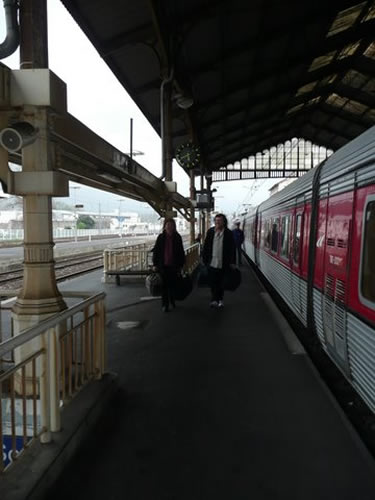 Soon enough we were standing and waiting for Mike to let us into our new home in the South of France. The town is called Penzenas. Deciphering the pronunciation would be, and still is, an adventure. I don't know if he was joking or not (He IS from Cleveland) but Mike said it is "Pen Zan Ass". I told him I wasn't about to tell anyone I brought him or her a souvenir…a little piece of "Pen Zan Ass". But it's not "The Pirates of Penzance" either. I decided to mumble the word for the rest of my life, a habit my wife Yvonne seems to believe I do all the time.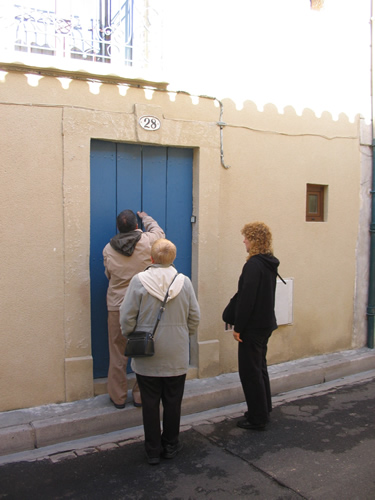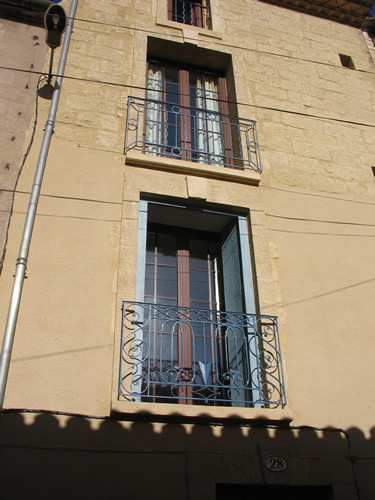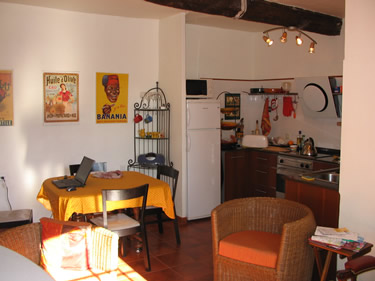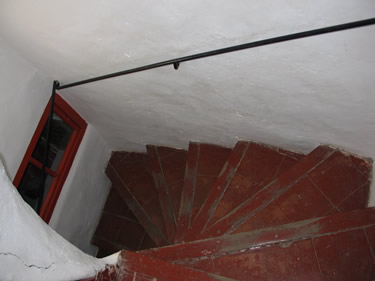 Regardless of how it's pronounced, Penzenas proved to be a delightful village, large enough to seem a bit bustling at times, yet small enough to seem cozy and charming. Every morning I would walk to a bakery and proclaim (in my delightful French) "Bone Jjjjjjoor! DUH CWASANTS SEE VOO PLAY!!" And the ladies would smile and help me. My attempts at communicating in French most certainly were C'est TERRIBLE! But we all managed. The most humorous exchange came when I visited a camera shop (alone by design) to buy some new batteries. The guy behind the counter did not know a word of English. I knew not the French word for batteries. So I made one up! "Do you have any SHAAAAR - JZAAAYS?" I politely inquired. And after repeating this line to the confused man a few times I took the batteries out of my camera and put them on the counter. He looked at them, then at me, and threw his head back belly laughing. "No Monsieur." Being around French people in what to them is an ordinary circumstance and living in a centuries old four-story house in Penzenas was a nice, pleasant diversion from the city life of Paris.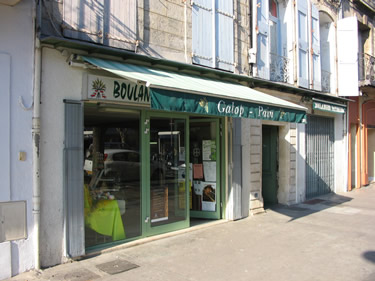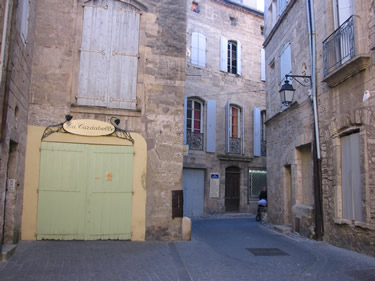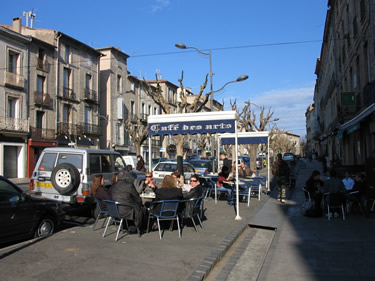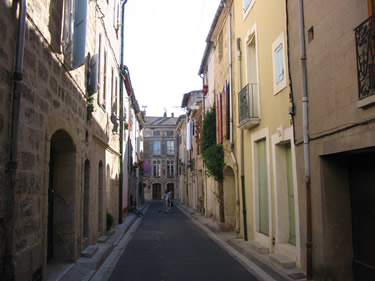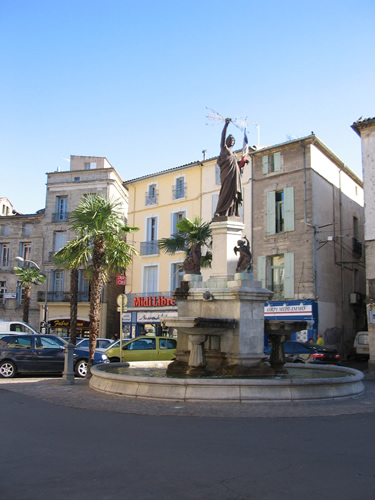 Mike and Phoebe had rented a car for the duration of their stay. Mike proved to be quite the tour guide extraordinaire for us. The first excursion we took was to the newly opened suspension bridge outside of Millau, the largest and longest in the world. We stopped on the way there and had lunch in the car, then walked around a small medieval walled city called La Couvertoirade. This turned out to be a great find. People still inhabit the renovated town, which features working artists and artisans. The buildings and architecture date back to the 15th Century up to the 17th and a stroll around certainly brought history alive.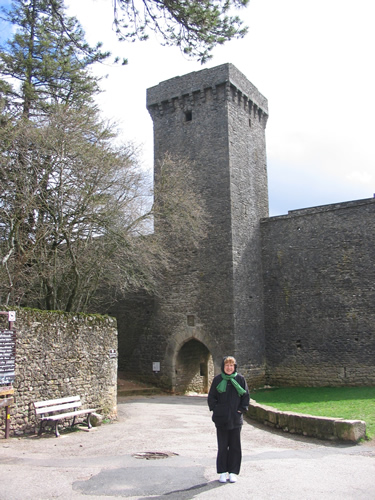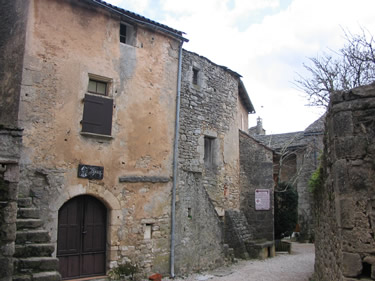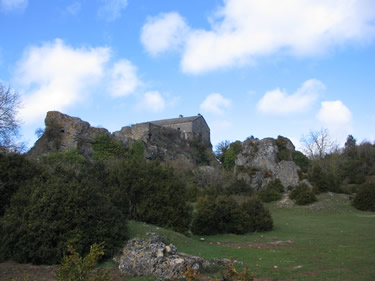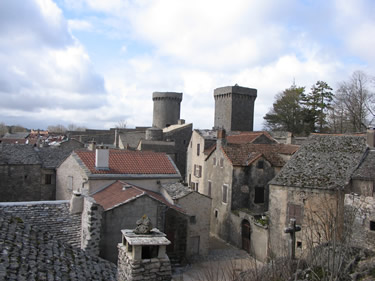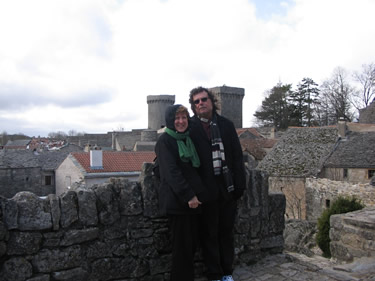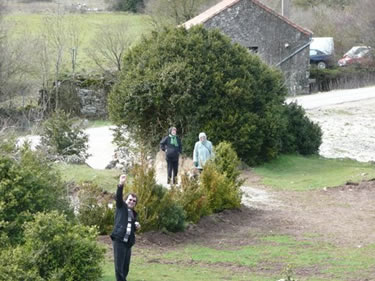 When we finally drove over the bridge at Milleu any doubt that it was in fact the largest and longest suspension bridge in the world certainly evaporated. We were so impressed in fact that we inadvertently drove over it again on the way back. By the mistaken interpretation of directions (given in French mind you) we ended up donating about 12 dollars to help defer costs for the bridge's construction. In between crossings, we parked in the valley and trudged up the mountain (It certainly seemed like a mountain) to get a glimpse from the pinnacle. I advanced despite my fear of heights. Phoebe, and Mike in particular, were like hikers possessed!! Two thirds of the way to the summit what appeared to be a monsoon hit! Driving, horizontal rain soaked the four of us to the bone!! I feared for my safety and descended short of the precipice. But Mike was not to be denied and took pictures at the top. Thankfully the view from the bridge on our return drive took our wetness off our minds.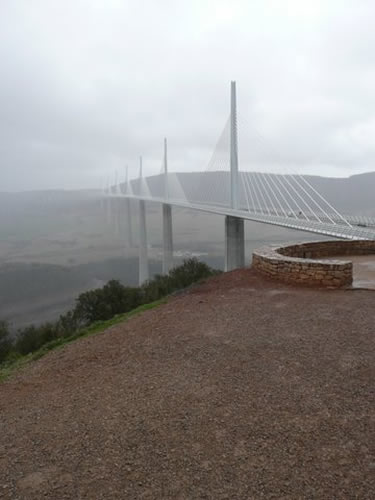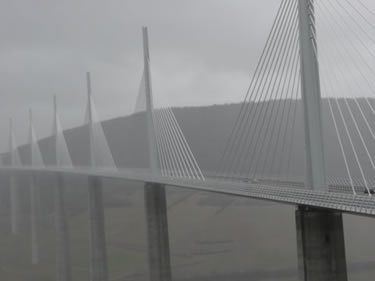 My favorite day trip was to Duilhac Sous Peyrepertuse (Don't even ask me to pronounce this.). This is an ancient complex made up of the village of Duilhac, The Church of Saint Michel and the Castle of Peyrepertuse. Building began in the 1st Century B.C. and continued until sometime in the 16th Century. At first the village was a stopping off point for travelers near what was to become, when the nation states emerged, the Spanish and French border. It's rich history spans the pre-Christian era, through the Spanish Inquisition, to the Treaty of the Pyrenees in 1659 when it ceased to be a military stronghold. During the start of the French Revolution it was abandoned, as were most castles in France, the ruling class being on the run.

There are probably more churches in Europe than castles, but I'm sure the count is close. And Peyrepertuse is the most intriguing castle I have ever stood in, mostly because of its' centuries of history. Having majored in history in college, this was a thrill…especially after realizing how rugged my traveling companions were. This was no easy climb and we went to the top! We had already driven up a switchback road, watching the village in the valley shrink to a blur. This was truly a glorious hike and visit.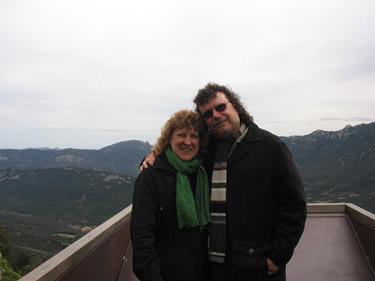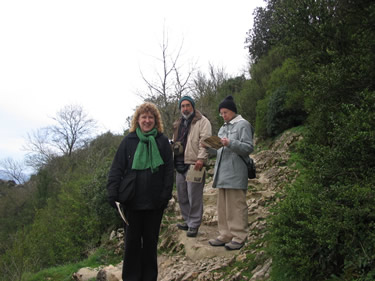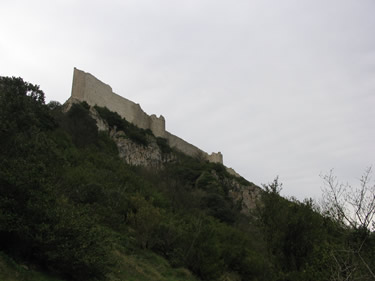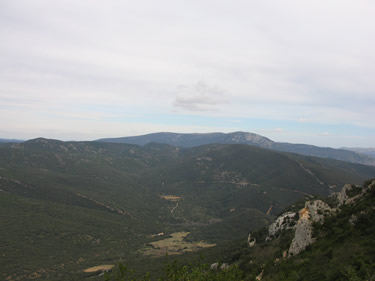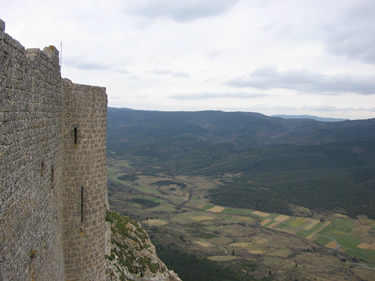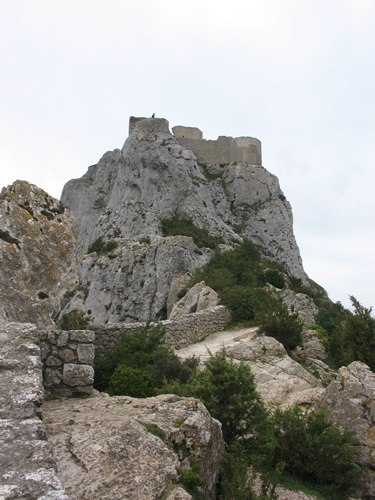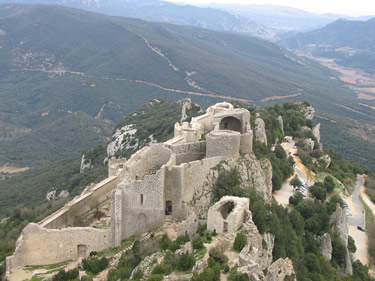 Did I say there was a plethora of castles in Europe? On the drive home we stopped at a rest area and saw yet another within walking distance. Fortress de Salses overlooks the Mediterranean and was also there to protect France's interests long ago.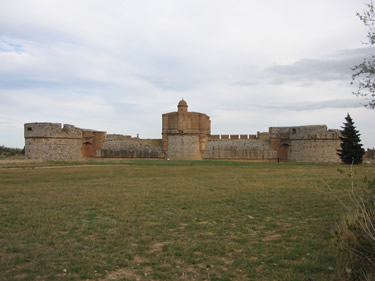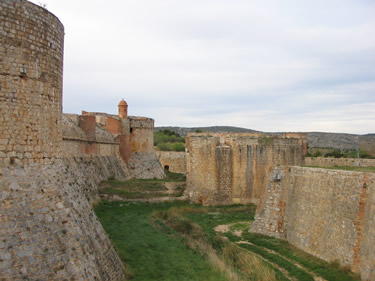 Before we left the South of France I wanted to visit a small resort/fishing village on the coast called Agde. The beach resort area is Cap d'Agde and has a beautiful beach. Yvonne and I visited here back in 2001 and fell in love with the place. During the warmer season (this was not) you can stroll up and down the long sand beach and see some of the most beautiful people in the world semi-naked and some totally au natural. Of course you will see plenty of the least beautiful folks in the same degrees of undress. But ask any nudist and they will tell you that's the whole point.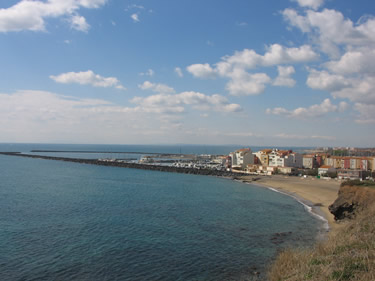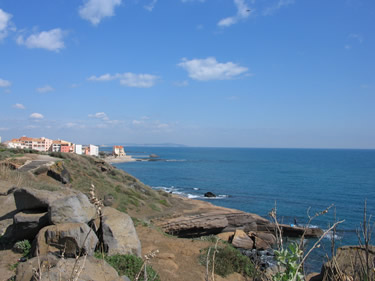 Actually the four of us enjoyed Agde so much we had dinner there one evening and returned for lunch later in the week.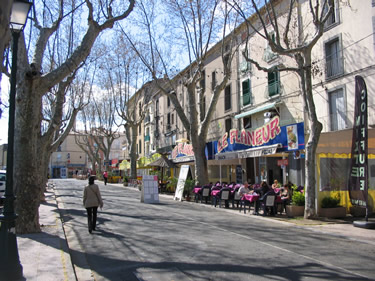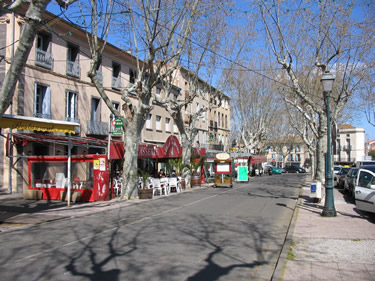 Yvonne and I had originally planned to take the train to Avignon. But it was leaving pretty early in the morning and Beziers was at least an hour away. After a short discussion the four of us decided that since we were enjoying each other's company so much, Mike and Phoebe would drive us there. This suited me fine since I am not a morning person anyway. And it was a fabulous way to keep two friends who spoke English in the picture for a little longer. The adventure was not yet complete!

The conclusion of An Offer We Could Not Refuse Part III Avignon, Lyon and A Return to Paris will be featured in issue 49 of Naked Sunfish!