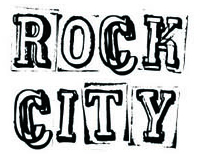 by Harvey Pekar & Tara Seibel
Click Here
---
Jesus Christ Superstar
Shadowbox
Easton Town Center
Columbus. Ohio
* * * * *
by Rick Brown
A mere two years after the release of religious themed rock opera Joseph and the Amazing Technicolor Dreamcoat, composer Andrew Lloyd Webber (along with lyricist Tim Rice) struck gold with Jesus Christ Superstar. Despite controversy …it was after all 1970…J.C.S. is a pretty sedate storyline today.

Using Pete Townshend's groundbreaking Tommy as a template, Webber utilizes 8…maybe 9 melodies with infectious pop hooks to string together his rock and roll passion play. I could easily make the argument that this is the formula for everything Webber has ever produced. But that's another article.
continue...
---
Local Man Grows Gargantuan Mushrooms in Basement!!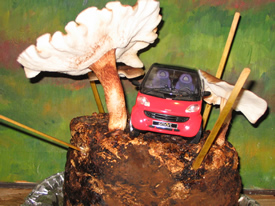 Actual Size
Columbus, Ohio – Local resident Rick Brown has shocked the world by growing what can only be described as "gargantuan mushrooms". Using a mail order mushroom kit, he has successfully cultivated fungi for the ages. Beginning with a 24-hour soak in non-chlorinated water, and with hours and hours of misting, Brown has been almost able to watch his mushrooms grow.
---
What Are These Baptists Doing on My Porch?

by RickBrown
I didn't get Henri specifically because he's a babe magnet. My wife is allergic to dogs and the Bichon Frise is as non-allergenic as any breed of dog. The babe magnet thing is just an appealing benefit to the deal. Translated from the French, "Bichon Frise" literally means "allurer of the femme fatale\". Oh sure...it's a little hard to believe. In fact, I first incorrectly assumed "Bichon Frise" must mean something like "magnet of the freezer", or as it's known in this country, "refrigerator magnet". Fortunately I was way off base on this and Henri Richard is indeed a babe magnet. Although the breed is initially thought to have originated in Spain the Bichon flourished in the royal courts of France. The height of it's popularity came in the late 16th century when King Henry III carried his beloved dogs everywhere he went in a special basket that hung around his neck. My conclusion? BABE MAGNET! Perhaps he was trying to attract boys. Maybe he was just being foofy himself. I'm going with my own mythology.

The truth of this became very evident to me on a day trip to the college town of Athens, Ohio where Ohio University is located. While strolling around the town's small shops holding Henri in my arms (This works much better for both you and doggie if held in the arms. The breed only weighs between 14 and 18 pounds...and I'm assuming carrying him in my arms is way more comfortable than a basket dangling from my noggin.) I was approached by what seemed to be hoards of young co-eds. ÒOOOHHH! Look at the CUTE little puppy! He's so ADORABLE!! Sure enough...babe magnet.

So a couple weeks ago I'm home alone with the pup when there's a loud knock on my front door. I'm not fond in any way of surprise visits by anyone, especially people convinced that I cannot live my life any longer without whatever it is they have to sell me. I peered through the curtains to see a portly, balding middle aged man in an ill fitting suit and spectacles accompanied by a woman perhaps in her early 30's. She had blonde hair that certainly had been paid for and just a bit too much eye makeup a la Britney Spears. She was wearing a leather jacket, a skirt not quite short enough to be called "mini" but certainly short enough to be labeled "intriguing" and heels that would never ever be called "professional"...at least not in the corporate sense. Had this woman's hair been "teased" as they used to say in the early 60's I would have sworn I'd gone back in time. ("I met him in the candy store. He turned around and smiled at me. Get the picture? That's when I fell for...the Leader of the Pack!") Anyway, these two certainly did not look like they were together.

I picked Henri up in my arms to quell his barking and opened the front door. The man in the bad suit immediately greeted me with, "We're from the Capital City Baptist Church and we're visiting your neighborhood to see if people are saved and are attending church. Do you sir, attend church regularly?" Wow...these guys were BAPTISTS!! Right there on my front porch!! Fond memories of childhood rushed into my brain. Many a time my mother...in order to avoid the Jehovah's Witnesses...would have my sister, two brothers and I crouch behind the living room sofa with her and pretend no one was home. Although as a boy this made me feel a little guilty it sure as hell was exciting! Then...after the Witnesses grew weary of knocking and...clutching their "free" literature in dejection...left our porch, mom would treat us all to ice cream! I guess it was some sort of "anti-proselytizing" celebration. More than likely...knowing my mother...it was just yet another excuse to eat ice cream. I didn't care.

I lied to the guy. After all...he was on MY front porch uninvited. I told him I had been raised Lutheran (true enough) and that my wife and I attended Clinton Heights Lutheran Church (untrue enough). Raising his eyebrows...which had more hair than the top of his head...he replied, "Lutheran huh? Well, at least you aren't CATHOLIC!" He said this as if I somehow should be relieved. I was half okay in his book. My glass was half full. Yet I was sure by the end of this conversation he would believe my glass to be half empty...at the very least. Then he went into the Baptist mantra. "We believe everyone has to be born again." Blah, blah.

I really don't have anything against Baptists...QUIET Baptists that is. The problem is...I can't FIND ANY quiet Baptists. And after a young Baptist minister turned my father's funeral into a Carnival for Christ I suppose I'm a little defensive. But I was polite and half listened to the man's witnessing...after which I said, "Yes...I know that's what you believe." He seemed befuddled by my comment. A befuddled man in an ill-fitting suit. I told him I studied theology in college. He became very silent...the scene awkward and a bit uncomfortable when all of a sudden I heard....."Your dog is SO CUTE!! He is just ADORABLE! What kind is he? Can I pet him?" The terribly secular looking Baptist babe had overcome her shyness. And it dawned on me that she wasn't really what we used to call at church camp (where I was a counselor during my college summers) a "P.T." This is an abbreviation for a word starting with "P" and rhyming my first name (Rick) followed by what boys do to their little sisters when they're children (tease). P.T.s ACTED all religious and stuff but dressed like they were "ready to go" and on occasion they would look at you like they were "ready to go...with YOU!!"...if you catch my drift. P.Ts could be fellow counselors, minister's wives or even ministers themselves. Oh they would never ADMIT any of this lustful behavior. That's where the "tease" part comes from. But this woman seemed to be merely pushing the boundaries of submissive Baptist woman criteria. (Apparently Baptists believe this submissive Baptist woman criteria is written right there in the New Testament...although I've yet to come upon it in my research.)

So whilst this coy, boundary pushing, attractive woman was fawning all over Henri what conclusion could I come to? BABE MAGNET!! The three of us spoke of nothing but Henri from that point on and the pair soon left. I realized Henri obviously has no "religiosity filter". He probably has no filters whatsoever. He is intensely, sincerely, skillfully a tried and true BABE MAGNET! No matter their politics and/or religious views. Henry III couldn't be wrong could he? I'm curious as to what may or may not transpire if I get a visit from the Jehovah's Witnesses. But...just to be on the safe side...I moved the couch away from the wall...leaving enough room for a man and his little dog.
…previously published in Crapshoot!


---
Ghosts
Raconteur Theater
Madlab
Columbus, Ohio
* * * 1/2
by Rick Brown

Henrik Ibsen's 1881 play Ghosts (translated from original Norwegian by Lansford Wilson) could have easily been titled Skeletons (In Every Closet). Almost every controversial aspect of the human condition – sexually transmitted diseases, infidelity, incest – is included here. And by the time the metaphorical kitchen sink (deceit) is thrown at the audience, when all the lying for nobility's sake is revealed, not telling the truth seems almost normal. I suppose in the context of the Victorian era, or today's in a lesser sense, lying to protect one's self and family may become a mundane necessity.
continue...
---

---

---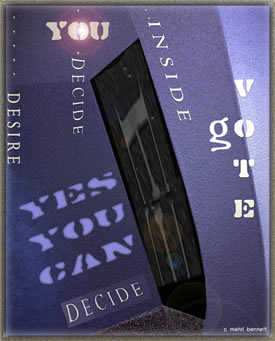 Yes You Can
by
C. Mehrl Bennett
---

---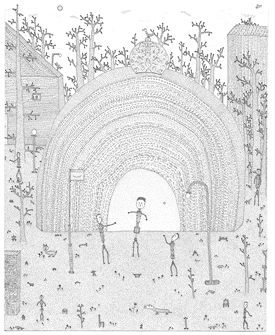 Roundhouse
by
Morris Jackson
---
Epitaphs From the Cambridge Cemetery

by Dennis Toth
Feelings Were Her One Misfortune
so it said,
somewhere next to the dog
who at least was
a Faithful Friend.
She Did What She Could
not that it was much
but what can you say -
one should not speak ill
of the dead
(just backhand them instead).
---

---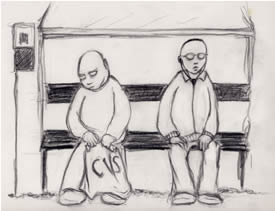 Bus Stop, Columbus Ohio
by Amy McCrory
---

---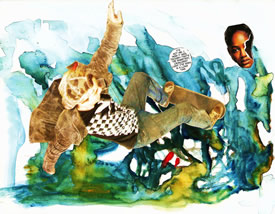 Collage
by Jessy Kendall
---

---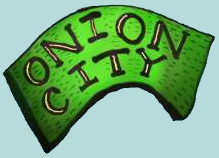 by Sue Lense

Click Here
---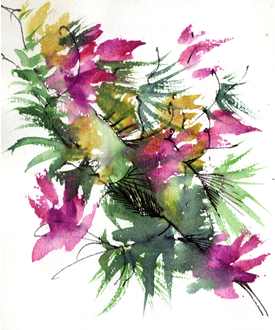 Turning
by
Donna Maria Distel
---
Long Beach Leisure
by Rick Brown
When I heard Ted Kane (Pot Luck) was getting married this past summer, I was excited about the opportunity to travel west. I probably would never visit the Los Angeles area without a good reason. And this was a great reason.
Ted got me started writing in 2000, back in the
Crapshoot!
days. I don't think I've seen him more than once since he moved to the West Coast either. The fact that my wife Yvonne was finally able to utilize some frequent flyer points and also our friends Margaret and Craig would drive down from Santa Cruz and spend time with us, was icing on the wedding cake!
continued...
---
you write
I am swallowing
i am inward
I tranquilize inside
I pound sometimes
I implode
cowardice keeps slapping it's bitches
i could yell you out of me sometimes
always verses moving
i am creating
Shifting
i am excuses
I am always starved for more
i am sliding toward
But not into you
lately I just disappoint
words become boots
kicking splintering ribs
and prisoners of the
blues become skies
i am below the curve
you shake inward
i am engines
at times you sweat mean
twist hard hands beneath
i am the orgasm
our spirits angry as bees
they are moving
they will not implode
i am pounding
and yelling

Cyndi oleary
---
Raisin' Hell
Shadowbox
Easton Town Center
Columbus, Ohio
* * * *

by Rick Brown
I've been attending and reviewing Shadowbox shows for over six years now. And the night out begins with waiting in line, exchanging pleasantries at the door (usually with guitarist extraordinaire Matthew Hahn), chatting with cast members and ordering a surprisingly delicious dinner and bottle of wine. Most times than not, during our wait for food our table is approached…as is almost everyone…by the "Raffle Girl/Guy". This is the job usually given to new troupe members. Consequently, they might or might not recognize the "regulars". This exchange can, depending on how exuberant the Raffle Girl/Guy is on any particular evening, range from fun to awkward. Since the Shadowbox people are always generous with me I always buy tickets. But I know the experience is uncomfortable for some, especially those on a tight budget.

Still, I know how much a hustle the entertainment/arts scene has to be. And despite the fact I have never won the raffle in 6 ½ years I like to support in any way I can. Yet even my unabashed sensibilities were challenged this night…not by the raffle…but the prizes. Again, I understand this is an attempt to raise money with sponsor's gifts as the winner's take home treasure. And I have no problem with a sex toy party. I wouldn't GO to one. Call me old fashioned but sex toys are a private matter to me. But this night's booty went well beyond a few nice gifts with a sex toy party thrown in for bawdiness. Dinner for me and my "guy friends" at Hooters followed by a visit to a strip club would be my "guy prize" while my wife Yvonne's "girl prize" would be three free pole dancing lessons…and of course the sex toy party.

Beyond being totally heterocentric, I mean…who really would want to win this stuff? How about a little balance? A 2 for 1 drink coupon good for your next Shadowbox performance? Or a CD of house band BillWho? Or a Shadowbox shirt autographed by the troupe's veteran players…and of course, a sex toy party? I'm guessing more raffle tickets might be purchased, everyone can still make sex toy jokes, and possibly win something they actually would like to own.

Okay, end of Reverend Brown's sermon. The show is actually quite good. Opening sketch "The Exorsister" leans on a one-joke premise. But because actors Jimmy Mak (Kirby) and his fellow "spazoid" friends utilize sight gags and an occasional pratfall so well while tormenting his older sister, it works. "Rosemary's Baby Shower" follows a similar single premise formula with less success.