Scene:
Librarian is seated at reference desk center stage, appearing to be busy but perhaps is not, it's hard to tell; meanwhile, snoring is audible coming from the direction of the stacks. Librarian walks in the direction of the snoring and comes upon Middle-aged Library Patron, slumped over a book in a chair and stands over him.
Librarian: Hello?

Library Patron: (looks up making sputtering noises, such as one is wont to do upon awakening)

Librarian: Hi. We do need you to stay awake while you are in the library.

Patron: (indignant) I'm awake.

Librarian: Yes, you are awake now. But just now you were asleep.

Patron: No, I wasn't.

Librarian: Yes, you were. I heard you snoring.

Patron: You're hearing things.

Librarian: Yes. I'm hearing you snore.

Patron: You're hearing things.

Librarian: If I have to come back and talk to you about this again, I will have to ask you to leave.

(Librarian returns to reference desk)
Curtain
Loud snoring is heard from behind the curtain.
---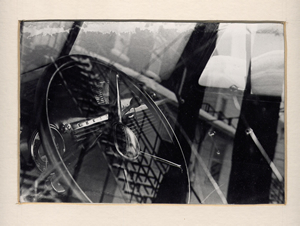 Urban Reflections
by Rick Brown
---
The Non-Fiction Theater of the Truly Mundane
proudly presents:
Limejuice
by Rick Brown
Scene:
The beer and spirits department of an upscale gourmet food market. Shelves of liquor in rows run at a 45-degree angle to the room's walls. Several beer coolers are set against these walls. A cash register sets on a glass display case stage right. An attractive young woman dressed in the store's button down shirt and khaki pants is standing behind the glass counter. Beneath her shirt's market logo is a nametag that reads "Sam". The room is lit with fluorescent light both from the ceiling and the beer coolers.
Rick enters stage left and immediately strolls up to Sam.

Rick – Hi Sam! How are you?

Sam – I'm fine thanks.

Rick – I'll have a small bottle of the Belvedere vodka. Thanks for the recommendation. It's good stuff, especially in a martini!

Sam (smiling) – I wouldn't steer you wrong.

Rick pays for the bottle and exits stage left.

A few moments elapse when Rick again walks in, this time with a more confused air.

Rick – Do you have any bottled limejuice?

Sam escorts him over to a shelf in the corner of the room.

Sam – All we have is this Key Lime stuff. And, of course the sweetened kind. But that's not very good.

Rick – Yeah. It's pretty terrible.

Sam glides back to behind the glass counter.

Rick is perplexed as he tries to decide, then turns with an air of epiphany and begins to walk past Sam.

Rick (turning to Sam) – I've decided to squeeze a couple real ones.

Sam (giggling) – That sounds like FUN!
Curtain

Cast:
Sam – herself
Rick – himself
2 Limes – real ones