Bad to the Bone
Shadowbox
Easton Town Center
Columbus, Ohio
* * * * 1/2
by Rick Brown

Admittedly, I am not much for Halloween themes, be it movies, stage productions or television (Boyhood love of Bobby "Boris" Picket's "Monster Mash" not withstanding). But I found Shadowbox's Bad to the Bone a deliciously funny celebration of fright.

Beginning with "Welcome to Hell" the show really hits the ground running. This is arguably the cleverest, most humorous opening sketch I've witnessed at the Box. Mary Randle plays Georgia, the Devil's receptionist, who literally scares the hell out of (into?) new arrival Craig (Jerrod Roberts). A fiery farce with crisp comic timing, making even the most obvious joke a joy.

Also lifting what could have been all too obvious to a childlike charm and humor is Jimmy Mak's Vinnie the Gooch. In a series of videos using his macho Mafioso alter ego, Mr. Mak's evocative Vinnie is an endearingly goofy Godfather. His "services" are more than apparent. Mak's delivery is both gentle in its violent intent and believably brilliant in its simplicity.

The ensemble piece "Escape from Happy – Tots" is a jailbreak spoof featuring Lydia Tew as teacher Miss Amanda, Nikki Fagin as Frankie's Mom, and the kids Jimmy Mak as Frankie, Amy Lay, Jerrod Roberts, Tom Cardinal, and Kaleigh Lockhart. This troupe is superlative with skits involving children as characters and "Escape", with its deadpanned prison clichés is a breakout belly buster.

"Monster Dating Game" is a scream. Of course with Shadowbox veterans J T Walker III as Wolfman, Tom Cardinal playing Dracula, Katy Psenicka as the Bride and Steve Guyer doing a mean Frankenstein, this fan favorite is bound to be a hit with the audience. But this year it's the casting of Amy Lay as the relatively staid host and Lydia Tew as the lusty, lewd, lascivious Kristen the contestant that makes Shadowbox regulars wantonly wallow in the irony.

Two other sketches are also crowd favorites and well done. In "Cindy and Laverne: Scared Stupid" Mary Randle (Cindy) and Julie Klein (Laverne) deliver high kicking trailer park trash puns with rapid fire, machinegun marksmanship. And the insanity that is "Dr. Mystery Meets Dr. Frankenstein" reprises this surreal puppet/performer/sound effects sketch superbly closing out Bad to the Bone in fine fashion. Jimmy Mak again shines when he breaks a little out of character as hunchback Vigo, leading dancers onstage in a seemingly impromptu choreography of Michael Jackson's "Thriller", only to lose his confidence mid dance to remark "Is it too soon? Too soon?" This moment is remarkable in its not so secret sarcasm, while at the same time remaining a subtly implied tribute.

Jym Ganahl continues his reign as funniest meteorologist on the planet. Only a skit about Andy Rooney falls a little flat. And Shannon's Movie Reviews: Transformers" is more adorable than funny.

Musically Bad to the Bone is fabulous. From opening 80's rocker "Heartbreaker" sung by Neolle Grandison to show closer Santana's "Black Magic Woman" with Steve Guyer handling vocals, house band BillWho? Bandleaders Jennifer (keys) and Matthew (guitar) Hahn guide this collection of musicians through some amazing territory. With a rhythm section consisting of The Beast on drums and Andy Ankrom on bass, as well as newcomer Dante Wehe on guitar how can they miss?

Mary Randle's take on Bon Jovi's "Wanted Dead or Alive", the Eurythmic's "Would I Lie To You?" (Jennifer Hahn, Nikki Fagin and Amy Lay combining voices), and Tom Cardinal's command of Phil Collin's "I Don't Care Anymore" (along with great choreography stage left) are gems.

Only a rave up of the Blues Brothers falls flat. I know Dan Aykroyd and John Belushi brought the blues to millions of suburban white kids who hadn't listened to Led Zeppelin or Cream by the mid 70's. I've come to terms with that. And I know the entertainment value of parodying the Blues Brothers. But the guitar break was a rock and roll solo. And the harmonica playing lacked even one "blue note". "Messin' With the Kid", originally a hit for Junior Wells, cries out for cross harp and blues guitar. BillWho? is more than capable of pulling that off.

There is my blues purist sermon. This is a very small flaw in a fabulous presentation.

Bad to the Bone was great opening night. And as I know Shadowbox, small tweaks will make it even better as the show goes on. This troupe ever evolves, getting better and better at everything they initiate. I've been reviewing every Shadowbox show for the past 8 years and Bad to the Bone is the best Halloween theme show I've seen this talented troupe perform.

Shadowbox's Bad to the Bone runs at Easton town Center in Columbus until November 14th. For more information please go to: www.shadowboxcabaret.com
---

Woodstock: Back to the Garden
Shadowbox
Columbus, Ohio
* * * * *
by Rick Brown
I have to say, I was a tad skeptical about a documentary musical chronicling the phenomenon…and at times sacred cow…initially called the Woodstock Music and Art Fair. How would a writer maybe too young to have even attended Woodstock 94 sort out fact and mythology? But after seeing opening night of Woodstock: Back to the Garden I believe no one should ever underestimate the skills of Jimmy Mak. His script…especially in light of the fact it needed to be scaled down 1/3 of the movie's length…spins a great story in a fresh and visceral way without becoming overly nostalgic. Yet at times, dialog is almost sweetly sentimental in its homage.

Mr. Mak uses a mostly fictional New York Times writer named Rodney Benton (played by Mak himself) to move the storyline along. Just like the event itself, the plot moves a bit slowly initially, but quickly picks up to a manic, overwhelming pace. Punctuating all this is David Whitehouse's amusing Chip Monck, the festival's announcer and star of the Oscar winning film. Whether this is intentionally metaphorical on Mr. Mak's part is immaterial. But it does prepare the crowd for the intensity to come.

Shadowbox's emphasis in Woodstock: Back to the Garden is clearly the music. And if the real Woodstock meant anything about peace and love, music was most certainly the reason…the bond…the metaphysical glue…along with perhaps a little luck. Bandleader Matthew Hahn leads his musical troops to soaring heights. Stephanie Shull begins the show with an almost religiously moving take on Joni Mitchell's "Woodstock"…the only tune in the show not actually played at the festival. Jerrod Roberts dynamically eclipses parody in making his Richie Havens real on "Freedom". Amy Lay's rendition of the Lovin' Spoonful's "Darling Be Home Soon" is charmingly sweet. And J T Walker III does a dead-on Arlo Guthrie with "Coming Into Los Angeles"

Incredibly impressive are the ensemble tunes. Surely this in some ways is an admission that no one Shadowbox individual can cover either Stephen Stills' "Suite: Judy Blue Eyes" or Roger Daltrey's "My Generation" (the Who) vocal range circa 1969. It matters not really. Katy Psenicka's awesome choreography, Brea Badger's incredible costuming teams with tight vocal harmonies and some of the best musicians Columbus has to offer, creating textures of sound, sight and excitement that might just trump the best of acid trips. B, S & T's "Spinnin' Wheel", CCR's "Green River", and Joe Cocker's "With A Little Help From My Friends" are all beautifully visual, spectacularly aural and out of control far out man.

Importantly, director Steve Guyer has infused video segments of veteran Columbus actors playing Woodstock attendees. Not all have fond memories. And the inclusion of the downside of recreational drugs and Pete Townshend (Matthew Hahn) bashing Abbie Hoffman (Brett McCardle) with his guitar gives Woodstock: Back to the Garden a necessary sense of perspective.

Again I must go back to the music. Standing ovation great is Julie Klein singing Jefferson Airplane's "White Rabbit". Dante Wehe's understated tension on Jimi Hendrix's "Star Spangled Banner" is a fabulously feedbacked tribute. And the ultimate intensity displayed between dance and music on Santana's "Soul Sacrifice" will make your spirit soar and your pulse race with excitement. But I have to tell you this…Jennifer Hahn as Janis Joplin…well…she took much, much more than just a "Piece of My Heart."

I'm leaving a lot out in this review. If I wrote praising everything you'd have an official program full of information. I cannot honestly find fault with anything about Woodstock: Back to the Garden. It made me glad to be a baby boomer. It made me look at the event differently, especially in light of the movie I've seen countless time. I'll see this production again. You should see it at least once. Feed your head…indeed.
Woodstock: Back to the Garden runs Sundays at 2:30 and 7 p.m. at Shadowbox's Easton Town Center location through November 15th. For more information please go to www.shadowboxcabaret.com
---


---
Click Here
---

---

---

Richie Havens & Arlo Guthrie
Richie Havens
* * * * 1/2
Arlo Guthrie
* * * * *
Cain Park
Cleveland Heights, Ohio
July 18, 2009
by Rick Brown
---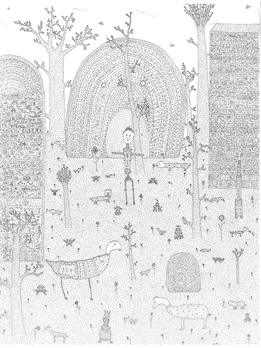 MORI's Menagerie
by
Morris Jackson
---

---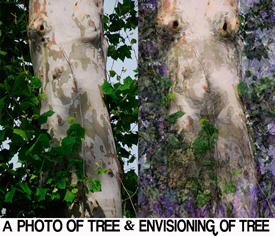 Envisioning of Tree
by
C. Mehrl Bennett
C Mehrl Bennett's first book of text poetry is now available at
www.lulu.com
---
China Blue

by Dennis Toth

The nature of your mystery
Is not the unknown contours
Of your mountains draped in mist.
It is, instead, the ease
With which you assume
So many forms
And still retain
A dreamer's sense of grace.
Your beauty is transit and elusive,
For a single well turned gesture
Invokes a thousand songs.
---

---

---
The Last Rave

by Dennis Toth

Twilight's last gleaming
So turn on the lights
Before the dark age falls
And we stumble into night.
Armageddon is here
So get ready to fight.
Chorus: Economic meltdown
And global collapse.
Too much sturm und drang
Is gonna bite your ass
Four horsemen riding
From the gates of hell
Stopping at your town
And ringing your bell,
Spreading new diseases
Like a toxic spill.
Chorus: Economic meltdown
And global collapse.
Too much strum und drang
Is gonna bite your ass.

2012 is the target
For the world to blow,
And doom is the racket
That will fill the bill.
So run for the bunker
Before it close.
---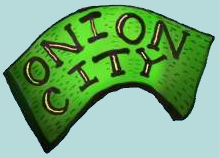 by Sue Lense

Click Here
---
The Non–Fiction Theater of the Truly Mundane
proudly presents:
99
by Rick Brown
Scene: The driveway of a middle class urban neighborhood. A small community center minivan is parked directly in front of a sidewalk that leads up to the front door of a small, immaculate, white two-story frame house. An old fashioned lamppost is situated next to the walkway. Rick (the driver) is seen standing waiting for a little old lady who is making her way down the front steps of her home. Sitting inside the van are 2 other senior ladies. The side door has been slid open. Rick offers the woman his arm, which she takes and they move slowly towards the open door of the minivan.

Rick – We have to take the minivan this morning because the bus broke down.

Little old lady – That's too bad.

Rick – So how have you been?

Little old lady – I'm good. Did you know I turned 99 on June 2nd?

Rick – Why yes I did. I think that's wonderful!

Little old lady – Isn't it though.

They reach the door of the minivan and the little old lady struggles to lift her foot into the vehicle.

Little old lady – Hello everyone.

Rick grabs both of the woman's elbows and begins gently pushing her up into the minivan.

Rick – Are you going to make it in okay?

Little old lady – Stick a PIN in my BOTTOM and I'll JUMP IN!

Curtain

Cast:
Rick – himself
Little old lady – her 99-year-old self
---
Zazen Skowhegan
by Cyndi O'Leary
let's make the most of this
midsummer day
let's sit until we are
full of warmth and truth

and whatever happens
happens

let's just sit and sit
and sit

somewhere in
a field in northern maine
somewhere solid where
blizzards don't take you down
but make you bend deep and long

let's live as elderly pines
tendrils pushing into
peppery granites as the
tough sharpness of love and
living cedes beneath our
enduring roots

let's drink in the intoxication of
not knowing anything
except that today fits just right
lets just be here in this spot
through all four seasons while
the spinning world cares for itself

Let's measure all of our days
by the lines in my hands in yours,
the aching in my bones ,
the quickening of our hearts
as we inhale exhale
the wet august air


let's break these hearts open
and spill out all that is and isn't
in them onto the grass


let 's look for the signs in clouds
and ask the absurdity of dreams
what we should do
let's never be lucid again

let's make the most of this
midsummer day
let's sit until we are
full of warmth and truth

and whatever happens
happens

let's just sit and sit
and sit
---
The Non-Fiction Theater of the Truly Mundane
proudly presents:
Ainsworth
by Ted Kane
Setting:
The public library of a medium-sized Southern California beach city.
Players:
Patron (female)
Librarian (male)

Scene:
Librarian is seated at reference desk center stage, appearing to be busy but perhaps is not, it's hard to tell; Patron walks over to desk from stacks, stage left.
Librarian: Hi! How can we help you?
Patron: Yeah, can you tell me if Ainsworth is in the San Fernando Valley?
Librarian: Ainsworth...hmmm...I'm unfamiliar with Ainsworth, so let's look it up.
(Librarian goes over to Atlas Table, stage right, selects a California atlas and brings it to desk)
OK. Ainsworth. Can you spell that for me?
Patron: It's called Ainsworth.
Librarian: Great! Do you have the spelling?
(Patron holds book out to librarian, pointing to spine, which reads Enchanted Pueblo--Ainsworth, then places it on desk)
Librarian: Oh! Ainsworth looks like it might be the name of the book's author.
Patron: (somewhat indignant) I don't think so!
Librarian: OK, well, let's look in the atlas.
(scans table of contents, index and appendices of atlas)
Hmmm...well, it's not in the atlas and, again, the word does appear on the part of the book where the name of the author is usually located. I think that it might be the author's name.
(Patron recalls book from the desk, opens the title page to reveal the words Enchanted Pueblo by Edward Ainsworth. Patron closes book and walks away without further comment.)

Curtain
Cast:
Patron – herself
Librarian - himself