Walking the Walk
Faith Mission

by Rick Brown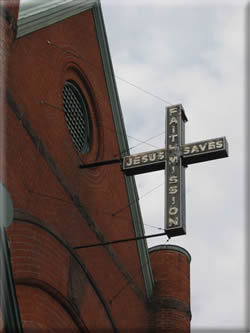 Above the reconverted church building on Long Street in downtown Columbus the cross sign reads "Faith Mission – Jesus Saves". And instead of jumping to the usual conclusions by separating the four words in the middle, let's look at it as one statement shall we? Because if Jesus in reality does in any way "save" (and I know many people believe that in a spiritual sense) many lives are enriched … often physically "saved" … by the hard work and dedication of the people of Faith Mission. Many "talk the talk". Faith Mission "walks the walk".

On any given night up to 200 men and 42 women are given a bed to sleep in. Every day 3 meals are served to anyone who is hungry and needs nourishment. In any fiscal year almost 325,000 people are fed. Over 1500 folks a year are served at Faith's service center. More than 4500 use their clinic. Faith Mission helps those looking for a job by giving the homeless an address, a place to ready themselves for an interview. Women are sheltered from abusive relationships.

My wife Yvonne and I have been loyal supporters of Faith Mission for many years. The face of poverty, and homelessness in particular, is far from a pretty one. But we know Faith Mission lifts out of the streets and back into mainstream society many people. These are the people Jesus walked with, fed, and cared for. Just as he never required proof of specific belief so is the philosophy of Faith Mission.

I have been on two tours this year of Faith's downtown facilities. And I will be soon visiting their urban garden (see the a la carte section). Our friend and Faith's Development Officer Terri gave the first to Yvonne and I. It was good to get to see the people behind the scenes and get to know Terri better. On the second tour I drove a busload of clergy for a program sponsored by the Clintonville – Beechwold Community Resource Center (another fine social agency in its own right). The tour guide minced no words to this bus full of piety. He spoke of million dollar downtown condos encroaching on Faith Mission's neighborhood and how that had caused some "concerns". And when one minister asked "What kind of concerns" I rolled my eyes along with the guide. He also spoke earnestly of blanket giveaways in the dead of winter "saving someone's life for one more night". A Bible after all, will not keep you warm under a bridge in January. But to my relative surprise many of the pastors had a good grip on the reality of homelessness and severe poverty. Many had served meals … volunteered in other ways. And although I have had my ups and downs with the Lutheran Church, I can honestly say that when Faith Mission was pulled under the umbrella of Lutheran Social Services they did indeed "save" the day.

Many people are uncomfortable when they see a vagrant or panhandler. It's a common assumption that all homeless people are like this. Nothing could be farther from the truth. Most are people who need a helping hand … a lift up. … people like you and I who maybe weren't so lucky with their mortgage when the economy tanked.

Jesus is quoted in the Gospels as saying, "The poor will always be with you, but you will not always have me." And too many times this verse is interpreted as Jesus alluding to his crucifixion, the implication of his divinity. Theologians have argued over the belief in him as God's offspring for centuries. And the debate will continue. But the poor are still very much with us. That's the literal truth. Maybe Jesus was also referring to our continual responsibility to our fellow human beings … unconditionally. So perhaps the next time a panhandler or the sight of homelessness makes you uncomfortable consider this. When Jesus uttered these words … and for at least the last 3 years of his life … he was a homeless man.
For more information about Faith Mission please go to: www.faithmissionofohio.org
---
Porch Time

by Rick Brown
Henri sits on the front porch floor watching.
Not so much curious … more contemplating.
As if someday he might need to pick up the trimmings himself.
He wants to get it right
When I finish my task … I lean over …
scratch him behind the ear.
"Time for lunch" I say.
He kisses my nose.
We walk through the door.
I tell him "You're a good old dog."
Hoping that I am too.
---
The Non Fiction Theater of the Truly Mundane
proudly presents:

Hidden Treasure!

by Rick Brown
Scene:
About 50 yards from the beach in the Gulf of Mexico. Rick and Yvonne are wading neck deep in the water, bobbing about. The sky is deep blue and cloudless and the sun is shining hotly. Three very tan brunette girls in skimpy bikinis begin wading towards them stage left, getting splashed by the waves. Bikini Girl # 1 is in red and is cupping her ample bosom while pulling down on her bikini top. Bikini Girl # 2 (in purple) and Bikini Girl #3 (in blue) are frolicking, jumping up and down as the swells move by. They are giggling loudly.
Bikini Girl # 1 (with a heavy Jersey accent) – OH! MAH! GAWD! Mah TITS almost come out!
Bikini Girl # 2 (same accent) I wuz tryin' tuh tell yous oily UH!
A man appears stage left walking in the water, chest deep, using an underwater metal detector, complete with earphones. He is wearing swim trunks, sunglasses, a white t-shirt and a ball cap over his hair. On his shoulder is perched a white Cockatoo.
Rick, Yvonne, and the 3 Bikini Girls look on silently in amazement, as the Treasure Hunter seems to float by with his Cockatoo and equipment.
Treasure Hunter (Turning towards the 3 Bikini Girls) – He just LANDED there! What should I DO?!!
The 3 Bikini Girls stare quietly.
Treasure Hunter – you almost bought that didn't cha?
The Treasure Hunter affectionately strokes his pet bird while still gliding along.
Treasure Hunter – His name is Reno.
The 3 Bikini Girls (in unison) – REEEEE - NOOOOO!
As the Treasure Hunter moves slowly off stage right 2 young, tanned guys wade up to the Bikini Girls.
Bikini Girl # 3 (to the guys) – Did yous see DAT?!!
Boy # 1 and Boy # 2 (in unison) – Yo, we seen it.
Bikini Girl # 3 – His name is RENO!!!
Guy # 1 shrugs his shoulders while Guy # 2 puts his hands on his hips, cocks his head and gives Bikini Girl # 3 a look of raging jealousy.
Bikini Girl # 3 – Duh BOYD!! Duh BOYYYYYD!!!

Curtain
Cast:
Rick – himself
Yvonne – herself
Bikini Girl # 1 – her tanned Joisey self
Bikini Girl # 2 – her tanned Joisey self
Bikini Girl # 3 - her tanned Joisey self
Guy # 1 – his tanned Joisey self
Guy # 2 – his tanned Joisey self
Treasure Hunter – his existential being
Reno – his feathery existential being
---