A Naked Sunfish Holiday Tradition
Holiday Cheer from Aunt Edith
by Rick Brown
My late Uncle Wes lived with my Aunt Edith for most of his adult life...although I'm sure it seemed like an eternity to him. He worked for the Bethlehem Steel Company in Baltimore for thirty years until he retired. He worked the night shift getting off around 7 a.m. when he would come home for dinner. In the summer when it was warm...and Baltimore can get very, very humid...he would go to a movie matinee in an air conditioned theater and sleep. If you knew my Aunt Edith you would assume what I did...even as a child...and that was that Uncle Wes worked nights and went to matinees to get away from his wife. He never said much. He was a slight, wiry man of few words. And the few words he almost always uttered were, "For Chrissakes Edith! SHUDD UPP!!"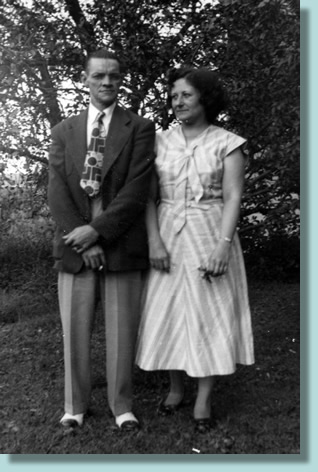 The man was almost incidental by nature. One time...after he retired and he and Aunt Edith moved back to the Cleveland area...my brothers and I were helping him put a refrigerator in a backyard shed because there was no room for it in the trailer they were moving into. After much jostling my brothers and I closed the shed door and thought we were finished. From her perch (as supervisor of course) Aunt Edith looked at the three of us with bewilderment and asked, "Where the HELL is Wes?" And after exchanging confused glances we heard muffled sounds coming from behind the fridge in the shed. "MMMPPPHH!!! Hey!! HHMMPPHHFFF!!!" We quickly opened the shed door, moved aside the refrigerator and liberated Uncle Wes. My brothers and I were all embarrassed and each, in turn, apologized profusely for our insensitive behavior. Aunt Edith broke into the humility with a shriek of, "What the HELL were you doing in there?" Which prompted Uncle Wes to ... once again ... chant his mantra. "For Chrissakes Edith!! SHUDD UPP!!" They were quite the loving couple. Their last name was Crabtree. I am not making this up.
Wes soon was diagnosed with lung cancer. Thirty years in the steel mills and 2 packs a day of Chesterfield non-filters caught up with him. The last time I saw him he was lying on the couch in their trailer smoking the aforementioned brand of cigarettes, quite literally coughing his lungs out ... or what was left of them. "I TOLD him to quit those goddamned things years ago. " Aunt Edith offered for my contemplation. To which Uncle Wes replied sarcastically (yep, you guessed it) "Cough cough ... For Chrissakes HACK! HACK! Edith!!! SHUDD UPPP!!!" These were the final words I heard my uncle ever say and we all joked at the funeral that these very words were more than likely chiseled into his headstone.
A few years after Wes passed, my brother and his new wife were having their very first Christmas and invited everyone over...including Aunt Edith. My parents were there along with my siblings and their families. This included my brother Jim's 9 year old adopted son Matt. Matt the Brat was what my father called him. I thought this surprisingly subtle for my Dad. If I knew where Matt is today...and thank God I do not ... I would have to guess some one killed him or he's in jail convicted of several murders. I honestly don't care so long as he's nowhere near me. So Matt the Brat is playing with one of the toys some one so graciously gave him and he broke it. This kid could break anything he got his hands on. But in a moment of diplomacy my father (affectionately known as Snook) said, "They don't make anything any good any more!!" To which...in the spirit of the season Aunt Edith quipped, "You're right Snook!! Everything IS SHIT!!!" Wel l... happy holidays to you too Aunt Edith. Inside my head I distinctly heard a voice from my past reply, "For Chrissakes Edith!! SHUDD UPPP!"
You know...there are lots of reasons to go through life believing that "everything is shit." There are days when it certainly seems true to me. I have my days when Sartre's "Hell is other people" could easily be the thought of the day. But...unlike Aunt Edith...I don't want to spend a big chunk of my life living alone in a trailer. And when I think of this particular Christmas it strikes me how most of them blur into each other...with the exception of a few. And this is one of them I distinctly remember. As much as family...and sometimes even friends ... can annoy a person ... especially at this time of year ... I have come to realize that even some one like Aunt Edith helped make me who I have become. I mean that in a positive way. Imagine ... Aunt Edith's negativity was so over the top it MADE me consider the positive. I have no idea how she became so bitter. My father did shortly before he died also. Yet they both, particularly Snook, had a positive influence. They were there. Unlike today when some people are not.
This holiday season...regardless of which one you celebrate...take the time to savor those around you...even if they drive you nuts. They may not...for whatever reason...be there next year. And in some strange way, which will surprise you, their absence will make you miss them. I guarantee it. (a possible exception to this uplifting message might be Matt the Brat) And you might consider that next year YOU might not be here. So I suppose my holiday message may seem bittersweet to most...but that's how I see it. And if anyone feels the need to take issue with my views then I encourage you to speak up LOUDLY...'cause I've got one thing and one thing only to say to you.
FOR CHRISSAKES!!!!
SHUDD UPPP!!!
Editor's note: Aunt Edith died a few years ago. She was 90 years old. Her neighbor called my Uncle Bruce and told him she had passed out in her trailer. He went and got her up…asked if she was alright and she said she was. He suggested she go to the hospital to make sure everything was okay. She told him to go to hell and get out of her house. He did just that…returning an hour later and she was gone. Sad…surely. But she lived her last day the way she lived every previous one. And despite her surliness I will miss my Aunt Edith this Christmas. And I will remember the one long ago when she informed us "Everything is shit!" Rest in peace Aunt Edith. I can picture Jesus turning to her and proclaiming, "Truly, truly I say unto you…For Wes's sake Edith…SHUDD UPPP!!!!!!!!!!!!!!"
---
University Bans Best Bites

by Rick Brown
Okay, it's not a real university but a store that sells "University of Siesta Key" paraphernalia. Shelves are brimming with t-shirts, sweatshirts, baby clothes. Fraternity paddles emblazoned with the school logo hang from the wall. (Does one get "pretend paddled" at a fake university?) And my Siesta Key buddy Russ thought it would be a good place to sell my book, Naked Sunfish – Best Bites.
So he stopped in one day and chatted the book up with someone working the register. The two agreed that Russ would leave a copy of the book, the proprietor could take a look at it at her leisure and get back to him about either selling it or not.
That was last spring.

I dropped into the … uh …"university" … a few times since. So did Russ. We were assured the book was still under consideration and that the owner would read it soon. Weeks turned into months with no reply. And as time went on … since I spent almost 35 years of my life working for libraries … out of frustration … I began thinking about how much these folks owed me in overdue fines. You know … if a pretend university in fact HAD a pretend library … and given the typical 3-week circulating period at a dime a day, the place owed me (said pretend library) over 20 bucks PLUS the cost of the book.

Russ was kind enough to remind the University staff of this and it was agreed that the author (myself) would get a free University of Siesta Key t-shirt in exchange and that the owner would read the book on her upcoming vacation.

So she (the pretend university president?) opened the book on the plane … to page 142. And on page 142 the word "fuck" happens to appear about 50 times. But when some people open to this page by coincidence, it apparently seems to them like the word "fuck" appears … oh say … 5000 times. And when this happens, and invariably it does, I tell them there are "adult themes" in the text. I also remind them that if I had written a children's book, one that they could read aloud to their grandchildren, I probably would NOT be selling it to them in a BAR IN FLORIDA!!

The chapter in question is about language, context, translation et al. (You can find it here on page one of issue #25) Yvonne and I were visiting our friends Heike and Claus in Germany years ago and Claus dressed for a night out in a t-shirt that had the "offensive" word all over the front. But he patiently explained to me that in Germany the English translation "fuck" is acceptable, but most certainly NOT the German "ficken". See! Context! Translation!

Long story short … the owner (pretend president?) of Siesta Key University never read my book. She simply wrote, "page 142 – NO!" on a post-it and slapped it on the front cover. And she finally gave the copy of Naked Sunfish – Best Bites back to Russ …after almost 7 months … along with an official university shirt. (At least she didn't have a public book burning) So I suppose I can't complain too much. After all, controversy can be very good publicity. So now my first book has been banned at a pretend university in the Village of Siesta Key!

But what to do with the official Siesta Key University shirt? I certainly do not feel it belongs in my wardrobe.

Wait! I just had a great idea! I'll give the official Siesta Key University t-shirt to CLAUS for Christmas!! I can picture him now trying to figure out what to wear to a restaurant … then pulling it out of his dresser drawer and proclaiming loudly (so Heike can hear him in the next room) in English." What the FUCK! I'll wear this shirt Rick gave me!!! "

Such delicious irony.

And at least Claus won't say "Ficken".