A Naked Sunfish Holiday Tradition
Holiday Cheer from Aunt Edith
by
Rick Brown
My late Uncle Wes lived with my Aunt Edith for most of his adult life...although I'm sure it seemed like an eternity to him. He worked for the Bethlehem Steel Company in Baltimore for thirty years until he retired. He worked the night shift getting off around 7 a.m. when he would come home for dinner. In the summer when it was warm...and Baltimore can get very, very humid...he would go to a movie matinee in an air conditioned theater and sleep. If you knew my Aunt Edith you would assume what I did...even as a child...and that was that Uncle Wes worked nights and went to matinees to get away from his wife. He never said much. He was a slight, wiry man of few words. And the few words he almost always uttered were, "For Chrissakes Edith! SHUDD UPP!!"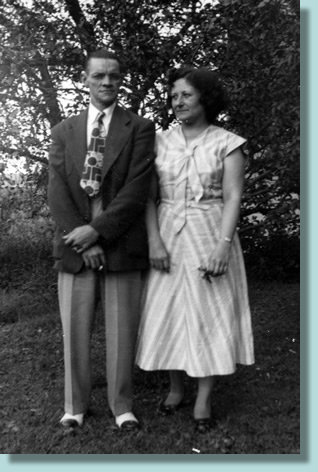 The man was almost incidental by nature. One time...after he retired and he and Aunt Edith moved back to the Cleveland area...my brothers and I were helping him put a refrigerator in a backyard shed because there was no room for it in the trailer they were moving into. After much jostling my brothers and I closed the shed door and thought we were finished. From her perch (as supervisor of course) Aunt Edith looked at the three of us with bewilderment and asked, "Where the HELL is Wes?" And after exchanging confused glances we heard muffled sounds coming from behind the fridge in the shed. "MMMPPPHH!!! Hey!! HHMMPPHHFFF!!!" We quickly opened the shed door, moved aside the refrigerator and liberated Uncle Wes. My brothers and I were all embarrassed and each, in turn, apologized profusely for our insensitive behavior. Aunt Edith broke into the humility with a shriek of, "What the HELL were you doing in there?" Which prompted Uncle Wes to ... once again ... chant his mantra. "For Chrissakes Edith!! SHUDD UPP!!" They were quite the loving couple. Their last name was Crabtree. I am not making this up.
Wes soon was diagnosed with lung cancer. Thirty years in the steel mills and 2 packs a day of Chesterfield non-filters caught up with him. The last time I saw him he was lying on the couch in their trailer smoking the aforementioned brand of cigarettes, quite literally coughing his lungs out ... or what was left of them. "I TOLD him to quit those goddamned things years ago. " Aunt Edith offered for my contemplation. To which Uncle Wes replied sarcastically (yep, you guessed it) "Cough cough ... For Chrissakes HACK! HACK! Edith!!! SHUDD UPPP!!!" These were the final words I heard my uncle ever say and we all joked at the funeral that these very words were more than likely chiseled into his headstone.
A few years after Wes passed, my brother and his new wife were having their very first Christmas and invited everyone over...including Aunt Edith. My parents were there along with my siblings and their families. This included my brother Jim's 9 year old adopted son Matt. Matt the Brat was what my father called him. I thought this surprisingly subtle for my Dad. If I knew where Matt is today...and thank God I do not ... I would have to guess some one killed him or he's in jail convicted of several murders. I honestly don't care so long as he's nowhere near me. So Matt the Brat is playing with one of the toys some one so graciously gave him and he broke it. This kid could break anything he got his hands on. But in a moment of diplomacy my father (affectionately known as Snook) said, "They don't make anything any good any more!!" To which...in the spirit of the season Aunt Edith quipped, "You're right Snook!! Everything IS SHIT!!!" Wel l... happy holidays to you too Aunt Edith. Inside my head I distinctly heard a voice from my past reply, "For Chrissakes Edith!! SHUDD UPPP!"
You know...there are lots of reasons to go through life believing that "everything is shit." There are days when it certainly seems true to me. I have my days when Sartre's "Hell is other people" could easily be the thought of the day. But...unlike Aunt Edith...I don't want to spend a big chunk of my life living alone in a trailer. And when I think of this particular Christmas it strikes me how most of them blur into each other...with the exception of a few. And this is one of them I distinctly remember. As much as family...and sometimes even friends ... can annoy a person ... especially at this time of year ... I have come to realize that even some one like Aunt Edith helped make me who I have become. I mean that in a positive way. Imagine ... Aunt Edith's negativity was so over the top it MADE me consider the positive. I have no idea how she became so bitter. My father did shortly before he died also. Yet they both, particularly Snook, had a positive influence. They were there. Unlike today when some people are not.
This holiday season...regardless of which one you celebrate...take the time to savor those around you...even if they drive you nuts. They may not...for whatever reason...be there next year. And in some strange way, which will surprise you, their absence will make you miss them. I guarantee it. (a possible exception to this uplifting message might be Matt the Brat) And you might consider that next year YOU might not be here. So I suppose my holiday message may seem bittersweet to most...but that's how I see it. And if anyone feels the need to take issue with my views then I encourage you to speak up LOUDLY...'cause I've got one thing and one thing only to say to you.
FOR CHRISSAKES!!!!
SHUDD UPPP!!!
Editor's note: Aunt Edith died a few years ago. She was 90 years old. Her neighbor called my Uncle Bruce and told him she had passed out in her trailer. He went and got her up…asked if she was alright and she said she was. He suggested she go to the hospital to make sure everything was okay. She told him to go to hell and get out of her house. He did just that…returning an hour later and she was gone. Sad…surely. But she lived her last day the way she lived every previous one. And despite her surliness I will miss my Aunt Edith this Christmas. And I will remember the one long ago when she informed us "Everything is shit!" Rest in peace Aunt Edith. I can picture Jesus turning to her and proclaiming, "Truly, truly I say unto you…For Wes's sake Edith…SHUDD UPPP!!!!!!!!!!!!!!"
---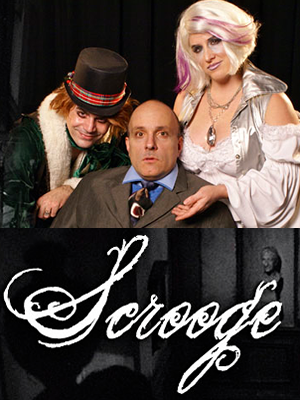 Scrooge
Shadowbox Live
The Worly Building
Brewery District
Columbus, Ohio

After seeing Scrooge for the first time last year, I assumed the production would become a yearly family favorite tradition here in Columbus. Opening night 2012 proved me right. The staging, choreography and direction is even more concise and with a few new faces in the ensemble, the production is a seamless stream of Christmas joy.

Reprising, and somewhat refining his riveting portrayal of Charles Dickens' famous curmudgeon, Tom Cardinal commands the stage through each phase of Ebenezer Scrooge's epiphany. Based on a 1970 musical film starring Albert Finney, the plot is updated with flashbacks set in the 70's and a couple character's gender is switched from male to female, most notably in the Crachit household. (Leah Haviland is particularly strong as Barbara Crachit.) Some scenes revel brilliantly in the fashion horror that was the 1970s. And Jamie Barrow is quite good as Young Ebenezer in these scenes.

But if you do the math … if Scrooge was a young boy in 1972 … that would make him younger than me. I'm 61 … and believe me … I do not feel nor look as old as Mr. Cardinal's present day Ebenezer. Perhaps that's what greed does to a person. Despite this chronological crisis, Mr. Cardinal's skillful performance hypnotically lulls the audience into a state of suspended reality … a fantastic, delightful fog. And what is Christmas without that kind of joyfulness?

Musically the show has strong numbers and segueing tunes, the best of which is "December the 25th". Edelyn Parker sings and dances up a snowstorm in the middle of Act I. The song reappears as the closing number with a huge ensemble finale at play's end, tying Acts I and II together nicely.

For the most part, Act I is setting the table for the night that changes Mr. Scrooge's pathetically cynical life. Of course the plot in, "A Christmas Carol" serves as a metaphor for life with a very wide spectrum of interpretation, ranging from "being positive" to "deeply religious". The inspired direction of Stev Guyer gives Shadowbox's approach a seriously philosophical consideration without losing the sseason's joy of "It's better to give than to receive" by simply caring for each other. And what would Christmas be without that kind of truthfulness … and balance and sharing?

Dramatically … and that includes costuming (Betsy Shortt), choreography (Katy Psenicka), lighting (Scott Aldridge), and musically (Matthew Hahn and band), Scrooge culminates on the nighttime visits of Ghosts Past, Present and Future to a terrified Ebenezer. Robbie Nance … just as last year … is terrific in his portrayal of Christmas Present … playful yet persistent in his steering Scrooge through mid-epiphany.

The blinding light that announces the appearance of Ghosts Past, Present and Future might be a bit much for small children. Actually, it was a bit much for a guy with one eye (me). The first time around I thought I might be having a stroke! (Maybe I am as old and crotchety as Scrooge.) Still, the drama of the moment is fitting. And it helps amplify the promise of erupted generosity to come.

Shadowbox Live's Scrooge is a wonderfully staged, visually exciting, musically celebratory ensemble production. But this most certainly is Tom Cardinal's vehicle … his time to shine. Morphing from a cynical, bitter old man into a scared childlike grouch then emerging as an exuberant, generous, philanthropist takes some major acting chops. And Mr. Cardinal not only accomplishes this metamorphosis onstage fluently, he makes the new Ebenezer believable. And what is Christmas without … even temporarily … believing all good things are possible … no matter how unbelievable they may seem?

If you have small children, big children, or just want to feel like a kid again yourself … do not miss Shadowbox Live's Scrooge. I'll guarantee you, this show will become an annual family tradition. It's already become a Greater Columbus Christmas tradition!
Scrooge runs until December 30th in the Worly Building in Columbus's Brewery District. For more information please go to:


---

---

---

---

---
---

---

---

---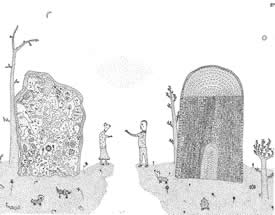 Meeting with the Enemy

by
Morris Jackson
---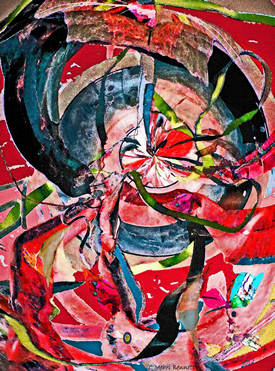 Swampland

by
C. Mehrl Bennett
Blog:
http://cmehrlbennett.wordpress.com
---
Nouvelle Vague

by
Dennis Toth
Always in Paris
Gray and chilled,
Just after a rain
With mist in the air
Like a smokey room
Filmed in thick grains.
The sheer stark beauty
Of Tri-X film
Pushed two stops
Like a slow jazz rift
In black and white.
The cafes seemed better then,
So littered with American signs
And the pre-Mersey beat
Of early rock n roll
In a post-bohemian sigh
Laced in Gauloise Bleu and
Where the women were
Sleek as sorrowful fawns
With Botticelli eyes,
So studied in the ways
Of Montaigne and Marilyn Monroe.
The frantic roil
Of each New Wave
Childish in its feelings
And ancient in its thoughts,
Until it vanished
In the Merry May
Of a Maoist haze
And a Los Angeleno
Daze.
http://leavesofcrass.blogspot.com/
---


Rick's book, Best Bites is available at:
Lulu.com & Amazon.com
---
The Non Fiction Theater of the Truly Mundane
proudly presents:
B.M.V.
by
Rick Brown
Scene: A sparse, relatively sterile room with a service counter running parallel to the front of the stage. Five employees are sitting behind it. Four of them are busy helping people. On the wall behind them is the Seal of the Great State of Ohio and several display license plates. Rick walks in tentatively and the available woman behind the counter, stage left, waves to him.
B.M.V. employee – I can help you down here.

Rick sashays up to her station.

Rick – I'd like to renew my driver's license.

B.M.V. employee – Certainly, I will need your old one.

Rick pulls it out of his wallet and hands it to her.

B.M.V. employee – Are you an American citizen?

Rick – yes.

B.M.V. employee – are you addicted to drugs or alcohol?

Rick – no.

She asks him a few other mandatory questions and Rick answers them. They both appear a little bored.

B.M.V. employee – Okay. Put your face up to the viewer. Now tell me if you see a flashing light and where.

There is a clicking sound.

Rick - Yes … right side. Yes … left side.

B.M.V. employee – All right. Now read the middle line with you right eye.

Rick – 5, 7, 2, 6, 9

B.M.V. employee – Okay now read the middle line with your left eye.

Rick – I can't. I'm legally blind in my left eye.

B.M.V. employee – Then read the bottom line with your right eye.

Rick – 8, 6, 4, 3, 5

B.M.V. employee – Try again. You need to read the bottom line to pass.

Rick – 6, 8, 4, 8, 2

B.M.V. employee – Which LINE are you READING?

Rick – Line 4 on the far right side.

B.M.V. employee – NO! NO! Read the bottom line in the MIDDLE! And try blinking your eyes a lot. That can help sometimes. And also cup your hands around the viewer to block out the room light. That can be a big help.
Rick blinks his eyes and cups his hands around the machine.

Rick – Bottom middle right?

B.M.V. employee – Yes.

Rick – 6, 9, 7, 2, 3

B.M.V. employee – PERFECT! Now step over here and we'll take your picture!

Curtain
Cast:
B.M.V. employees – their bored selves.
B.M.V. customers - themselves
Rick – his 60 year old, one eyed self.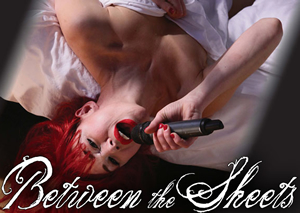 Shadowbox Live
The Worly Building
Brewery District
Columbus, Ohio
by
Rick Rrown
---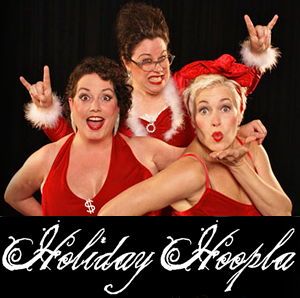 Shadowbox Live
The Worly Building
Brewery District
Columbus, Ohio
by
Rick Brown
---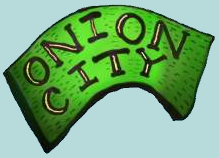 by Sue Olcott

Click Here
---
The Bubbas

by
Rick Brown
It was the fall of 1970. I was going off to college … a goal more than a few of my high school teachers thought would elude me. And to be forthright, I applied to Capital University in Columbus, Ohio with a 2.25 cumulative grade point average. At the time my intention was to eventually become a Lutheran minister. And being a staunch Lutheran academy, Capital required what was called a "Pastoral Recommendation". I must have gotten a hell of a lot of praise from my pastor.

Apparently he had no idea the high jinks that had transpired between his oldest daughter and me.
But I made it. I was accepted with the understanding that my grades must improve dramatically my senior year of high school. I worked hard and got almost straight A's my final year. (SEE! We TOLD you if you applied yourself and had a better attitude … blah … blah … blah.)

So in September of 1970 my parents dropped me off to my new home … a dorm named after one of Capital's founding fathers and presidents: Lehmann Hall. The story goes that Professor Lehmann found a huge boulder on the property just south of Main Street in Bexley. Big rocks have long been metaphors in the making of history … and religion. Lehmann Hall was built upon this rock (Which to this day I have NEVER seen.) and housed the entire university when it opened in May of 1876.

I was a history major … as well as a religion major. (The more history I studied the more historically aware I got. Yet the more religion I studied the LESS religious I became.) Still, I am certainly not supplying all this background for any other reason than the building was old … ancient … monstrous with its 15 feet high ceilings (or so they seemed). And the green walls gave the atmosphere an institutional feel, as if I were being dropped off at reform school. (Marty Luther did start the reformation did he not?)

While Lehmann Hall did have a certain dumpy charm, it's the inhabitants I want to tell you about. I mean, really, shouldn't a building's worth be measured by the quality of the people inside? And in 1970 the building's characters most certainly gave it character. But the structure is long gone now. And if you ask me the campus is lacking because of the gaping space left by its demise.
But to this day no one at Capital has bothered to ask me.
All Capital's freshmen men were housed in Lehmann Hall that year. Floors one, three and four were entirely freshmen. The second floor … where my room was … also had mostly frosh. But at least a third of floor 2's population was made up of upperclassmen specially requesting to reside there. And each and every one of them was on the football team.

Jocks.

Upperclassmen jocks calling themselves … with the utmost respect of course … "The Bubbas".

They immediately intimidated me … not on purpose really. I had just said my goodbyes to my family. I had never moved ANYWHERE before in my life. Everything was changing all at once and I was anxious. Sure … I knew a few guys from Lutheran camp and other activities. But they were all older and in other campus dorms that seemed far away … despite Capital's tiny 3-block radius. I realized I wasn't in Kansas anymore early on … the night I went out into the hallway about 10:30 p.m. to ask a group of Bubbas if they could keep it down a little. I had an 8 o'clock class the next morning. I needed to sleep.

At first all 5 or 6 of them stood dumbfounded … then quickly began laughing and pointing at me. I hastened back inside my room … tail between my legs. But within 2 or 3 weeks I had rewritten the words to the Bee Gees' "I Started a Joke" to "We Live With the Jocks" and was playing it in my room for all of us deemed the "hippie element" by the Bubbas. (Of course very few of us were actually hippies. This was Capital University after all.) This is when I decided to grow my hair long.

As for the song, one of the verses went like this:

"We live with the jocks, who keep the whole dorm from sleeping.

Oh they just can't see, you can't live without sleep."

And the bridge was the best part:

"They have stereo contests
to see who has the loudest.
And I,
fall out of bed,
hurting my head,
from sleep I don't get."
It was a very big hit with all of us quasi-hippies. Eventually I also wrote an original tune called "Capital Women Blues". But that's a story for another day.
Rumor had it that to be initiated into "The Bubbas" one had to get "swirled". I won't go into sordid detail here. Suffice it to say it involved being held upside down by several Bubbas, having one's head stuck into a toilet and enduring a flush.

While the advent of this hanging over one's head (sorry) was troubling, I never, ever witnessed a swirl, heard someone getting swirled, or was a victim myself. Maybe it was just a Lehmann Hall legend … a way to annoy incoming freshmen … or the Bubbas' general distaste for all things fraternity-like … I can't really say.

On second thought, perhaps I dodged the swirling because I went to all the home football games …probably a couple away games as well. The Bubbas …uh … the Crusaders (Isn't that like a Catholic College calling its team "The Inquisition"? I suppose "The Reformation" or "The 96 Theses" didn't sound aggressive enough.) went undefeated in the fall of 1970, including winning the very first Alonzo Stagg Bowl Championship! All this under a fabulous coach named Gene Slaughter!!

Believe me, this was hot shit to a 19-year-old Rick Brown. My high school was pretty dismal in sports. The Olmsted Falls class of 1970 won our very first 8th grade football game and not another … not even a TIE … until the final game in our senior year. I have no idea how many games were lost in between … but it's double digits no doubt. So I'm assuming my loyalty and enthusiasm for the Bubbas endeared me to them.

The worst thing they ever did was barge into my room once, wielding spray deodorant cans, and spraying my roommates and me. All the while they were gleefully chanting, "Get the HIPPIES! Get the HIPPIES!!" So by late October life was pretty cool on Lehmann's second floor.

Continued...
---
Hmmm's

by Rick Brown

Hmmm # 55
I believe I
finally figured
it out:

Nothing happens
for a
reason.
Hmmm # 56
Ever hear
someone say:

"I'm not Busy?"

I didn't
think so.
Hmmm # 57
To dance
when you're old,

better dance
while you're
young.

Hmmm # 58
Ever hear
someone say:

"I'm a
lousy driver"?

I didn't
think so.