Madness and Lust
Shadowbox Live
The Worly Building
Brewery District
Columbus, Ohio
by
Rick Brown
---
The Interview
by
Rick Brown

English 12 – First Period
November 19, 1969
It was Maxwell's first job interview since he graduated from college. Sure … he was qualified. After four years of diligent study and training he ought to be. Still … there was some doubt in his mind. Was he really the well – rounded person schools were trying to produce? This question had never crossed his mind before.

Then his memory began to search back. He had received straight A's all through high school and had easily won a scholarship by finishing first in his class.

Basketball had to be given up in his sophomore year because his parents thought it might affect his grades. He never told anyone why he quit and it aroused much curiosity. After all, he was tall and he had such good speed.

He had never had a girl. There were always more important things on his mind.

During college he kept to himself mostly. A special request for a single room had been granted to him … a favor for earning his scholarship. He never became active in any of those crazy stunts the other students were always doing. After all, he was there for an education. He was going to be a success.

Maxwell suddenly realized he was very nervous and was perspiring. Had he missed something along the way?

"Mr. Cronin" called the receptionist. "Mr. Phillips will see you now."

Maxwell stroked his thin, blond hair.

"Please tell Mr. Phillips" he answered quietly, "That I feel very ill today."

Then he slowly walked through the door.
Editor's note: I wanted to share this. Firstly, because I still have it … which I find relatively amazing. Secondly, to show how I got my early writing chops. I'm sure most readers can feel the underlying "problem with authority" I had … and probably still do. I used to whip out papers like this during homeroom … merely minutes before due in first period English class. Final draft the only one I did. And I'm certain Mrs. Grueschow was fully aware of my … uh … style. After all … she was both my homeroom teacher AND English teacher. Same room … same desk … pen in hand … doing my final draft first … in blue ink.
By the way … she gave me an A.

---
Thinking of William Blake
by
Dennis Toth
Oh where are you Willie boy,
With your bowl of burning gold
And sword unsheathed
In poetic might against old
Satan's mills?
That sweet Jerusalem
You never found
Among the pastures green
And ancient footsteps still
Unseen in shadows lost
Among the hills.
A vision as pure as dreams,
More beautiful than any tiger,
Brighter than any flame.
Like your arrows of desire
From which Jerusalem
Yet will spring.
http://leavesofcrass.blogspot.com/
---
Hmmm's

By
Rick Brown
Hmmm # 70
Sometimes
I think
I think
too much.
"I think
too much.
Therefore
I am
too much."
Hmmm # 71

Heresy …
is a
word
used only
by
believers
---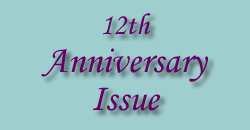 ---


---

---

---

---

---

---
---

---

---

---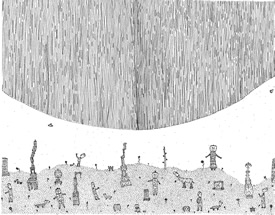 Chicken Little's Prophecy

by
Morris Jackson
---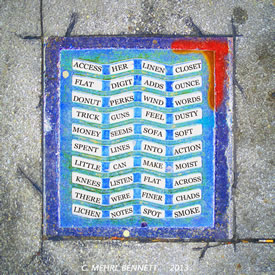 Spotting Smoke

by
C. Mehrl Bennett

Blog:
http://cmehrlbennett.wordpress.com
---


Rick's book, Best Bites is available at:
Lulu.com & Amazon.com

Foreplay
Shadowbox Live
The Worly Building
Brewery District
Columbus, Ohio
by
Rick Brown
---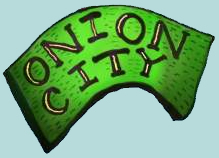 by
Sue Olcott

Click Here
---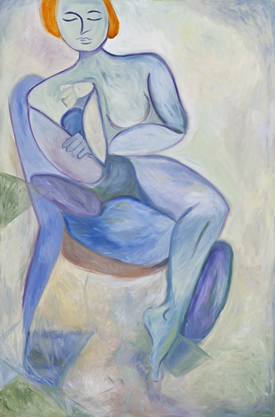 Mai Bloom

by
aNna rybaT

Blog:
http://www.annarybat.blogspot.com
---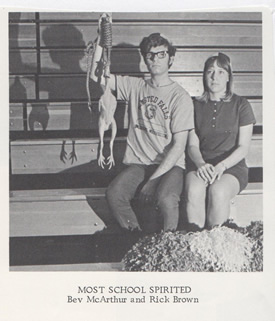 Spirit Club

By
Rick Brown
---
Hmmm's

By
Rick Brown
Hmmm # 68
God loves
the cook …
hates cold food …
and would
greatly appreciate
your grace
being
brief.
Hmmm # 69
By the way
6 or 9?
TOP?
or bottom?
I know …
not my
business.
Just …
curious.