Gallery of Echoes
Shadowbox Live
The Worly Building
Brewery District
Columbus, Ohio
May 1, 2014
by
Rick Brown
---
Clam Chair
by

Rick Brown

I wouldn't say I was a "cool kid" in high school. But I did have a knack for making my classmates laugh. That can be very important as a teenager. I know it got me out of more than a couple fights. So I've always been grateful for my comic sensibilities.

I did get invited to parties once in a while. In 8th grade … when everyone was too young to drive a car … let alone own one … I had a girlfriend. It only lasted maybe 9 months. But when you're 14 years old that seems like 3 years. So the junior high social events were mostly "couples only". These soirees began innocently enough … guys on one side of the room (or garage) … girls on the other. But as soon as the sun went down and the "Best of Bobby Vinton" hit the turntable … couples coupled up to slooooooow dance. (Only the girls faaaaast danced because boys thought it made them look like idiots … which it did.)
---
A Thought on Herman Melville
That Melville guy did a number on us all,
Don't you see, when he
Struck the one great metaphor
And stole the perfect symbol
Of a doomed American dream and
Then, like a drunken sailor adrift
At sea, the ruined search for that
White whale indeed, that Moby Prick
That roiled its way into the canon
While leaving us, his inheritors,
Doomed to the dark eternity
Of referential scores.
Dennis Toth
http://leavesofcrass.blogspot.com/
---
The Non Fiction Theater of the Truly Mundane
proudly presents:
Classical Gasp

by
Rick Brown
Scene: A newish apartment living room. The room is sparsely decorated. Sitting on a beat up sofa stage left is college aged Rick along with roommate Steve (also known as "Beast"). Next to the couch is an equally distressed chair. Another roommate Bernie (nicknamed "Punk") sits in it cross-legged. Across the room stage left on a kitchen chair sits Bill (affectionately known as "Bonzo"). Bonzo is lovingly holding and playing a classical guitar classically in every oh-so correct, classical music school way. Sweet, delicate sounds emanate from Bonzo's guitar practicing. The others are
listening intently with a sense of pride in their talented roommate's musical ability.

Soon Bonzo abruptly halts his playing .

Bonzo (loudly with frustration) – JESUS TIT!!! JEEEE SUUUUUS TIT!

The other three look at each other uncomfortably.

Bonzo begins playing the section again. Rick, Beast and Punk resume their rapt audience postures.

Again the music stops suddenly.

Bonzo – JEEEESUUUUS TIT!! JESUS TIT! JESUS!!

The others shift uneasily in their seats.

Bonzo – Oh! Uh … I forgot. You guys are kind of religious huh?

Rick – A little maybe.

Bonzo – It's just that I can't seem to get through this fucking passage the right way. I'm sorry if I offended you guys. I never meant that.

Beast – Oh it's no big deal Bonzo.

Punk – Yeah I'm cool.

Rick – Just play. You sound great.

Bonzo gives the other three a sly, ornery grin and resumes playing.
As before, once he gets to the same passage Bonzo flusters and violently halts his playing. He grabs the guitar's neck with both hands and feigns choking it to death,

Bonzo (Shouting at the top of his lungs) – BUDDHA TIT!!! BOOOOOO DAHH TIT!!!
BOOOOOO DAAAAAAAAH TIT! BUDDHA! TIT!!!!!!!!!!!!
Curtain
Cast:
Bonzo – Bill
Rick – his college aged self
Punk – Bernie
Beast - Steve
---
Hmmm's

by
Rick Brown
Hmmm # 76

Perhaps stating
"I believe
everything happens
for a
reason"
simply defies
reason.
Hmmm # 77

If Jesus truly
is alive today
surely he resides
in the
21st Century
and not say …
the 3rd.


---

---

---

---

---
---

---

---

---

---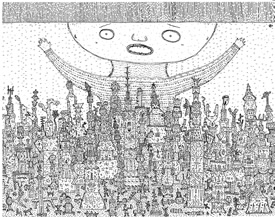 God of Small Things

by
Morris Jackson
---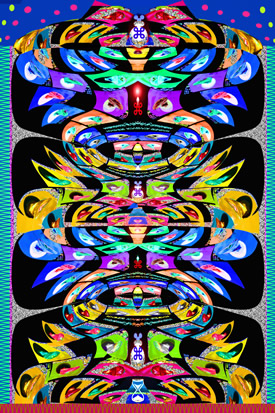 Owl Totem

by
C. Mehrl Bennett

Blog:
http://cmehrlbennett.wordpress.com
---


Rick's book, Best Bites is available at:
Lulu.com & Amazon.com
The Best of Shadowbox Live 2014



Shadowbox Live
The Worly Building
Brewery District
Columbus, Ohio
by
Rick Brown
---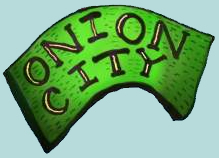 by
Sue Olcott

Click Here
---


Becomming an Ocean

by
aNna rybaT

Blog:
http://www.annarybat.blogspot.com
---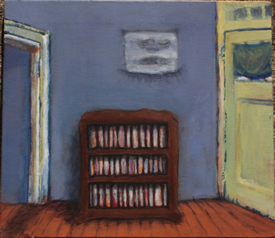 Interior

by
Amy McCrory

Blog:
http://amymccrory.wordpress.com/
---
Hmmm's

by
Rick Brown
Hmmm # 78

"Post-racial"
is actually
code for
"I'm a bigot
who won't
admit it."
---
Bigger Than Jesus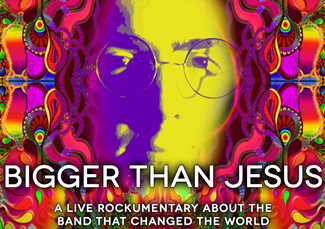 Shadowbox Live
The Worly Building
Brewery District
Columbus, Ohio
by
Rick Brown