Evo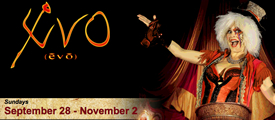 Shadowbox Live
The Worly Building
Brewery District
Columbus, Ohio
by
Rick Brown
---
Burlesque Biographie

Shadowbox Live
The Worly Building
Brewery District
Columbus, Ohio
by
Rick Brown
---
Always

Soft silk,
Like the first blush upon your face.
The quizzical stillness
Of our first kiss.
Always.

Beginnings

First star.
Final embers of cosmic birth.
A bang, they say, profound.
Eternal dawn
And night

Lost
Lost town
Hidden deep in hills and shadows.
Abandoned homes bleached white.
Fragments remain,
Memories

Dennis Toth
http://leavesofcrass.blogspot.com/
---
The Non Fiction Theater of the Truly Mundane
proudly presents:
Soup Kitchen

by
Rick Brown
Scene: The kitchen of a local homeless shelter. Stoves, refrigerators, etc. are stage left. Prep tables are situated center stage and the serving window is stage right. Two volunteers, a man and a woman, are prepping food at the serving station. Rick, who also is volunteering, is busy ladling applesauce into small bowls at the center prep tables. Everyone working the kitchen is wearing plastic disposable gloves, aprons and "bouffant caps" (hair nets). The head cook saunters into the kitchen from the cooking area.

Head Cook – Rick! Now that the women's serving is over we have a 20-minute break before the men file in for lunch, can you come with me to the sinks? Would you mind washing some dishes?

Rick – No problem. Anything you need me to do is fine.
They both walk to the sinks towards the rear center stage.

Head Cook – There's some bleach in the water. You aren't allergic are you?

Rick – No.

Rick looks around the piles of dirty dishes … huge serving bowls, plastic bins, and serving spoons.

Rick – Wow! These dishes are HUGE!

Head Cook – Well, just wash and stack them next to the sink here.

Rick begins clumsily washing huge dishes, rinsing them, and then stacking them on the stainless steel table next to the sink. Soon enough there is a tipsy pile next to him.

About ½ of the dishes fall on the floor with a loud crash.

Rick begins to wash them over again, restacking more carefully this time.
Soon the Head Cook runs over to the sink.

Head Cook - RICK! You've knocked the spigot so it's pouring hot water behind the sink and onto the floor!!

Rick notices a man and a woman taking turns mopping up the flooded kitchen floor.

Head Cook – PLEASE USE THE SPRAYER FROM NOW ON!!

Rick – Gee … I'm so sorry.

Head Cook – It's okay … but PLEASE use the sprayer from now on. And please return to ladling applesauce once you're finished.

Rick – Uh … again … so sorry. Did I tell you I used to work at a car wash?
Curtain
Cast:
2 Volunteers – themselves
Head Cook – herself
Rick – his mostly bleach smelling, wet self
Anyone interested in volunteering or donating to
Columbus, Ohio's Faith Mission can get information here:
http://faithmissionofohio.org
---


---

---

---

---

---

---

---

---

---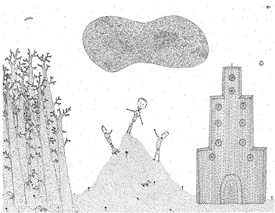 Teetering

by
Morris Jackson
---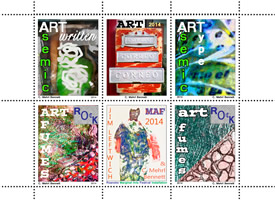 ARTISTAMPS

by
C. Mehrl Bennett

Blog:
http://cmehrlbennett.wordpress.com
---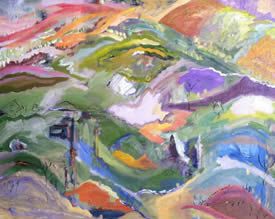 Save Me From Impressionism

by
aNna rybaT

Blog:
http://www.annarybat.blogspot.com
---


Rick's book, Best Bites is available at:
Lulu.com & Amazon.com

Freak Show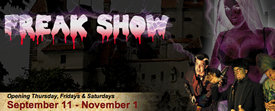 Shadowbox Live
The Worly Building
Brewery District
Columbus, Ohio
by
Rick Brown
---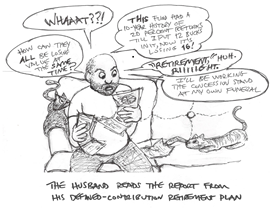 Retirement Plans

by
Amy McCrory

Blog:
http://amymccrory.wordpress.com/
---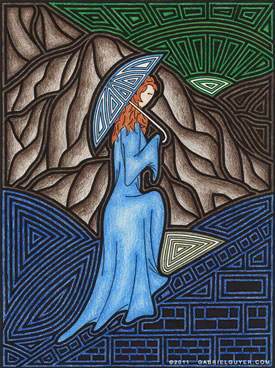 Monet

by
Gabriel Guyer
---

The Rolling Stone Cover Aging Barometer
or
Birth of a Curmudgeon

By
Rick Brown
1974 – "Hey!! The new issue of Rolling Stone is here! Crosby, Stills, Nash and Young are on the cover. COOL!"

1984 – "Great! The new Stone! And a big picture of Prince and his hairy armpit … sweet!"

1994 – "Nirvana's on the front of the new Rolling Stone? Vaguely familiar … but I should really check these guys out more."

2004 – "Uh … the new Rolling Stone? Eminem? Well … maybe I'll do some research, give a listen and keep an open mind."

2014 – "Another Rolling Stone? Already? How often does this rag come out? And who is this? Lana Del Rey?"

(While throwing the issue on a 2 foot high pile)

"Who the FUCK cares?"
---
Hmmm's
by
Rick Brown

Hmmm # 82

Might we
as a species
merely be
a spaghetti western?
No good guys
but varying degrees
of bad?
Hmmm # 83

Never say
never.
Always
never say
always.
Hmmm # 84
Everything is
bigger
in Texas.
Especially the
assholes.