RECKLESS
Shadowbox Live
The Worly Building
Columbus, Ohio
By
Rick Brown
---
The Non Fiction Theater of the Truly Mundane
proudly presents:
Curiosity Shop

by
Rick Brown
Scene: A tiny jewelry / miscellanea shop. Glass cases line both sides of the space stage right and left. A narrow aisle separates cases crammed full of mostly jewelry. There are also a few knickknacks, tea sets and assorted collectables on display. The walls are adorned with clocks and bric-a-bracs scattered randomly throughout the store. At the very back is a large window revealing a longhaired young man in a back room working on watches. Behind the counter is a quasi Goth girl, a middle aged woman who might be her mother, and an old spectacled gentleman wearing a tan Polo shirt and a dark brown cardigan sweater.

There is the sound of a steady rain outside. The woman behind the counter pushes a button on the wall. A loud "buzz" is heard and Rick enters through the front door carrying a half closed umbrella.

Middle Aged Woman Behind the Counter – Hello! How are you today?

Rick (while setting his umbrella next to the glass case to his right) – Wet! But it's almost warm. Hopefully winter is finally over.

Woman Behind the Counter – Yes that would be a welcomed change. How can we help you?

Rick – I called earlier … about my watch. I think it needs a new battery and the band needs to be replaced.

Old Spectacled Gentleman (walks towards Rick) - Fine, fine. Let me take a look then.

Rick removes his watch and hands it to the man.

Rick – It stopped this morning. I'm hoping it's just the battery.

Old Spectacled Gentleman (taking the watch) – We shall see shortly.

The man walks with Rick's watch into the back room with the large window and hands it to the young longhaired man who begins taking it apart.

The Old Spectacled Gentleman returns to the counter to Rick's left and begins closely examining a china plate setting atop the glass surface.

Old Spectacled Gentleman – Hmmmmmm. This is new. Haven't yet seen THIS piece. Ah! Very nice! Very nice INDEED!

He then turns the plate over and lays it upside down on the glass directly in front of Rick.

Old Spectacled Gentleman (looking directly at Rick with a wry smile) – Do you know why aliens NEVER land their flying saucer on a Jewish family's lawn?

Rick thinks to himself … Geez … first walking 3 blocks in the pouring rain and now I have to put up with some old dude's racist, anti- Semitic joke?

Rick (sheepishly) – Uh … no … no I don't.

Old Spectacled Gentleman (with a twinkle in his eye)– Because … WE ALWAYS flip them OVER to see how much they PAID for IT!!
Curtain
Cast:
Quasi Goth Girl – her brooding quasi - Goth self

Middle-aged Woman Behind the Counter – her "might be Goth girl's mother" behind the counter middle-aged self.

Longhaired Young Man in the glass windowed back room – his solitary, battery testing self

Rick – his wet, watch-less self

The Old Spectacled Gentleman – his bemusing, Jewish, plate flipping, Old Spectacled Gentleman self
---
Sleeping In a West Virginia Field
Mourning doves stir and coo
In early light draped pale
By mist and the dew
Grew thick between our toes.

We had slept that night
In an open field picked blind
After a late night's drive
Through countless hallows
Lit by the fires of ten thousand tires
Burning wildly in a junkyard heap.
A breath of hell like a Bruegel print
As the flames flared tight
To the side of the road.

By noon the huddled hills were
Sweeps of green and hummingbirds
Swooped to a dulcimer lilt
Beneath a leafy canvas,
Beneath a translucent sky.

Dennis Toth
http://leavesofcrass.blogspot.com/
---
The Non Fiction Theater of the Truly Mundane
proudly presents:
Naked Truth

by
Rick Brown
Scene: An airy, atmospherically low-lit upper room. There are a couple overstuffed chairs with small end tables stage left. Stage right is a massage table. The space is at once moody, with a few pieces of artwork adorning the walls. There is a sliding glass door leading to a balcony in the back wall. Through the glass can be seen a tranquil forest. Soft, soothing new age music quietly engulfs the room. Rick is naked, covered discreetly with a blanket from the waist. He is laying face down. A petite, wiry, attractive 40s-ish masseuse, appropriately named Joy, is massaging Rick's back. They are conversing with a friendly, familiar tone in low voices.

Rick – So … how have you been Joy?

Joy – Busy as usual … massages …yoga classes … workshops.

Rick – Of course. Anything new?

Joy – Well … I've begun leading a couple nude yoga classes.

Rick – Nude yoga huh?

Joy – Yes. It's quite freeing you know.

Rick – I can imagine. Men and women?

Joy – Yes … usually more men come than women. But the ladies are starting to attend.

Rick – Sounds intriguing.

Joy – You should really come Rick! You'd love it! It's liberating!

Rick – I dunno.

Joy – Would you be uncomfortable with being naked in front of other naked people?

Rick – Well … it's not the being naked I'm worried about. It's the YOGA that REALLY SCARES me!!
Curtain
Cast:
Rick – his naked (discreetly covered by a blanket) tight muscled yoga fearing self

Joy – her self-assured, strong, wiry, massaging, freeing self


---

---

---

---

---

---

---

---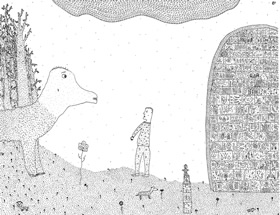 by
Morris Jackson
---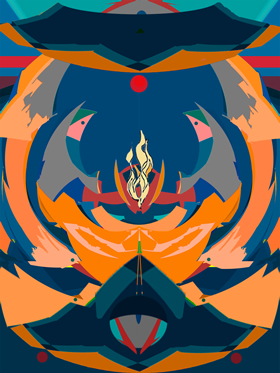 FIre-Bowl

by
C. Mehrl Bennett

Blog:
http://cmehrlbennett.wordpress.com
---
Hmmm's

by
Rick Brown

Hmmm # 90
The business meeting:
People with
not enough
to do
blathering about what
they do
keeping you
from doing
what you need
to do.


Hmmm # 91

The wider
the choices
given us,
the narrower
we seem
to become.


Hmmm # 92
Finally …
a Pope
I would have
a beer
with.


Hmmm # 93

My wife says
I mumble.
"No I don't!"
I reply
to no
response.


Hmmm # 94

Ever entertain
the thought
perhaps God
ISN'T
a morning
person?

Which One's Pink?
Shadowbox Live
The Worly Building
Columbus, Ohio

by
Rick Brown
---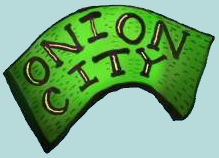 by
Sue Olcott

Click Here
---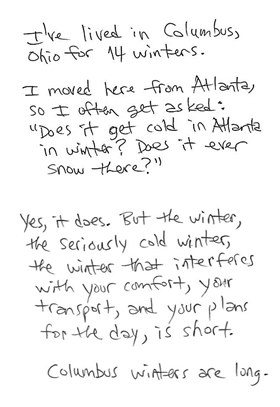 Winter in Columbus
by
Amy McCrory

Blog:
http://amymccrory.wordpress.com/
---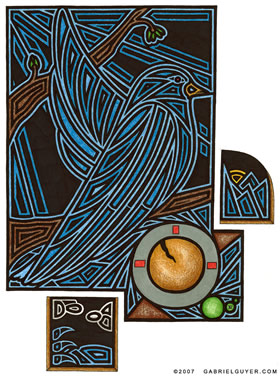 Maybe I Can Fly

by
Gabriel Guyer
---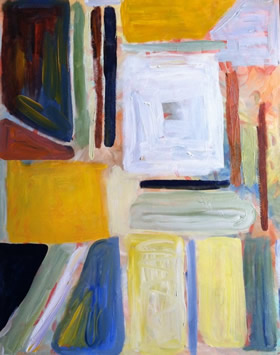 Summer in the City

by
aNna rybaT

Blog:
http://www.annarybat.blogspot.com
---

Green Day's American Idiot
Shadowbox Live
The Worly Building
Columbus, Ohio
By
Rick Brown
---
Rick's New Book, Naked Sunfish ~ Caviar
is now available at:

And


Rick's book, Best Bites is available at:
Lulu.com & Amazon.com