Little Shop of Horrors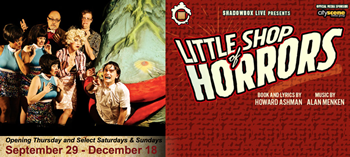 Shadowbox Live
The Worly Building
Columbus, Ohio
by
Rick Brown
I have always been afflicted with a mild case of insomnia ... a light sleeper since childhood. I joke that when I go to bed I "close my eyes and wait for morning." And while it's not really that bad… I DO envy my wife Yvonne. She could sleep through Black Friday at Walmart … on the wide screen TV sales counter.

And so it was on one sleep challenged Friday night in the early 60s. I might have been 15 … maybe 14. I took my restlessness downstairs to the living room. And while the rest of the family snoozed I switched on the black and white Magnavox, dialing the TV to WJW Channel 8's "Shock Theater". Infamous Cleveland cult personality Ghoulardi was … quite appropriately … the host. The "bad movie" for the week was something titled Little Shop of Horrors.

My young life was changed forever. It wasn't like The Beatles on Ed Sullivan. But the experience certainly helped keep my sleeping habits sporadic.

The original 1960 release of Little Shop of Horrors was one of Roger Corman's first films. Described as a "black comedy horror film" it was like nothing I had ever seen. Tongue in cheek … somewhat cynical … heavy on Jewish humor … I loved it. Trouble was … it was nearly impossible describing it to someone who hadn't seen it. Which to this day is pretty much everyone. A flower shop run by a guy named Mushnik on Skid Row in Los Angeles where his bumbling employee Seymour somehow creates a hybrid plant he names after the woman of his dreams … Audrey who also works at the shop. The plant forces a moral crisis once Seymour realizes it needs human blood to survive. Sprinkle in a carnation eating customer, a hypochondriac mother (Seymour's), an old woman who has a death in the family every day and needs funeral flowers, a crazy dentist, 2 detectives parodying the popular "Dragnet" TV cop show and … well … maybe you can see a 15-year old's dilemma trying to explain. On top of everything is what still remains a strange reality … even with the musical. Despite the setting being a flower shop on Skid Row in L.A. almost every character is Jewish with a New YAWK accent.

I'm not sure I even saw Corman's version again until the invention of DVDs. Seriously.

Flash forward to 1986. I'm about to turn 35 … the day I run the New York City Marathon. The Howard Ashman/Alan Menken musical version of Little Shop of Horrors is off Broadway … had been for a little while … so Yvonne and I went to a performance. At the time I felt it was shockingly different … but actually, despite the stage version's slightly sunnier disposition and pared down cast (Seymour's mother is dead and he lives in the flower shop), the plant puppetry was dynamically better. To my delight the stage production still had the flick's essence and … more importantly … edginess.

The movie version of the musical came out in 1986 as well. I think it's entertaining but even more "cartoonish" than the stage version. It's arguably very "Hollywood".

Flash forward again … another 30 years. You can imagine my excitement once I learned Shadowbox Live was doing Little Shop of Horrors. And the troupe's version most certainly does not disappoint.

Staging is minimalistic … giving the actors plenty of room for some very dynamic character development. Stev Guyer's concise, compact direction moves the whacky storyline along effortlessly. Even the band is small … four musicians … but musically envelope the stage and set the singers' lyrical interpretations magnificently. And Katy Psenicka's super choreography fills the spaces with visual excitement.

The casting is perfect. Tom Cardinal is strong as the curmudgeonly shop owner … and later … once the human flesh eating plant makes Seymour famous and almost wealthy … a proud yet reluctantly adoptive father for Seymour. Lukas Tomasacci is terrific as the insecure, geeky Seymour … successfully striking a balance between making the character a loveable loser and a pawn caught up in a disastrous moral dichotomy. Jamie Barrow does a stellar job portraying Orin … Audrey's abusive boyfriend. His Jekyll/Hyde … bad boy/crazy nitrous oxide snorting dentist … is an awesomely swivel hipped … finger pointing … cackling celebration of greaser grandiosity. Billy DePetro's voice as the grown plant … the always voracious for warm flesh Audrey II … is terrifyingly comical. Brilliantly sewing all the storyline's endless loose ends into a cohesive collaboration are Ronette (Noelle Grandison), Crystal (Nikki Fagin) and Chiffon (Ashley Pearce). These street smart Doo Whoppers are the ultimate Da Doo Ron Rons … stealing your heart while singing (and dancing) like angels.

Despite all this star power it's Edelyn Parker as Audrey who shines the brightest. If Roger Croman's original Little Shop of Horrors is in fact a black comedy horror flick … which it is … then Shadowbox Live's musical adaptation of Ashman and Menken is a black comedy tragedy. Despite the buoyance of the music and dance there is no happy ending … far from it. And Ms. Parker's bittersweet Audrey personifies the hopeful longing … the good natured malaise … of someone hoping against hope to escape Skid Row for "Somewhere That's Green". Embracing the "ditzy blonde" yet simultaneously revealing a nuanced wisdom and guarded optimism, Parker's Audrey will touch you … deeply. I am not ashamed to admit getting pretty choked up while she sang … and made "Someplace That's Green" her own. And Ms. Parker's subtle shift of a hip … playful lift of a leg … infectious giggle … only makes her Audrey more loveable … adorable … attractive … and ultimately … tragic.

Little Shop of Horrors has been a wonderful friend I have revisited many times in my lifetime. And Shadowbox Live's musical stage production is at the top of my list. The show is both weirdly whacky yet wonderfully warm. While it is very different than the 1960 film I adore, Shadowbox Live's stage show is an uplifting homage to Roger Corman's work. Entertainingly edgy … Little Shop of Horrors is a feeding frenzy of fun, fright and poignant vegetation adventure.
Little Shop of Horrors runs Sundays through December 18th. For more information, please go to: www.shadowboxlive.org
---
Broken Whispers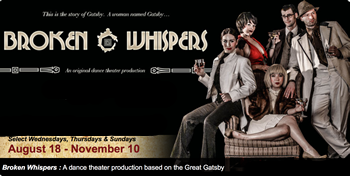 Shadowbox Live
The Worly Building,
Columbus, Ohio

by
Rick Brown
---
Lumbering through Bethlehem
Lumbering through Bethlehem
on a Saturday night
where the chilly shadows
of abandoned mills
toll silent like a busted bell
and anything left
was boarded or gone
or turned to pay day scams
and quick title loans and
anything else that scraps
for nickles in pockets
dirty and worn
(for poverty is a business,
like death and disease).
Dennis Toth
http://leavesofcrass.blogspot.com/


---

---

---

---

---

---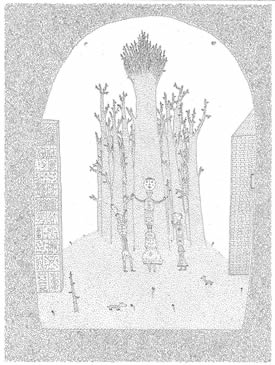 by
Morris Jackson
---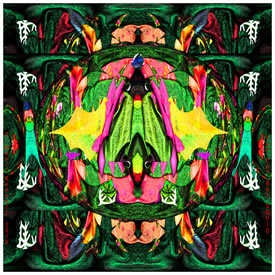 FAT CAT BAT SQUID

by
C. Mehrl Bennett

Blog:
http://cmehrlbennett.wordpress.com
---

Rick's Books, Naked Sunfish Caviar
& Best Bites,
are available at:



Rick's book, Best Bites is available at:
Lulu.com & Amazon.com

The Shadow Zone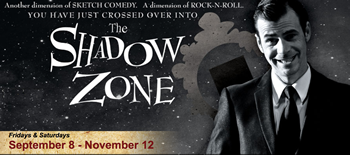 Shadowbox Live
The Worly Building
Columbus, Ohio
by
Rick Brown

Click Here for the Review
---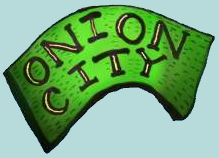 by
Sue Olcott

Click Here
---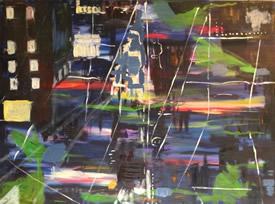 Cityscape 5

by
aNna (Wellman) rybaT

Blog: http://www.annarybat.blogspot.com
---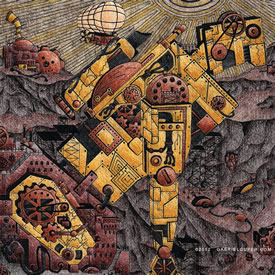 Building the Automaton

by
Gabriel Guyer
---
The Non Fiction Theater of the Truly Mundane
proudly presents:

Wholistic Grocery
By
Rick Brown
Scene: The produce section of a trendy, organic groceries store. Rick is slowly pushing a small grocery cart, gazing at the August yield of local, organic vegetables. He stops at a table piled high with zucchinis, tomatoes, and peppers of all colors and varieties. A man … who looks to be in his early 30s … is standing behind the cornucopia of produce, meticulously organizing the display. His arms are heavily tattooed. His long, dark hair is pulled back in a ponytail that hangs to his waist. A long, full, Amish style beard, moustache and sideburns adorn his rugged face.
Produce Guy – Can I help you find something man?

Rick – Yeah. I'm looking for some fresh corn.

Produce Guy (picking up an ear of corn and waving it enthusiastically) – right here my man!

Rick – How is the corn today? Fresh?

Produce Guy – Awesome man. Wanna taste some?

Rick – You have some cooked?

Produce Guy (chuckling slightly) – No! No Man! I eat it RAW! Right off the COB man! It's the BEST man!

He eagerly peels the husk down halfway, takes out a box cutter and cuts a groove in the roasting ear. He then breaks about 3 inches off the ear and takes a BIG voracious bite.
Produce Guy (chewing and smiling simultaneously) – DEE LISH USSSS! Wanna try some man?

Rick – Uh … that's okay. I'll take your word for it.

Rick picks out 4 ears of corn while the Produce Guy finishes chewing his raw corn.

Rick – So … uh … so … do you ever … just like … walk into a field … pick an ear … and eat it? RAW?

Produce Guy (seemingly beside himself by Rick's comment … speaking incredulously while shaking his head) – No man! I would never do nothin' like THAT!
Curtain
Cast:
Rick – Himself
Produce Guy – His Wooly, tattooed, raw corn eating self
Corn – their raw, roasting earselves
---
Light Box

By
Rick Brown
I went to my light box therapy the other day. Afterwards I ran into my dermatologist. I light heartedly quipped "Bonjour!" (I do the light box with the automated female voice speaking French.) She chuckled and replied similarly.

Then … earnestly I said, "Thanks so much for buying a copy of my most recent book. I really appreciate your support."

"You're welcome. I haven't had time to read it but I am looking forward to it!" she responded flashing a big, warm smile that was 100% sincere.

"Maybe some time I'll write a story with YOU in it!" I offered.

She continued to smile ... but her smile shifted … to about 40% flattery ... and 60% nuanced anxiety.

Apparently the good doctor knows her patient pretty well.