Summer Bean Salad
by
Jim Eaton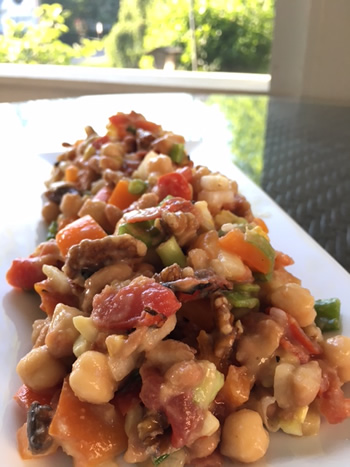 The Salad:
1 bunch of green onions
1 orange or red bell pepper
1 cup of cooked corn kernels
1 can pinto beans
1 can garbanzo
1/2 cup walnuts
2 teaspoons garlic powder
Salt to taste (~1 tablespoon kosher salt)
The dressing:
1 teaspoon mustard
2 tablespoons white wine vinegar
4 tablespoons olive oil
Combine all the dressing ingredients into a small jar and shake until combined. Alternatively, add to a medium mixing bowl and whisk until smooth. Reserve the dressing while you make the salad.
If using canned beans, drain, rinse and dry the beans. Dice the onion and pepper. Add to a large bowl with the remaining ingredients. Stir to combine. Add half of the reserved dressing, mix and taste. Add salt or additional dressing as needed.
This salad makes a great side dish for grill chicken or pork and serves 4. It would make a wonderful light lunch with the addition of a fried egg for two.