PLAY BALL!
by
Dick Fowler

Although I now live in Chicagoland, it was my hometown Cleveland Indians and their pursuit of October glory last year that rekindled my passion for our national pastime. Yes, they fell one game short (damn that rain delay), and while I no longer devour each day's box scores nor obsess over newly invented statistics, my love for baseball transcends that for other sports.
My love affair with baseball began in the late 50s when my dad used to take us to Cleveland Municipal Stadium to watch the hometown Indians. The steel superstructure was old and gray, and the bathrooms smelled like beer (or worse), but the beauty and symmetry of the infield dirt and grass and the broad expanse of the outfield seemed to me to be heaven on earth.
Watching a close play at first or a runner attempting to steal second only to be out by a whisper when the catcher's cannon-like throw gunned him down. I don't know why Abner Doubleday or whomever actually "invented" the game chose to place the bases 90 feet apart. Yet even today, with all the strength coaching and year-round conditioning, even the best and swiftest hitters in the game can find themselves thrown out at first by the closest of margins.
Other than possibly ice dancing, I defy anyone to offer an example of what is more elegant in sport than a 6-4-3 double play (that's shortstop to second to first for those keeping score). As with all plays in baseball, it begins with a duel between pitcher and hitter. Less than five seconds elapsed time between the ball leaving the pitcher's hand, timed perfectly by the batter who connects and then sprints toward first, only to be thrown out after the second baseman pirouettes, relaying the shortstop's toss on to first. And while the neo-statisticians can provide you with the odds, no one else on the field can, with certainty, tell you what will happen when the hurler delivers the pitch. All that's required is less than two outs and a runner on first.
After attending an April game between my beloved Tribe and the White Sox at Guaranteed Rate Field in Chicago, I began to think about going to another Indians game later this year, maybe even in Cleveland. Then I remembered how my older brother Keith and I used to go to games in whatever city our family vacationed in any given year. And so was conceived…. Baseball Blitz 2017.
For no particular reason, I focused on the Midwest, with a start date of Tuesday, June 27, thinking that I had to be back home on Sunday, July 2 for our daughter and son-in-law's annual 4th of July weekend party. The MLB schedule makers never contemplated that some moron would try to hit 5 cities on consecutive days in late June. I had to get really lucky. And the baseball gods were indeed smiling down on me.
Leaving Naperville mid-morning, I'd take in a night game in Cincinnati on Tuesday, I could then head northeast to Pittsburgh for a Bucs game Wednesday evening. Thursday morning I'd motor on up to Cleveland, as the Indians were playing a 12:10 p.m. game. On Friday, a roughly 4 hour drive up across the Peace Bridge would take me to Toronto for another night game and then Saturday I'd cross back across the Canada-U.S. border in Windsor for a final night game in Detroit. I'd gain an hour heading home on Sunday, getting home with time to spare for the kids' party.
But wait! Daughter and son-in-law decided to have their party on Saturday, so I go in to scramble mode. I can make it work if I reverse the route, starting in Detroit and ending in Cincinnati. As luck would have it, the Pirates were playing a night game the same day that the Indians started at 12:10! With a little positive karma, I could make the 2-hour trip down to Pittsburgh to check in to my motel and catch the Bucs in a 7:00 p.m. start. Finishing up, the Reds were playing Friday night and then I could awaken on Saturday morning and be back home in time for the 2:00 p.m. party.
Five games in 4 days, featuring ten teams. Crossing seven states in two countries. I can do this!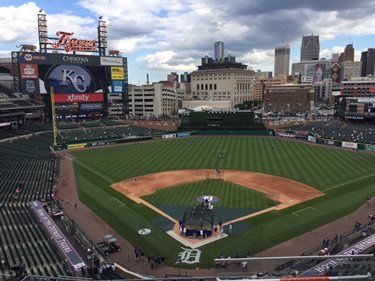 Drivel on Detroit/Windsor: Checked in to Quittenton Hall on the campus of St. Clair College in Windsor, ON, the best value in the area. Clean, comfortable dorm accommodations (and with decent coffee the next morning). Found BREW, a local microbrewery, sampled their lager and headed back across the border to Detroit. Comerica Park was the most family-friendly stop on my tour, featuring a food court with a carrousel as its centerpiece along with mini-Ferris wheel and other kids' rides. Great hot dog (Ball Park Franks; no really!), uninspired mustard (no offense, Heinz). Molson Canadian in a 16 ounce can (no milliliters; this is the US of A!). Little Caesar's does a huge business here, as the family of the late and much revered Mike Illich owns the Tigers. Detroit's still got a beautiful skyline and the entrance was super-cool with the two snarling tigers staring down, but there's a lot of exposed concrete inside that you just can't make look nice. Still a great park with friendly fans. Oh yeah…….and the Tigers topped the Kansas City Royals, 5-3.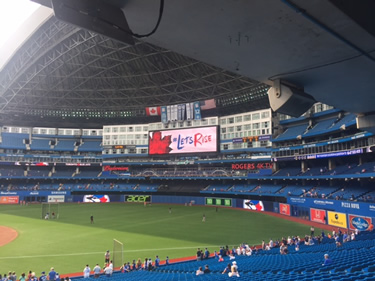 Toronto – Beauty, Eh?: Drove across Ontario (think Ohio, just on the other side of Lake Erie) and, after checking in to the Admiral Inn in Burlington headed in to the city. Toronto has a well-deserved reputation for not-so-terrific traffic and my iPhone map app did a credible job of finding a quicker route than originally planned despite the crowded and under-construction highway system. Just outside Rogers Centre (hey, that's how they spell it!) is the Steam Whistle Brewery. They make only one beer, a premium pilsner which, according to my friend Paul Moore (a Level 1 Cicerone – to beer what a sommelier is to wine) was rated Ontario's best brew last year. Delicious and smooth was the beer and convivial was the crowd, made up of mostly urban hipsters. Entering the park, I found my seat and was struck by the sea of blue chairs throughout the stadium which, instead of being monotonous, I found to be very soothing. Had the obligatory hot dog (so-so) and an Alexander Keith's India Pale Ale…..delicious. The Toronto fans are the most rabid I found in my travels and well they should have been as the hometown Jays jolted Baltimore's Orioles, 4-0.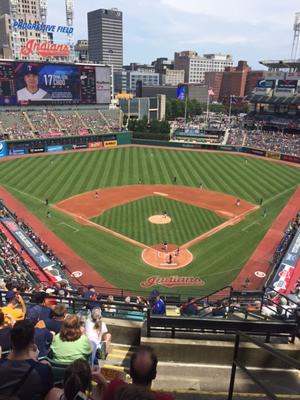 Cleveland – Safe at Home: On the road by 7:00 a.m. and back across the Peace Bridge shortly after 8:00. After an uneventful drive down the New York State Throughway and northwestern PA, I parked next to Progressive Field (which, as the T-shirts say, will always be "The Jake"), I moseyed on over to Flannery's to meet up with dear friends Barry and Brenda Beeler for a pregame Pilsner Urquell (anyone detect a pattern with this beer thing?). Walked back to the park and settled in to my usual upper deck right behind home plate seat just in time to see Cory Kluber's first pitch. After giving up a first inning homer, Cory settled in and proceeded to mow down Texas Rangers seemingly at will. Enjoyed the finest hot dog of my trip, topped with Bertman's Original Ball Park Mustard, so superior to any other stadium mustard that it's not even funny. Washed it down with a nice cold Labatt Blue Light (gotta balance out the high calorie stuff somehow). K is for Kluber, who fanned 12 Rangers on the way to a 5-1 victory. If you wonder why he was voted to the American League All Star team, just check his stats.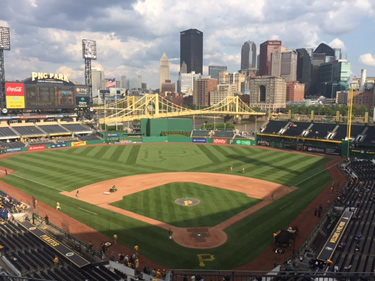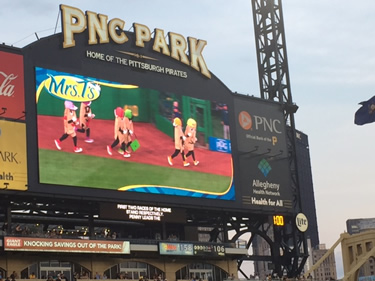 Pittsburgh (Is Beautiful, I Promise!): I headed on down the road toward Pittsburgh and as I approached Coraopolis to check in to the Red Roof near the airport I hit some serious traffic. Like many good-sized cities, Pittsburgh's highway infrastructure leaves a bit to be desired, but I checked in, threw my bag in the room and headed downtown. Emerging from the Fort Pitt Tunnel, I was blown away by the beauty of the Pittsburgh skyline, rightly described as one of the prettiest anywhere. Entering the stadium, I was similarly struck by the PNC Park, my favorite of all the parks on this tour. The view of the skyline back across the Allegheny River is absolutely spectacular. Umpire John Tumpane of the night's officiating crew had helped to save a woman's life the day before as she threatened to jump off the Roberto Clemente Bridge. First time I've ever seen an umpire so universally applauded when he was introduced prior to the game. I simply couldn't do another hot dog, so I got a nice pastrami sandwich at The Market and washed it down with an Iron City Light. For my money, the worst beer of the tour but, when in Pittsburgh………… Variation on a theme: instead of the obligatory hot dog race between innings, Pittsburgh featured a Pierogi race. You had to be there. Pittsburgh over Tampa Bay's Rays, 4-0.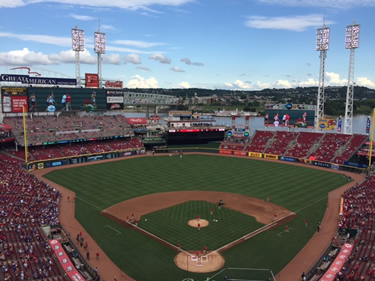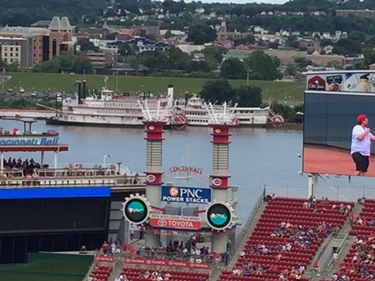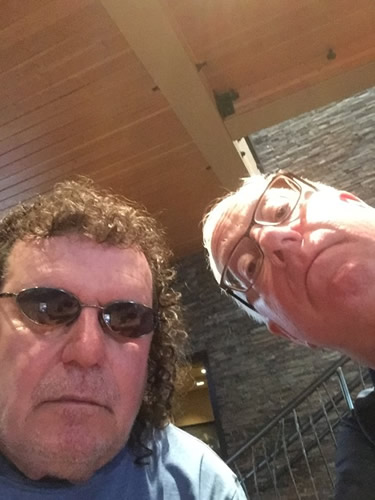 Cincinnati (Kentucky's northernmost major city): After a morning detour to visit my dad's hometown in southeastern Ohio's strip mine country, I headed west to pick up one of the Midwest's great writers and philosophers, my dear buddy Rick Brown at his home in Clintonville (Columbus). After a quick chat with Rick's wife Yvonne and Freddie the wonder dog, Rick and I pulled out and headed southwest, checking in to the Red Roof in Sharonville. It was a hot, humid afternoon, and we walked endless blocks before ending up at the pregame destination – the Moerlein Lager House across from the stadium. Again, hot dogged out, I enjoyed one of the best sandwiches ever, a short rib grilled cheese (butterkaese) on sourdough. Rick went for the fish tacos and we washed them down with some delicious brews (Happy Hudepohl – "Hudy" for me and a craft beer for Rick before heading across to the grandly named Great American Ball Park. And lest you think the good folks in the Reds organization forgot to sell stadium naming rights, fear not; for a no-obligation quote, call your friendly agent at the Great American Life Insurance Company (true…………). A beautiful view of the rolling hills of northern Kentucky from our seats, but it lacks the drama of a city skyline. A very nice park regardless. After a very hot 4 innings with no appreciable breeze, we rationalized that another bar across the street was likely to serve beer AND have the rest of the game on big screens. They did and they did. I enjoyed a Founders All Day IPA and Rick asked for a Red Stripe. Our server came back and said, sorry, no Red Stripe, so Rick ordered a Guinness. The poor server was apparently distraught over not being able to deliver the requested Red Stripe and was apparently too embarrassed to bring the Guinness, so he sat there thirsty while I enjoyed my All Day IPA. Reds 5, Chicago Cubs 0.
All in all, it was a great adventure, despite the intestinal challenges brought on by too much ballpark food and (never enough) beer, as well as the sciatica brought on by climbing in and out of my rented Mazda 6, sitting in hard plastic ballpark chairs and sleeping in different beds in inexpensive motels along the way. Four of the five cities have made remarkable comebacks (Toronto didn't need one) and my hometown of Cleveland was the center jewel in the five-game series. I saw some beautiful sights and some truly outstanding baseball, and reconnected with some really great friends. So while our nation faces many challenges, much remains right in the land and especially with our national pastime.
Now where should I go next?