Happy One Hundredth Wines

August 2107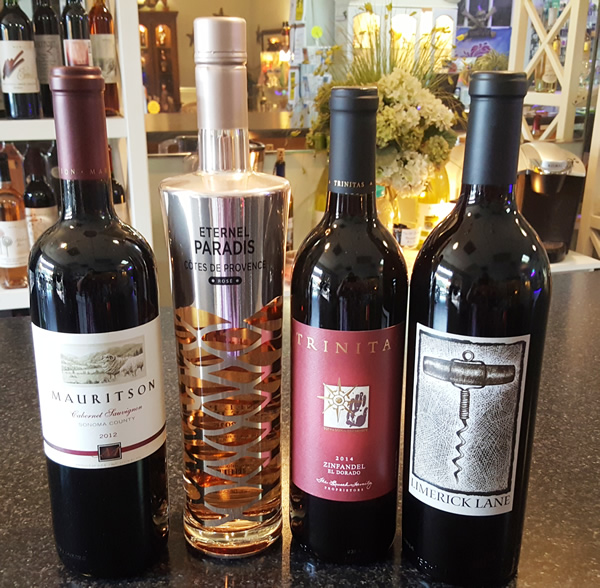 Congratulations to Naked Sunfish on its' 100th Issue! A celebration of this magnitude deserves to be recognized with pomp and circumstance and some exceptional wines. We pulled out the best wines to introduce to you this month, and with 93 and 94 point ratings, these wines will not be around very long.
We had the opportunity to purchase a great 2012 California Cabernet Sauvignon, two 2014 Old Vine Zinfandels and a 2016 Cotes de Provence that will knock your socks off! So go ahead, kick off those shoes…and your socks…and listen up about the wines you must not miss!
The Mauriston Family Winery has produced a silky, smooth 2012 Cabernet Sauvignon from the Rockpile area in the Sonoma region of Dry Creek, California. This wine has intense aromas of dark cherry, vanilla and cassis. Lush juicy flavors give way to sweet oak and roasted coffee with long tannins and a soft finish. Along with Cabernet Sauvignon, you will find that this wine is also made of 12% Merlot, 5% Malbec and 5% Petite Verdot, making this wine an especially food friendly favorite. Drink this wine within the next 5 to 7 years. If you can still find it!
California is not only the best place in the world for Cabernet Sauvignon, but also for the robust and luscious Old Vine Zinfandel. No other place in the world does Zinfandel taste like it does when it comes from California. Although its Italian ancestor Primitivo, or Sangiovese, reigns high in Europe, Zinfandel has an incomparable velvety juiciness found primarily in the California version. This year has revealed two exceptional 2014 Old Vine Zinfandels, Trinitas and Limerick Lane. What's an old vine and why is it so special? Old vines are at least 30 to 40 years old and produce only small amounts of fruit. However, that fruit is the tastiest fruit in the world! Some old vines in California are 125 years old and still producing a small quantity of prized Zinfandel fruit.
The 2014 Trinitas is a median priced Old Vine Zin, but it has received accolades from all the major wine critics including a 93 point rating from Wine Enthusiast! Trinitas is grown on a western hillside in the El Dorado region of California near the town of Camino. With a dark red and purple color, the nose boasts aromas of chocolate covered maraschino cherries, strawberry jam, vanilla and caramel. The complex palate has rich notes of cherries jubilee and a long, soft lingering finish. Ah, yum!
Now to kick it up a notch, the 2014 Limerick Lane Old Vine Zinfandel has received a 94 point rating from the world renowned Robert Parker and 93 points from Wine Enthusiast Magazine. This Russian River Valley wine is unparalleled in flavor and aromas and is the fruit of century old vines planted by Italian immigrants in the early 1900's. This extraordinary wine boasts gravity and depth along with a bright acidity, elegance and grace. I always enjoy pairing Zinfandels with spicy foods and barbeques, but it also pairs well with pork roasts and Gouda cheese! Consider this wine for a special evening or anniversary dinner. Maybe even a romantic beach picnic for two!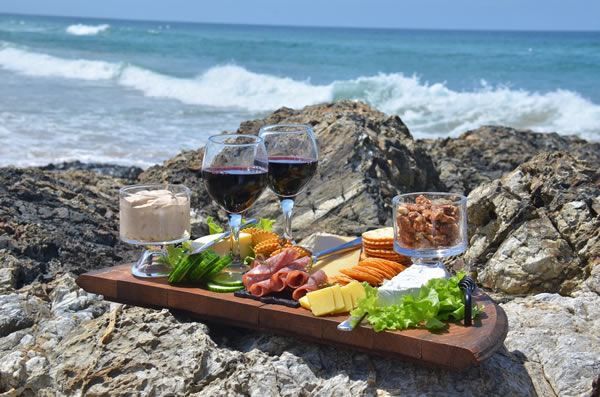 Let's not forget about one of today's most popular wines in the world, Cotes de Provence Rose! Now that Americans have finally become educated about rose's, here is a tip on one of the best Cotes de Provence ever, Eternal Paradis 2016. Just released, if the taste doesn't impress you, the bottle certainly will! A dry, crisp, floral and lightly fruity wine of the most precious rose grape, Grenache, along with Cinsault, Rolle and Tibouren. The palate is delicate and fresh with an elegantly round texture and long finish. Perfect as an aperitif with brie and stone fruit or with grilled fish and fresh vegetables. Rose's no longer have limits and can be enjoyed year round with or without food, or friends! Treat yourself to a bottle, especially this one!
What a way to elevate a grilled cheese sandwich than to serve it up by the pool with a chilled glass of Rose' or by a toasty fire with a juicy glass of Zinfandel! Makes me want to run out for lots of cheese!
Siesta Key Wines currently has these special wines available. Quantities are limited, so give us a shout out if you can't find them in your area. drinkwine@siestakeywines.com
Again, Congratulations to Naked Sunfish on its One Hundredth Issue! Here's to 100 more! Cheers!