Cuba - A Story of Then and Now
by
Susan Porter
"Never go on trips with anyone you do not love." -- Ernest Hemingway
Dateline: October 2017
Empress of the Seas aka Nordic Empress
Port of Call: Havana, Cuba
When my bestie suggested our annual vaca be a cruise, I was game. I had only been on one other cruise-- with like a million toddlers. Disney does a great job, but still it is for kids.
The Empress is the smallest ship in the Royal Caribbean fleet and it is the ticket into Havana. You are not going to be able to get the massive mobile party city boats into this small and more or less unmodernized harbor.
It is important to note, for all of you DIY travelers, Americans cannot just book a flight to Cuba. There are various travel restrictions both imposed by the US government and the Cuban government. When you go with Royal Caribbean, they do much of the leg work for you. The VISA into Cuba is $75. Remember that when you are dreaming of cheap Cuban cigars and rum later in my tale.
So you need a valid and a not about to expire passport. You need to complete a rather lengthy visa application form, you will be given the Visa coupon when you board the ship, with very stern instructions to fill it out properly and to make no mistakes, there can be no cross outs and if you mess it up, you pay another $75. It is unclear to me if it is the Americans who are stern about penmanship or the Cubans, but in any event-- be sober when you fill out that visa.
Also bring cash, but as outlined in the link above, not too much cash. Both the US and Cuba have restrictions on the the amount of cash you can bring in and out of either country. Your US based and possibly even Canadian based bank card or credit card will not work in Cuba. Cash is king. At the port, there is a place to exchange money. As Americans we pay a conversion fee, as one would expect but also, a 10% surcharge, penalty, whatever you choose to call it for bringing in and using US dollars. So if you have some Canadian dollars available, bring those and exchange those into CUCs. (more on this later.) At my visit-- exchange rate and fees-- I got 87.5 CUCs for $100. That was more than enough. Had I brought a bit more I would have purchased more coffee and rum. Understand, this is not loads of shopping. (I for one hope it stays that way.)
Based on the VISA form there are several ways Americans can see Cuba. A sponsored tour, either with a tour company or a cruise line, seems to be the easiest. We booked our excursion through the cruise line. We selected naturally-- the Hemingway experience.
Which we did not get.
For whatever reason, the Hemingway experience was not available once we left port in Tampa. Never fear, we booked the walking tour through Old Havana, which was breathtaking. While the writer and poet in me, regretted not being able to see all the places Ernest spent drinking, smoking, thinking, and writing. I did fall in love with Havana all the same.
Havana is a study in contrasts. The meeting of Spanish style architecture, with island ingenuity. Like so many Caribbean islands, it is lush, surrounded by beautiful teal tinted warm waters. A jewel of its own, before the Europeans stumbled in, plundered and raided it. Our guide briefed us on the four indigenous native tribes which inhabited the island when the Europeans "discovered" the island.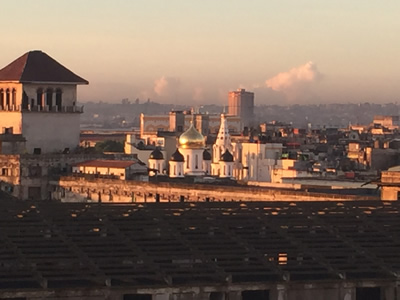 As our guide walked us through the streets of old Havana, from square to square, I was struck by just how, true that statement is-- Havana is a study in contrasts. Old buildings married to new ones. Old cars and new cars. American made 40s and 50s masterpieces of metal, Indonesian Tuk Tuks, modern and 1980s German Audis, and Soviet Laduas. With the occasional horse drawn carriage for good measure.
Old Havana is a series of narrow streets and squares. It appears that this was the Spanish building standard for decades. Old Havana is the tail of continental building standards and locals doing what they wanted, as they could, with what they could get.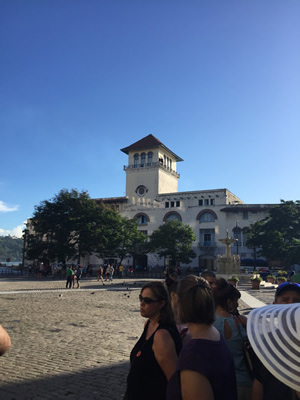 Our tour began once we cleared immigration and then across the street to St. Francis Square. Named for the church (now a concert venue.) This square is directly across from the port, which was mostly for goods, located right near the once stock exchange and custom house. In 1990, when Cuba decided to begin opening itself for tourism, the port had a shift in its purpose, that said-- there are windows missing and the port is not the modern tourist mecca that many ports are. I noted as we walked back into the port after our tour, there were some small vendors and it looked like they might add a small duty free boutique, but still, the port is authentic and as it might have been, decades ago.
While we were getting our tour kicked off and learning some of the early history of Cuba, several people began to fill the square. Several Afro-Cuban ladies in colonial style dress. Then some young men began to cluster around our group, drawing caricatures on Havana 2017 postcards. Our tour guide explained to us, that while everyone in Cuba has a job, a home, and access to medical care, wages and their ration card, simply doesn't cover the food needs and other cash flow needs in a month. So many people are coming up with a tourist centered side hustle.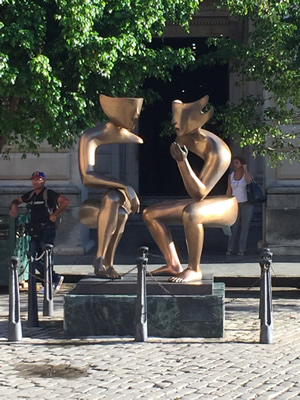 Here's the thing-- Art is a big deal in Havana. Loads of public art works were featured prominently on our walking tour. Good art. And there are no advertisements. No images of sexy girls selling rum and cigars or cars. There is simply no advertisement signage at all. At least that I could see. Even the one shop, in Old Havana, that was selling luxury goods, the sign was smaller than a page in a magazine.
Live music seemed to be everywhere too. From lone guitar players, to small bands, tucked in hotel lobbies, on the streets and many points in between. Even in quiet city parks.
So it should come as no surprise that the side hustles were art based. Quick drawings, historical costumes, dressed up dogs for themed photos. This one threw me, people were dressing up their dogs in costumes and then letting tourists take photos of themselves with the dressed up dogs. Some of the ladies in the colonial costumes were selling scarves and flowers. An older woman in one of the squares was selling stories of Cuba. She was story telling.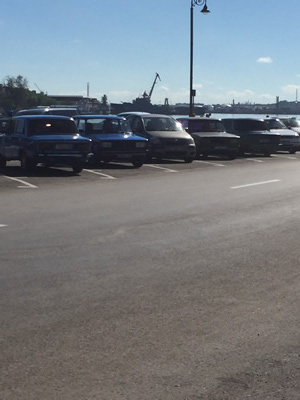 I get it. Tourists have cash and want to spend it and for whatever reason-- tourists don't have access to the Cuban peso. We exchanged our dollars into tourist currency, CUC, Cuban Convertible Units. I have no idea what genius thought this would be a good idea. I suspect it was to ensure that only the government shops could benefit from tourism, but from what I could see, that scheme has melted down. Everyone, goverment shop, private side business shop and street performers were all happy to take CUCs. The cafe we ate lunch in took dollars, CUCs, and Cuban pesos. (I should note here-- the average Cuban cannot afford lunch in this cafe. Also the average Cuban cannot afford the rum I bought that by American standards was very modestly priced. It was $8 US. For 5 year aged rum.)
We walked from square to square, seeing amazing site after amazing site. From the fortresses of old to the modern spin on repairing buildings, 1980s Soviet style.
If the railings are metal, they are modern, if they are wooden, they are original or restored with care. They do care. The Cubans recognize that they are living history. More so than many places. They have had to make due. Same with the cars. The cars are painted fantastic colors and it is a historical parade of cars. Every day. In America, an old car is often cause for pause, in Cuba, it is not only utility, but history in motion.
Why do I say the Cubans care. They are a UNESCO World Heritage city. That is no easy feat. They also are taking the time to try and manage their growth as a tourist city. Here's the thing. I think part of the reason US-Cuban relations took a nose five in the 1950s and early 60s is many Cubans were tired of being the American and Europeans' football and being the bad guy's playground. This is their home. The Cuban people are very proud of their heritage and way of life. A sense of pride I could see everywhere. It is actually someone's job to clean the cobble stones. The streets were clean and well cared for.
The midpoint of our tour was to stop at a typical colonial style house to have a coffee, rum, and cigar tasting. Our host looked like he was out of a 1950s movie. Coffee, rum, and cigars are what put Cuba on the map. Cuba is still very much an agriculture based economy. Our guide said more people are employed in agriculture than one would imagine. The coffee, rum, and cigars are made the old fashion way, no fancy food science, no deviation from age old practices. It shows.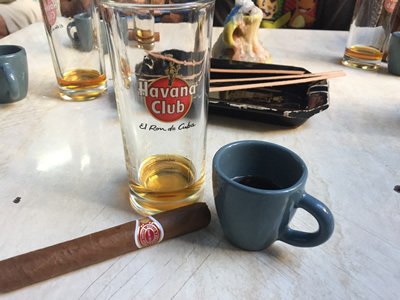 Let's get this out there-- the Cuban coffee is the best coffee I have ever had-- hands down. The best. Smooth, no bitterness. I am a coffee with cream girl, and I happily drank this black. The rum was amazing and I know nothing about cigars but I have to say, it was smooth and worth the time. And that is the thing-- these pleasures are pleasures that take time. Something I think Americans have lost. The art of taking time to really dig in and enjoy those vices. I unapologetically, finished the rum that my table mates left undrunk… When in Hemingway's adopted home, do as Hemingway would do. I seriously doubt he would have left rum undrunk. If he did-- well, he's not the guy I think he is.
Understand, I get it. The recent history of Cuba has been very hard. Families have been divided and there is still a struggle. Cuba went the path of communism. Our guide was very honest-- there are trade offs. Sure everyone has a job and healthcare, but the hospital building is crumbling. There isn't always enough to eat, but everyone eats. I think there is a sense of the trade offs. This is not some utopian paradise, paradise maybe, but with an understanding of the costs and trade-offs.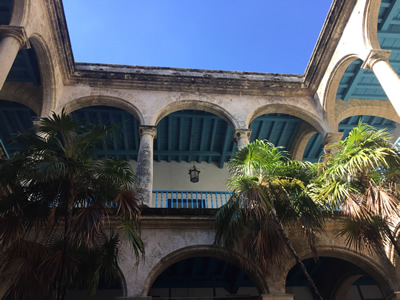 Winding through Army Square, Cathedral Square and then New Square, we saw Havana in a way I never thought I would see it in this lifetime. And this was but a taste. It was an appetizer and I do want more. My friend and I had lunch in a small cafe and then wandered around a bit, ending with iced coffee so delicious and refreshing.
A question I keep getting is "Did you feel safe." Absolutely. Those side hustling for the most part were very respectful. One older guy with his guitar was pushy. Out of the dozen or so that I saw, he was the only one who didn't give up until I gave him 1 CUC. Also, I saw several pairs of police officers and unlike in the States, each pair was one man and one woman. I have no idea if this is standard or for show. This was often the case in East Germany, police or security officers in pairs, one male and one female officer.
My hope is they succeed. I hope that they keep the old world charm and their culture alive. Cuban history is really that of a tug a war. It is the story of colonialism and it is ugly at times and their choices have often been between a rock and hard place. This new Cuba, I hope it can emerge as the independent and vibrant country it so wants to be.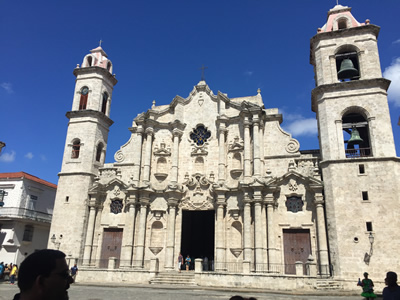 I do disagree with Hemingway though-- "Don't bother with churches, government buildings or city squares. If you want to know about a culture, spend a night in its bars."
As much as I loved my mojito, sitting in the street cafe, the meat, the heart of Havana, is in the streets, the facades of her buildings and in the hustle and bustle of the streets. Can the Cubans expand their borders and keep the heart and soul of their beloved Havana alive?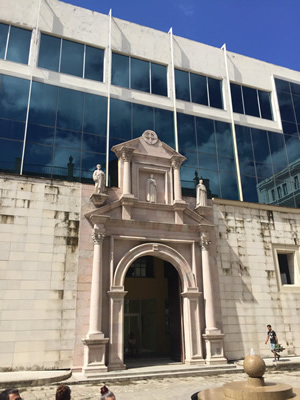 Only time will tell.
My advice, go to Cuba now. You won't be sorry.