Yvonne's Special Omelet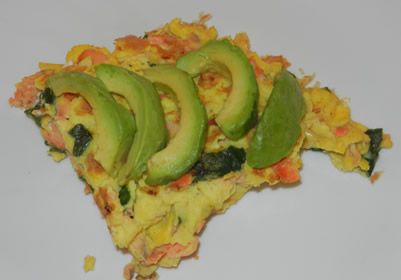 by
Yvonne Bown
I call this a special omelet, as several of the important ingredients are not options
at most restaurants. Some are also not ingredients available at the regular grocery.
The first is a goat cheese called Bucheron. It is sold as a slice from a log shape,
has a rind and is soft similar to a brie. It melts much better than regular goat cheese,
and has a unique flavor. One other item is a piece of smoked salmon, not the lox style, but a piece of salmon smoked by your local fish market. Finally, an important ingredient
that is sold many places but hard to find at just the right ripeness is avocados. The best
will usually have darker rinds and feel firm, but with just a little give when you gently
squeeze them.
Omelet ingredients for two servings:

6 eggs beaten
1/4 cup of fresh spinach in bite size pieces
4 oz. piece of smoked salmon (if the salmon is not available or you
prefer a vegetable version, broccoli flowerets are also good)
Slice of Bucheron (about 4oz.)
2 avocados sliced
Black pepper to taste
Peel and slice the avocados lengthwise and fan on a serving plate.
Heat up a medium skillet on medium heat and add a little olive oil if not using
a non-stick skillet. Pour in the beaten eggs and using a spatula stir the eggs.
Grind on black pepper to taste. Add the spinach and salmon when the eggs
just begin to cook. Keep stirring/flipping to mix everything well and be sure the
eggs are cooking thoroughly. Before they are totally cooked, use the spatula to
flatten them to an even height in the skillet. Turn down the heat to low.
Using your (clean) hands, put little dollops of the Bucheron all over the top
according to taste and cover for a few minutes to melt.

To serve flip one half over the other omelet style. Arrange the avocado slices
on top. Enjoy!