Uncle Mooney's Premium Porter
---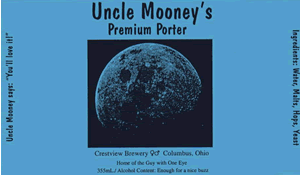 This is merely a recipe. To learn how to brew your own beer at home using recipes such as this I highly recommend reading (as well as purchasing for further reference) "The New Complete Joy of Home Brewing" by Charlie Papazian. This recipe can easily be reworked as a "full mash" or "all grain" recipe by replacing malt extract with grain and changing the water/grain ratio for the mash as well as sparging.

Ingredients
5 1/2 lbs MF Light Malt Extract
3 lbs. Pale Malt
1/2 lbs. Roast Barley
1/2 lbs. English Crystal Malt
1/4 lbs. Chocolate Malt
2 Ounces Cascade Hops
#1318 London Liquid Yeast

Brewing
Mash grains with 4 quarts water at 170 degrees
Put in oven for one hour at 155 degrees
Sparge grains with 2 gallons of water at 170 degrees
Bring to a boil, add malt extract and 1 1/2 Cascade hops
Boil for one hour. Add 1/2 Cascade hops to finish.