Dreamy Chocolate and Peanut Butter Chip Cookies by Jim Eaton
---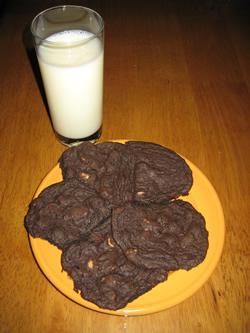 Ingredients:
2 sticks room temperature butter
2 eggs
2 cups unbleached flour
1/2 cup dark cocoa powder (Hershey Extra Dark)
1/2 cup brown sugar
1 cup sugar
1/4 teaspoon salt
1/4 teaspoon baking powder
1/2 teaspoon baking soda
1 tablespoon vanilla extract
1 tablespoon instant coffee - mixed with enough water to form thick paste
1/2 bag dark chocolate chips
1/2 bag peanut butter chips

Method:
Preheat oven to 350 degrees Fahrenheit.

Combine flour, cocoa, baking powder, baking soda and salt in mixing bowl. Whisk to combine. Sift until all lumps are removed and cocoa well combined with flour mixture.

Cream the butter, sugar and brown sugar together with electric mixer until smooth. Add eggs, vanilla and coffee paste and mix until light and fluffy. Add half the flour mixture and beat on low to just combine. Add the rest of the flour mixture and mix to fully incorporate the dry into the wet ingredients.

Stir the chips into the batter with a wooden spoon just until combined - do not over mix.

Using a large tablespoon form the batter into 1 inch balls and bake on foil lined baking sheets for 10-15 minutes. Let the cookies cool on the sheet. The cookies will look underdone but they will finish cooking on the baking sheet and I think they're better a little soft.

Enjoy with tall glass of milk.