Greek Style Pasta with Shrimp and Capers
---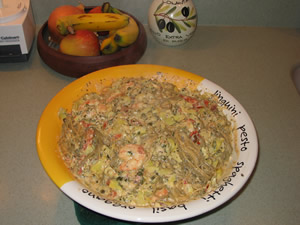 A confession to begin. This is not truly an original recipe. I encountered it on epicurious.com and used some of the suggestions from people who wrote in to rate the dish. It's quite delicious and easy to make. So thanks to epicurious.com, the Cottage Inn, Eureka Springs, Arkansas, and of course "Four Forks from Ft. Wayne"…whoever.
Time: 45 minutes…unless you're like me so add another 20 minutes for fretting.
Serves: 4
1/4-cup olive oil
4 teaspoons minced garlic
1 pound uncooked medium shrimp peeled and deveined
2 small cans artichoke hearts drained and chopped
1 1/2 cups feta cheese (get the good stuff)
1 small can diced tomatoes with juice
3 tablespoons fresh lemon juice
3 tablespoons chopped fresh parsley
2 tablespoons finely chopped fresh oregano or 1 1/2 teaspoons dried
2 tablespoons capers
12 ounces angel hair pasta
Heat oil with high heat in a large skillet. Add garlic and sauté briefly, then add shrimp and continue sauté until almost cooked through…about 2 minutes. Add artichokes, feta, tomatoes (with juice), lemon juice, parsley and oregano and sauté until shrimp are firm but not overcooked. Add capers at the very end.
While sautéing bring lightly salted water to a boil in a pasta pot. Add pasta and cook until tender stirring occasionally. Drain and transfer pasta to large serving bowl.
Add shrimp mixture to pasta, toss to coat and serve.
This is REALLY good!!!!!!!!!!!