Rick's Hellion Jalapeno Poppers - Rick Brown
---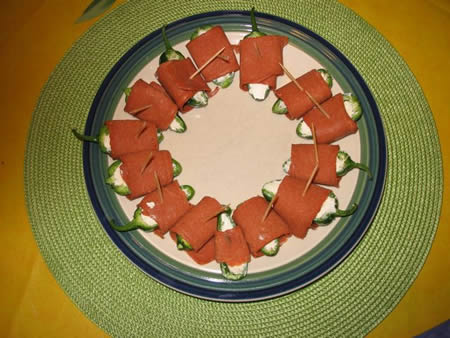 I got this recipe off the internet…but have tweaked it considerably to suit my taste. You can change it if you like…real bacon…or cream cheese. Matters not to me. The recipe is enough for 2-4 people as an appetizer but can easily be doubled or tripled for parties. It IS relatively labor intensive…if you lack the knife skills as I do.
Ingredients:
7 medium to large fresh jalapeno peppers, halved and seeded. Try to get most of the pith as well. This is the hottest part of the pepper.
One 8 once package of organic Neufchatel cheese (yummier than plain cream cheese)
One package of Lightlife Smart Bacon
Toothpicks
Directions:
Preheat oven or toaster overn to 350 degrees. Spray a cookie sheet or toaster oven tray with cooking oil spray.
Stuff each jalapeno half with Neufchatel cheese. Wrap one Smart Bacon strip around each half and secure with a toothpick. There are 14 strips in each Smart Bacon box so you should finish perfectly. I use a sharp knife to peel away each strip easier. Otherwise they tend to break. Arrange all the poppers on the cookie sheet/toaster oven tray.
Bake for 12-15 minutes, or until the cheese is melting and the Smart Bacon strips are crunchy. Serve immediately. Be sure to have a cold beer or beverage when you start eating these Hellion Jalapeno Poppers! A chilled Viognier or Prosecco also go very well.