---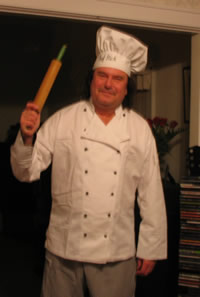 Preparation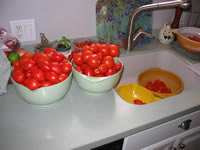 Disclaimer: If you attempt this recipe in the enormous volume that I usually do…keep in mind these things WILL come true…regardless of whom you are.

1). You will trash your kitchen! (I don't care HOW neat you are.)
2). You will not be in the best of moods when you finish…especially if you do everything in the same day. (I recommend two days for extra large batches.)

It's best to do the prep work and take the night off before proceeding. Otherwise Chef Boy R Rick and Naked Sunfish are not responsible for what may or may not transpire by the time you finish your red sauce…and if you're doing a batch as big as the one I just started I can guarantee you it won't be a candlelight dinner!!!!!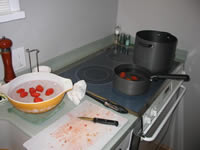 Okay…that said let's begin with skinning the tomatoes you either grew in your garden or bought at the store. You can leave the skins on…but they don't digest very well…and the sauce looks…well…amateurish. If you want to take the seeds out ask for a leave of absence from your job…or retire if you can. Seeds add zip…at least I think so. I use Roma tomatoes. They're the best for sauces. But it's entirely up to you. If the tomatoes are not completely ripened…deep red with a little give when you squeeze them…put them in a bowl and cover with a dishtowel. Some sort of chemical reaction will make them ripen. An old Jewish woman taught me this…the same woman who convinced me at the ripe old age of 28 to start putting money away for retirement. Heed her advice! She was very wise indeed
.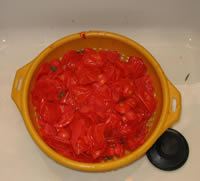 When you are ready to begin your sauce buy a bag of ice from a carry out. This will save you a lot of aggravation later and you'll still have your homemade ice ready in your freezer for a stiff drink. You will need it. Boil some water in a small saucepan then turn down to medium high. Fill a large bowl 2/3 to the top and add a handful of ice. Take the stems off your tomatoes, rinse them and place in a strainer. Have an extra strainer ready for the discarded skins.

Make sure you have a pasta spoon…one that drains…handy as well as a paring knife.
Drop about 6-8 rinsed tomatoes into the hot water and leave them in for about a minute. Fish each one out using the pasta spoon and drop them into the bowl of cold water. Wait another minute. Take one at a time out. Cut the stem end off and any discolored areas. Pinch them with you fingers over the extra strainer. The skins should come off easily. If not leave the tomatoes in the hot water a bit longer. Slice the skinned tomatoes into about 1/2-inch pieces and drop into a large pot. Once you have the pot about 3 inches deep turn the heat on to Med/Low and leave there…stirring occasionally…until all the tomatoes are skinned and in the pot. Continue until all your tomatoes are skinned. Simmer chopped and skinned tomatoes for about an hour and turn off heat.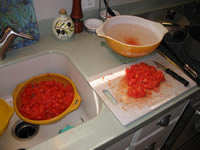 This is where I stop and wait until the next day to make the sauce because I'm usually making about 3 gallons worth. If you are making a smaller batch and want to continue…knock yourself out. But I highly recommend sleeping on it for huge batches! I need to keep my sanity…and my spouse.
The Sauce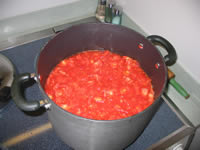 Okay…this is a general recipe that makes sauce for say 6-8 people. Remember that math and cooking don't always mix. So if you're doubling the recipe…or a maniac like me and quadrupling it (or even more)…this DOES NOT mean you quadruple the oil, herbs, onion, etc. Basically onions serve as a catalyst for enhancing the herbs, etc. So you're on your own here. I doubt you'd ever need more than 4 cups of chopped onion…unless you have some sort of weird onion fetish. I love basil and oregano so it would take a lot for me to think it was too much. You'll never need more than say, 3…3-½ tablespoons of oil…regardless of the recipe size. (voice of experience talking) Plus don't be afraid to add other ingredients like mushrooms if you like. Also, you can add more tomato paste if the sauce seems too thin to you. I suggest starting with the small recipe and once you have a little experience then you can fine-tune it.
Ingredients
2 to 3 Tbs. Olive oil
2 cups chopped onion
1½ lbs. Tomatoes sans skins (or a large can of peeled)
1 medium sized bell pepper diced
1 - 6 oz. Can of tomato paste
1 Tbs. Honey
2 tsp. Basil (I used minced fresh this time)
1 tsp. Oregano
1 tsp. Thyme
black pepper to taste
4 – 6 large cloves of garlic,
1½ tsp. Salt minced
½ cup minced fresh parsley

If you've prepared the tomatoes they are already in the pot you will use for the entire sauce. (If using canned tomatoes you can do everything in a large pot or Dutch Oven.) In a large skillet heat the olive oil until it bubbles, turn down heat and sauté onions for a few minutes. Add herbs, salt and bell pepper and sauté until onions are soft.
Combine with the tomatoes, tomato paste, black pepper and honey in the largest pot you're using. Break the tomatoes into smaller pieces if necessary. Bring to a boil then lower heat and simmer for 30 minutes. Keep pot partially covered.
Add garlic and simmer for about 10 more minutes.
Chef Boy R Rick's Secret Ingredient: Add one ga-lumph of dry red wine…more ga-lumphs for bigger batches. And remember…if the wine's not good enough to drink…it's not good enough for this sauce!!!!!
Stir in minced parsley and ladle over linguine or the pasta of your choice.
This sauce can be refrigerated for days and freezes quite well for up to a year! (no kidding!) It can be used in lasagna, eggplant Parmesan
manicotti…anything your little heart desires!! I've dropped muscles into the sauce 5 minutes before serving. Shrimp and scallops also cook well in the simmering sauce. It's VERY versatile and one batch of Chef Boy R Rick's Italian Red Sauce can easily be stretched into 2 or 3 dinners!!!
Bon appetite!!
Okay…now clean up your KITCHEN!!!!!!!!!!!!!!!!!!!!!!!!!!!!!!!!!!!!!!!