A Note Form the Editor of Naked Sunfish
When Dan Eley gave me a website for my 50th birthday I had no idea how it would work, what it would be called, or who would be involved. I had some ideas...that was it. And I had been writing for Naked Sunfish veteran Ted Kane's Crapshoot! site for a couple years and felt confident with my work. Yet Naked Sunfish might never have become the catalogued, successful, electronic magazine and community it has blossomed into without the influence and encouragement of these two very important people in my life. Shortly after our first edition, avant guard poet Dr. John Bennett joined our family and we were well on our way. To these three talented men I am forever grateful.

I am proud that Naked Sunfish has grown into the complex magazine that it has...and I could state here that I am surprised we are celebrating our 6th anniversary in 2008. But I am not surprised in the least. Having worked at The Ohio State University for almost 31 years gave me the privilege of meeting some of not only Ohio's brightest and best, but aspiring scholars, poets, artists, musicians, philosophers et al from around America...and around the world. (A couple of our contributors might actually be from somewhere beyond that real estate!)

Each issue is meticulously assembled under the genius of webmaster Daniel Eley from virtual contributions around the planet. Dan transforms everyone's efforts into a visual and technological masterpiece. I have known this friend for most of my time here in this world and I look forward to new horizons together for the future. I know I speak for our many, many dedicated Naked Sunfish family members when I say our work is far from complete. In fact, after 44 issues I believe we have really just begun. Special thanks to our readers for their loyalty and support.

Rick Brown
Editor and Head Writer
---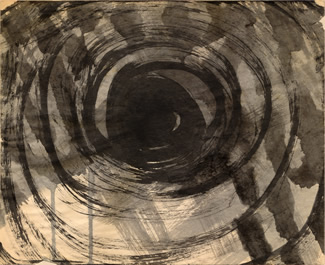 Lens
by
Amy McCrory
---
January 20, 2008: Retirement Day 21 Checklist of Accomplishments
Sunday Solitude
By Pajama Boy
Drove wife to the airport.
Mourned loss of Suzanne Pleshette on drive back.
Came home and put on blue plaid pajamas.
Let dog out.
Got newspapers off front porch. (Brrr – 20 degrees)
Built fire in fireplace. (red man's fire *)
Let dog in.
Read the New York Times. ALL of it.
Drank coffee.
Mourned death of Richard Knerr, co-founder of Wham-O, company that introduced the Frisbee, Hula Hoop, and Super Ball.
Let dog out.
Ate bowl of cereal while standing watching Giada De Laurentiis on kitchen TV.
Let dog in.
Gave dog cookie.
Talked to friend on phone.
Talked to wife on phone.
Let dog out.
Ignored 8 mystery phone calls.
Read the Columbus Dispatch. (Took 15 minutes)
Let dog in.
Emailed a little bit.
Let dog out.
Listened to classical music and opera.
Read from Connie Shultz's "…and His Lovely Wife".
Let dog in.
Horsed around with dog.
Let dog out.
Ate homemade soup.
Let dog in again and told him to "cut the shit".
Gave dog cookie.
Took shower.
Put on green sweatshirt, black sweatpants, blue socks, black sandals.
Poured Bakers 7 Year Small Batch Bourbon (on the rocks) and began sipping it.
Turned TV on to watch football
Let dog out.
Got leftover eggplant Parmesan out of fridge while 2nd guessing size of bourbon drink.
Let dog in and repeated "Cut the shit" empty threat.
Roughhoused with dog. (Somewhat different than horsing around…involves dog "skootching" under master's arm.)
Gave dog reward cookie for superb "skootching".
Carried in firewood and initiated "white man's fire".
Let dog out.
Set oven for 375.
Let dog in.
Put dinner in oven.
Shielded dog from heat of white man's fire while watching football.
Ate dinner at halftime with glass of Chianti.
Gave dog cookie.
Cleaned up and let blaze downsize to red man's fire.
Stepped on one of 12 bones dog put in front of fireplace while returning to couch.
Caught balance avoiding fall on floor.
Talked to wife on phone.
Resumed white man's fire.
Flipped between football and Iron Chef. Both contests close.
Let dog out.
Made coffee for morning.
Let dog in.
Missed end of Iron Chef while watching New York Giants win in O.T.
Watched Lewis Black on Comedy Channel.
Woke up on couch 20 minutes later.
Let dog out.
Let dog in.
* as a young summer camp counselor I learned of a supposed Native American axiom that read: White man build big fire…stand waaay back. Red man build little fire…get way up close.


---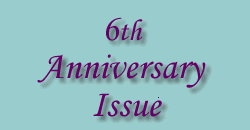 ---


Complied by Dan Eley
War: Never Pure, Never Easy
by Ted Kane

Issue 12 - April 2003
---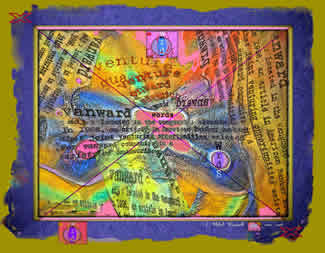 Avant-Envelop

by
C. Mehrl Bennett
---

---

---

---

---

---

CrazySexyCool
Shadowbox
Easton Town Center
Columbus, Ohio
* * * * *
by Rick Brown

After attending every Shadowbox show for the past five years one might believe this writer would be getting a little weary of the sketch comedy/rock and roll format. Admittedly, seeing a skit reprised three, sometimes four times would get redundant for anyone. But what I have witnessed the past couple years is the troupe's expanding repertoire of technological effects, superb and maturing choreography, more risk taking with the writing, along with the integration of every facet of the visual and aural cultivating into a seamlessly grand performance, consistent from beginning to end.
continued...
---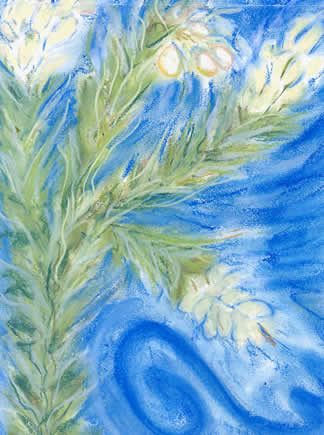 Joshua Bloom

by
Donna Maria Distel
---

The Non-Fictions Theater of the Truly Mundane proudly presents:

Fiesta Time!!

by Rick Brown
Scene: A small, festive, brightly colored Mexican restaurant. Booths line the walls stage left
and right with tables and tall backed, multi colored chairs center stage. Mexican music plays in the background. The walls are adorned with festive Mexican regalia such as a pinata, flags and artwork.

Rick and Yvonne are sitting, chatting in a booth stage right. The table is cluttered with empty dishes and a large margarita pitcher that is also empty. They have finished their dinner.

A tall, thin Hispanic woman walks over, begins clearing their table and asks if they would like dessert. Both shake their heads "no". She smiles, takes the dishes to the back room offstage, then returns shortly with their bill. The waitress gingerly lays the check on the table directly in front of Rick. Yvonne nonchalantly reaches across their table and pulls the check in front of her.

Waitress - "You will pay the amount then?"

Yvonne - "Yes. Yes, I will."

The waitress turns to Rick with a confused look on her face.

Rick (smiling) - "Hey! I certainly don't mind her paying the check. But now she's going to expect SEX!!"

Waitress - "GASP!!!"

Curtain

Cast:
Rick - himself
Yvonne - herself
Waitress - herself
---
"Destiny - Prologue"
by
Dennis Toth



"...Maybe any human being was his own enigma which he would take with him to the grave." -William Faulkner
---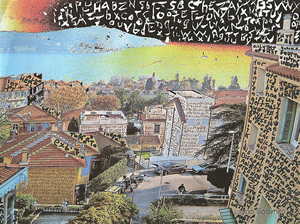 Visual Poem
by
Luigino Solamito and Jessy Kendall
---
Weekend Excursions in Ohio
Part I - Kelley's Island
by Rick Brown
There are plenty of great places to visit in Ohio for 3…maybe 4 days. And here is the first of two (part II next issue) I will write about. I would advise not to stay more than a few days. This is especially true of Kelley's Island. It's not that I don't love the place. I really do. But like an old British sports car it is always best when the weather is nice and your plans are firing on all cylinders. I have spent many a weekend on Kelley's and the one's that involved rain and cold weather…well…let's just say I was happy to get home afterwards, especially when I've camped. But the State Park has been revamped and is much nicer than when Dan (N.S. webmaster) and I spent a couple "Lost Weekends" there. Here is the beach at the park on a beautiful afternoon last September…which is a great time to visit because the place has less tourists.
continued...
---
OOH LA LA!

Wednesday, January 16, 2008
10:37 a.m.

by Rick Brown
I went to a French Bakery called La Chatelaine this morning to pick up some bread and this pretty…dark haired... "forties-ish" woman with a "Donna" name tag, dressed in her French peasant dress smiles and says "Bonjour". I reply "Bonjour mademoiselle" and order a boulle..."s'il vous plait". So she pulls a boulle out of the appropriate basket and puts it in the slicing machine, slices the loaf, wraps it up for me and asks if I wanted anything else. I tell her "merci no." Then as I'm giving her my money she inquires, "Are you going to eat it now"? I must have looked quite surprised…perhaps even taken aback…because then she says, "The bread...it is very…fresh!) This kind of threw me for a loop…took me out of my element I suppose. I stammered sheepishly, "Probably…uh…not until tonight." And in response…as she gingerly places the change into my awaiting palm, she smiles broadly at me and almost purrs, "Just one piece now perhaps…in your car. It is very...very...fresh."
And I thought...wow...she's flirting with me.
I may or may not have blushed.
Charming little vignettes like this...I mean...I've been thinking about her on and off all day...these are the good things in life. C'est bon.
A taste of my own medicine I suppose.
I don't even think she is French.
Don't care