Christmas at 2Co's
2Co's Cabaret
Short North
Columbus, Ohio
* * * * *
Holiday Hoopla XIII
Shadowbox Cabaret
Easton Towne Center
Columbus, Ohio
* * * * *

by Rick Brown
Originally I was going to write separate reviews of these two shows. After seeing them both in a short time span I realized they're so similar that it might seem redundant. Not that that's bad. After all, the theme is Christmas and no matter how you look at it there's the Jesus story and the Santa story. Neither performance mentions Kwanzaa, Ramadan, or Hanukah. Unless you count the song "Oy To the World" performed at Shadowbox. As good as the tune was the toast given shortly afterward…during the superb "A Cindy and Lavern Christmas" (Mary Randle and Julie Klein)…re-established the show's main focus…joking about Christmas. "Let's not forget Jesus is the reason for the season!" And looking to the sky these two trailer park trash mothers lift their beers and exclaim, "J.C. This one's for you!" Amen…burp!

After attending all of the productions given by these two fine cabarets the past two years, I think some observations might be more relevant than a typical review. Shadowbox and 2Co's both use the same structure of monologues, skits, or one act plays sandwiched between some remarkable music by house bands BillWho? (Shadowbox) and Downtown DFN (2Co's). The real differences are logistical, SBox being at a mall and 2Co's in the city. Going to Easton Towne Center involves all that is mall culture…waiting for a parking space…dodging cars as a pedestrian once parked…and shouldering your way past bored "I'm so frikkin' cool I could kiss myself" bored looking teenagers. At 2Co's there's a tiny parking lot behind the building, where you will be shown where to park, most likely by the band's drummer. Shadowbox Cabaret is housed in a corner of the mall. It's a large space…flashy with television screens. 2Co's is much smaller … understated … more like a 60's coffee house than a theater. Beyond this both experiences share more in common than not. Yet people I've encountered in the audiences have usually expressed their loyalty to one cabaret or the other. "I went to 2Co's once and didn't like it as well. I don't enjoy country music" was how a tablemate put it this night. Understandably, I was surprised the second time I attended Shadowbox and realized that no…not every show…is about sex. I most certainly have my favorite. And those who have read my reviews can probably guess which it is. I enjoy both really. But for different reasons…even though the similarities far outnumber their differences.

Beginning both shows is a thought-provoking piece. "Holiday Hoopla" has a fine reading of Robbie Nance's "Best Damn Santa Around" by David Gigliotti. The story of a recently fired store Santa, Gigliotti endearingly explains between swigs of beer the nuances of "reading the parents" while asking their children what they want for Christmas. His sensitivity becomes the reason for his dismissal. And while Joseph Lorenzo's reprised Three Grunts Lost (by Michael Rodriguez) is more intense in subject matter, both actors start their respective shows off with class and poignancy. Mr. Lorenzo's riveting tale of three G.I.s in Vietnam wandering into a metaphoric nativity scene is nothing short of inspirational.

Both productions celebrate the unrelenting exuberance of children at Christmastime. At 2Co's, Chris Chambers' impish take on Paul Feig's Army Issue Elf certainly rekindles memories of school plays and how one's parent's indirect involvement (in this case insisting an elf outfit could be scrounged up at dad's army-navy store) can be universally humiliating, yet a lesson in what's really important in life. Amy Lay's wonderful 7 year old who lectures us about the impossibility of Santa Claus in Hoopla's "Santa Fraud" (by Robbie Nance) is also a delightful…albeit painful reminder of one's epiphany concerning the uh…lie…that is Mr. Claus. And Shadowbox's excellent ability to portray an elementary school play is well represented in "Hoopla XII" by their original "Kids-mas Carol". Mary Randle shines as teacher Mrs. Hosenfeffer doing her best to keep her class's play from blowing up into chaos as Julie Klein hilariously portrays lead character Ebeneba (Scrooge) with cherubic…yet irreverent…aplomb.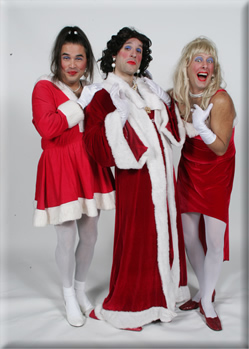 "Christmas Queenies"

Opposing sides of the same coin are Tom Cardinal's effeminate rendering of Hollywood (Jeff Goode) at 2Co's, and Shadowbox's "Dasher", (also Goode) played with mucho macho by Jimmy Mak in drill sergeant fashion. As reindeer Prancer, Cardinal hysterically chronicles his tenuous relationship with red nosed…and more famous…Rudolph. Ditto for Mr. Mak as testosterone blinded Dasher with both actors bringing down their respective houses.
Continued below...


---
PotLuck
by Ted Kane
Compiling a best of list for 2004 is actually a fairly tricky endeavor. In rock, several reliably good bands put out new releases this year; though most of them were solid, few of them were really exciting. The latest efforts from Drive-By Truckers, the Magnetic Fields and Beastie Boys were all worthwhile, but none of them matched the best of their previous work. One exception to this was The Fall, who put out a fine, fine album in /The Real New Fall L.P. (formerly 'County on the Click)/, the long-winded title alluding to the fact that the original version of the disc had been bootlegged online. Calexico released a great E.P. of mostly covers--their versions of the minutemen's "Corona" and Love's "Alone Again Or" with a full mariachi band are the very definition of inspired--and Stereolab released a very likable 3 song CD single, but do such short efforts count?
Continued...
---
A WEEK OF EXCITEMENT AND SUSPENSE IN THE RE-ELECTED BUSH WHITE HOUSE
or
How Laura Bush Might Just Cause an Invasion of Iran
by David Hochman
(A one-act play which probably makes the White House appear far more intellectual than the author intends).
I
(Bush enters the Oval office at 6:30am, yawns, farts loudly and chuckles. As he turns on the lights, he is startled to find Cheney, Powell, Rumsfeld, and Rice already sitting there).
Bush: Jesus Christ, you guys scared me, what the hell you already doing here?
Rice: You told us to be here for a 6 o'clock meeting, sir—a matter of national security, the memo said.
Bush: Did it? Did I? Oh, yes, of course I did. National security. (Reflects) Jesus, why were you sitting in the dark?
Powell: You said the government's so much in debt, we have to be careful with the electricity.
Bush: Yeah, that's right. Good thinking. Uh, anyone hear me fart?
Rumsfeld: (Blushing) If we did sir, we'd deny it to the end, believe me.
Cheney: I didn't hear shit.
Continued...
---
A Visual Slice of Chicago
by Patrick O'Malley


A Photo Essay
---
Blank Sight

by John Bennett

Each Feet
---
Meet the Parents (in Morocco)

By Sarah Moukhliss
Abdel and I decided to watch the new Bridget Jones Diary movie today. The only thing more exciting than going to the movies is getting there early to watch the previews. I'm a big fan of "Meet the Parents"; therefore I was excited to see that they were coming out with a sequel, "Meet the Fockers"! For those of you haven't watched the first movie about meeting potential in-laws for the first time… now it is time for the potential in-laws to meet your own family! AARRGH! I have to admit that I can relate. I met Abdel's parents for the very first time last summer. Although we had been married for a year, I still had butterflies in my stomach. My in-laws were not living a city way from me, nor a state away from me… they were living a continent away from me in Morocco, Africa! I am unable to speak Arabic, French, or Berber, and they were unable to speak English. Trying to communicate was an adventure in itself! Needless to say, despite a few hiccups I had a marvelous time in Morocco. I even renewed my vows with a second wedding at my mother and father in law's house, Zaharra and El-Houcine, respectively in Marrakech. Abdel and I glowed months after we got back. We showed our marvelous photos of family, Marrakech, Casablanca, Rabat, and Fez to everyone including my own parents, Wayne and Kerry. Seeing their enthusiasm, Abdel and I extended an invitation for our next visit & as you are about to see they took us up on the offer.
Continued...
---
Prelude to Armageddon
Rick Brown with Amelia Hapsari
I'll tell you what happened in Ohio…if you really want to know. The "Evangelicals"…(as they call themselves) were lured to the polls with Issue 1. The Republican Party, who either assume born again Christians are too stupid to figure Issue 1 was unnecessary because Ohio already has a law forbidding gay marriage, or they wanted a law that encompass a wider range of "sinners". This was not merely an amendment to the state's constitution banning gay marriage, but maliciously deprives unmarried heterosexuals and their children of health benefits and personal rights. Even our Governor Bob (the Blob) Taft came out against Issue 1…albeit only a few days before the election. Either way, Karl Rove and company played "evangelicals" like a fiddle.
Continued...
A Naked Sunfish Holiday Tradition
Holiday Cheer from Aunt Edith

by Rick Brown
My late Uncle Wes lived with my Aunt Edith for most of his adult life...although I'm sure it seemed like an eternity to him. He worked for the Bethlehem Steel Company in Baltimore for thirty years until he retired. He worked the night shift getting off around 7 a.m. when he would come home for dinner. In the summer when it was warm...and Baltimore can get very, very humid...he would go to a movie matinee in an air conditioned theater and sleep. If you knew my Aunt Edith you would assume what I did...even as a child...and that was that Uncle Wes worked nights and went to matinees to get away from his wife. He never said much. He was a slight, wiry man of few words. And the few words he almost always uttered were, "For Chrissakes Edith! SHUDD UPP!!"

The man was almost incidental by nature. One time...after he retired and he and Aunt Edith moved back to the Cleveland area...my brothers and I were helping him put a refrigerator in a backyard shed because there was no room for it in the trailer they were moving into. After much jostling my brothers and I closed the shed door and thought we were finished. From her perch (as supervisor of course) Aunt Edith looked at the three of us with bewilderment and asked, "Where the HELL is Wes?" And after exchanging confused glances we heard muffled sounds coming from behind the fridge in the shed. "MMMPPPHH!!! Hey!! HHMMPPHHFFF!!!" We quickly opened the shed door, moved aside the refrigerator and liberated Uncle Wes. My brothers and I were all embarrassed and each, in turn, apologized profusely for our insensitive behavior. Aunt Edith broke into the humility with a shriek of, "What the HELL were you doing in there?" Which prompted Uncle Wes to...once again...chant his mantra. "For Chrissakes Edith!! SHUDD UPP!!" They were quite the loving couple. Their last name was Crabtree. I am not making this up.

Wes soon was diagnosed with lung cancer. Thirty years in the steel mills and 2 packs a day of Chesterfield non-filters caught up with him. The last time I saw him he was lying on the couch in their trailer smoking the aforementioned brand of cigarettes, quite literally coughing his lungs out...or what was left of them. "I TOLD him to quit those goddamned things years ago. " Aunt Edith offered for my contemplation. To which Uncle Wes replied sarcastically (yep, you guessed it) "Cough cough...For Chrissakes HACK! HACK! Edith!!! SHUDD UPPP!!!" These were the final words I heard my uncle ever say and we all joked at the funeral that these very words were more than likely chiseled into his headstone.

A few years after Wes passed, my brother and his new wife were having their very first Christmas and invited everyone over...including Aunt Edith. My parents were there along with my siblings and their families. This included my brother Jim's 9 year old adopted son Matt. Matt the Brat was what my father called him. I thought this surprisingly subtle for my Dad. If I knew where Matt is today...and thank God I do not...I would have to guess some one killed him or he's in jail convicted of several murders. I honestly don't care so long as he's nowhere near me. So Matt the Brat is playing with one of the toys some one so graciously gave him and he broke it. This kid could break anything he got his hands on. But in a moment of diplomacy my father (affectionately known as Snook) said, "They don't make anything any good any more!!" To which...in the spirit of the season Aunt Edith quipped, "You're right Snook!! Everything IS SHIT!!!" Well...happy holidays to you too Aunt Edith. Inside my head I distinctly heard a voice from my past reply, "For Chrissakes Edith!! SHUDD UPPP!"

You know...there are lots of reasons to go through life believing that "everything is shit." There are days when it certainly seems true to me. I have my days when Sartre's "Hell is other people" could easily be the thought of the day. But...unlike Aunt Edith...I don't want to spend a big chunk of my life living alone in a trailer. And when I think of this particular Christmas it strikes me how most of them blur into each other...with the exception of a few. And this is one of them I distinctly remember. As much as family...and sometimes even friends...can annoy a person...especially at this time of year...I have come to realize that even some one like Aunt Edith helped make me who I have become. I mean that in a positive way. Imagine...Aunt Edith's negativity was so over the top it MADE me consider the positive. I have no idea how she became so bitter. My father did shortly before he died also. Yet they both, particularly Snook, had a positive influence. They were there. Unlike today when some people are not.

This holiday season...regardless of which one you celebrate...take the time to savor those around you...even if they drive you nuts. They may not...for whatever reason...be there next year. And in some strange way, which will surprise you, their absence will make you miss them. I guarantee it. (a possible exception to this uplifting message might be Matt the Brat) And you might consider that next year YOU might not be here. So I suppose my holiday message may seem bittersweet to most...but that's how I see it. And if anyone feels the need to take issue with my views then I encourage you to speak up LOUDLY...'cause I've got one thing and one thing only to say to you.
FOR CHRISSAKES!!!!
SHUDD UPPP!!!
Editor's note: Aunt Edith died a little over a year ago. She was 90 years old. Her neighbor called my Uncle Bruce and told him she had passed out in her trailer. He went and got her up…asked if she was alright and she said she was. He suggested she go to the hospital to make sure everything was okay. She told him to go to hell and get out of her house. He did just that…returning an hour later and she was gone. Sad…surely. But she lived her last day the way she lived every previous one. And despite her surliness I will miss my Aunt Edith this Christmas. And I will remember the one long ago when she informed us "Everything is shit!" Rest in peace Aunt Edith. I can picture Jesus turning to her and proclaiming, "Truly, truly I say unto you…For Wes's sake Edith…SHUDD UPPP!!!!!!!!!!!!!!"

"Holiday Hoopla XIII" and "Christmas at 2Co's also share a couple of the same Christmas songs. The Kinks' "Father Christmas" is given the punk treatment at both cabarets. Pam Callahan (2Co's) and Amy Lay (Sbox) both give delightfully cynical interpretations. Between the two I'm calling this a dead heat. The same goes for Etta James' "Merry Christmas Baby" confidently captured at Shadowbox by veteran Stephanie Shull and with a subtle power by 2Co's newcomer Sheanneen Shelby. Other musical standouts include Shadowbox's BillWho? with Mary Randle performing a blistering "Backdoor Santa" and a rave up on Black Sabbath's "I Am Ironman!" (I Am Santa Claus) with Michael Duggan out Ozzie-ing Mr. Osborne. (a little aside: I don't think I'm the only one who noticed that it took four…FOUR musicians to fill the shoes of BillWho? keyboardist and almost mommie Jennifer Hahn!) At 2Co's Chris Chambers' unbridled mugging through Dave Edmonds' "Run, Run Rudolph" was as much fun to watch as it was to listen to. And John Croke stood tall in front of Downtown DFN to glide his way through Jethro Tull's tantalizing "Skating Away".
For all 13 of the Hoopla's, the grand finale has been the bawdy "Santa Babies" Dixie (Julie Klein), Dorothy (Stephanie Shull) and Darlin (Katy Psenicka) accompanied on keyboards this year by J.T. Walker as Danny. These women are naughty…but nice. Well, at least Dixie was nice enough to let what looked like Kermit the Frog take an extended naughty excursion through her dress! Singing double entendre lounge schlock is a Christmas tradition for the Santa Babies. But last year…not to be outdone by their sister cabaret…2Co's countered with their own "Christmas Queenies". Dixie (Tom Cardinal), Darling (Chris Lynch), and Dorito (Joseph J. Lorenzo) accompanied by keyboard player Reverend Dick (Chris Ciampa) pass "bawdy" by. These drag queens are tawdry…but nice. This playful parody is a romp of infectious belly laughs. And both of these absurd skits climax their respective shows with an orgasmic intensity seldom experienced in the pageantry of most holiday activities. I suspect the Santa Babies are beginning to feel some competition from the Queenies. This year they added scantily dressed male dancers dubbed Dixie's Dicks to their revue. I decline to elaborate further. I certainly do not want parents filtering out Naked Sunfish on their home computers!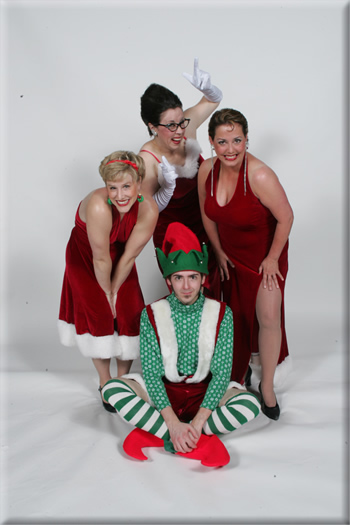 "Santa Babies"

Whether you decide to see Shadowbox's "Holiday Hoopla XII" or "Christmas at 2Co's" you will not be disappointed. Both are entertaining…delightful…exuberant holiday fare. Better still…if you have the time…and the moola…go see both. Similar yes…but you'll appreciate the familiarity after noting the logistical differences.
"Christmas at 2Co's" and "Holiday Hoopla XIII" both run through December 30th. For more information go to www.shadowboxcabaret.com.